When it comes to Caribbean islands, St. Lucia is among the most impressive. With everything from towering mountains to lush rainforests and beautiful beaches, it truly has it all.
Planning a vacation here is fun and exciting, especially if it's your first time. Read up on this helpful advice in the following travel guide to St. Lucia to ensure your trip goes as smoothly as possible.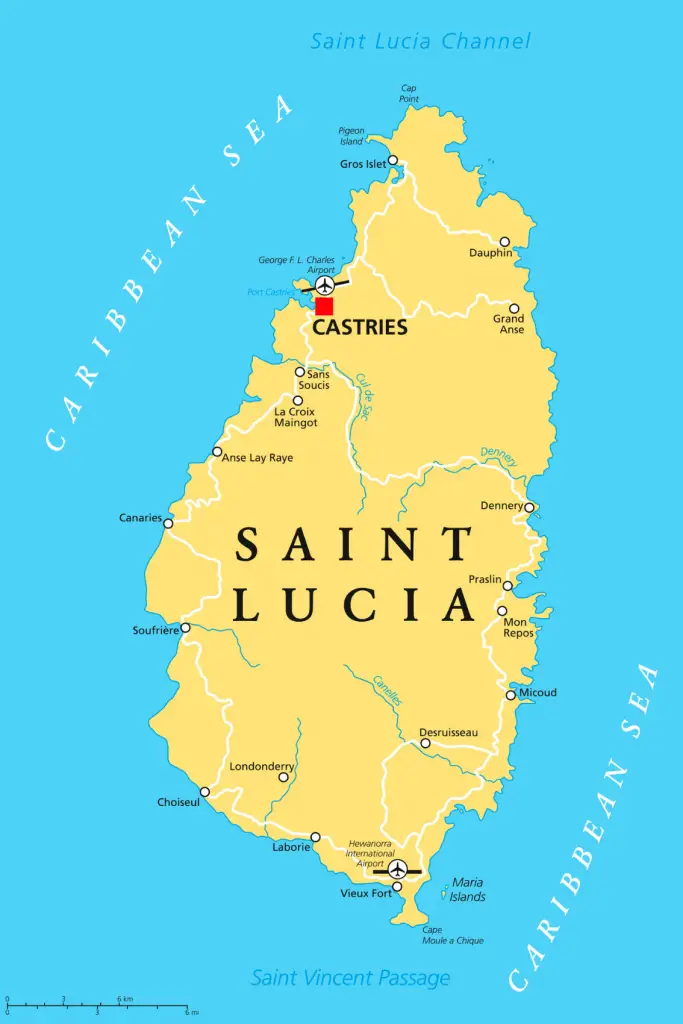 Advice for Your First Trip to St. Lucia
What Documents Do You Need to Enter St. Lucia?
Proper identification and travel documents are essential items to have when arriving and departing St. Lucia. A valid passport which is valid for six months is required by all travellers. 
Visas are required for visitors outside the US, Canada, Australia, the UK and other Commonwealth countries. They are also required for visitors staying in St. Lucia for more than three months, regardless of their country of origin. 

Arriving in St. Lucia
There are two international airports in St. Lucia. Hewanorra International Airport (UVF) in the south, and the George F.L. Charles Airport in the north. 
The point of arrival for the majority of air travellers is Hewanorra International Airport. Located just outside the town of Vieux Fort, this airport is a hub for large aircraft arriving from North America and Europe. 
St. Lucia's second international airport George F.L. Charles Airport (SLU), is also known as Vigie or Castries Airport. Located by the capital city of Castries, it is only equipped to handle the smaller aircraft which tend to arrive from other Caribbean islands. The runway here is especially unique as it runs parallel to Vigie Beach, one of St. Lucia's most stunning beaches. 
The L'Express des Iles ferry departs from the Port Castries Ferry Dock twice weekly for those who prefer to travel by water. This ferry connects St. Lucia to Martinique, then travels onwards to other Caribbean islands, including Guadeloupe and Dominica. 
St. Lucia is also a popular stop on many Caribbean cruises. In fact, over 300 cruise ships anchor every year at either Place Carenage or Pointe Seraphine in Castries. 
Travelling Around St. Lucia
My favourite way to travel around St. Lucia is on a tour of the island. On our trip, we spent the day with Real St. Lucia Tours, a fabulous tour company that showed us a combination of highlights and hidden gems on the west coast. For more information about our Island Expo Tour with Real St. Lucia Tours, read my complete review about our fabulous day in St. Lucia.
The easiest way to get around St. Lucia is by taxi (identified by a red "TX" on the license plate.) Although they can be expensive, they are also quick and convenient. I recommend pre-arranging your taxi at your hotel to make the most of your time on the island. Otherwise, you can hail a ride in town. Remember to always establish the full fare (and what currency it will be paid in) with the driver before leaving on your trip. Visitors can expect to pay about $22 USD for a ride from Castries to Rodney Bay. 
Local mini-buses are the cheapest way to get from place to place in St. Lucia.  Riding them is also a great experience and a fantastic way to meet the locals. They cost roughly $2-3 XCD per trip and make frequent stops along the main highways. The major downfall of the local bus service is that it is slow and difficult to rely on due to their lack of schedule. To catch a bus in St. Lucia, hop on a bus with a green 'M' license plate at one of the designated stops or flag it down along its route. To learn more, ask your hotel about the planned bus routes, common itineraries and additional marked stops for buses in the area.
While you can rent a car in St. Lucia, it is not recommended for inexperienced drivers. The roads can be difficult to navigate with many sharp turns and steep drop-offs. They also drive on the left-hand side of the road. If you choose to rent a car in St. Lucia, you will need a special driver's license. The permit costs approximately $22 USD and is valid for three months.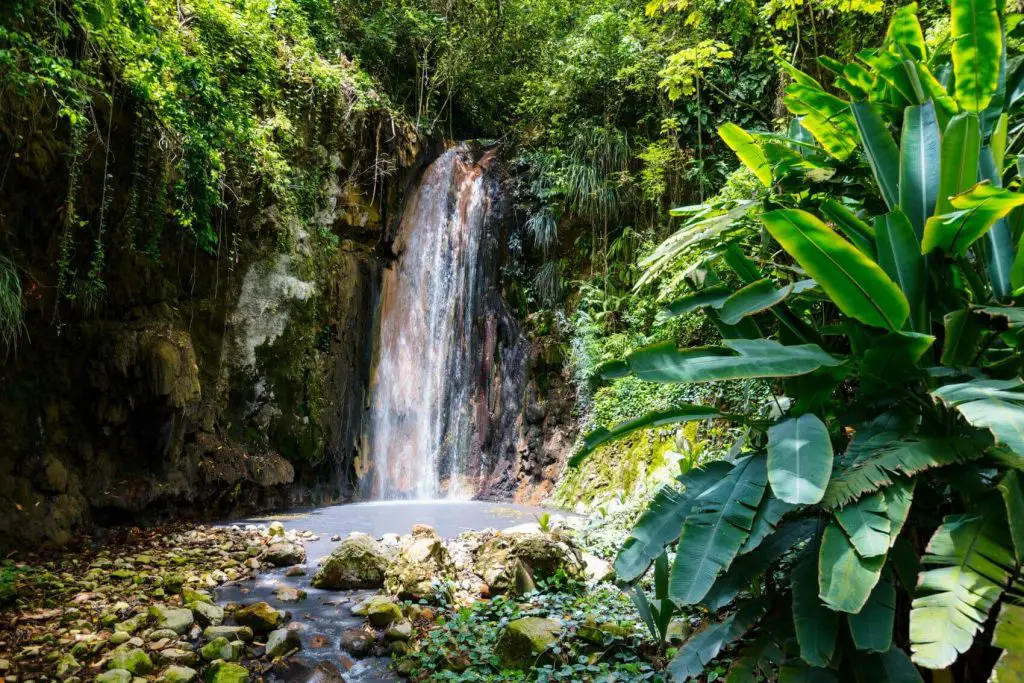 Best Time to Visit St. Lucia
The most popular time of year to visit St. Lucia is between the months of December and April. During this time, the weather is practically perfect. The temperatures become much more bearable, and the chance of rain is much less.
Be mindful of travelling to St. Lucia between June and November. Not only is this the island's rainy season, but it is also hurricane season in the Caribbean. Although destructive hurricanes are rare, unpredictable storms are common, and the humidity is at its worst. That being said, St. Lucia still receives a great deal of sunshine even during the wet season. 
Currency in St. Lucia
The currency used in St. Lucia is the East Caribbean Dollar (XCD), however, US Dollars are widely accepted across the island. For this reason, it's important to make sure you know which currency you will be paying before buying anything. Also, be aware that even if you pay in USD, you may receive your change back in XCD.
When we travelled, we brought along some USD and changed them for XCD locally. There were also ATMs in Castries, Soufrière, Rodney Bay, and Vieux Fort, which were convenient for withdrawing money as we travelled. (Cash withdrawn from an ATM in St. Lucia is in East Caribbean Dollars.) Credit cards are accepted at almost all hotels, restaurants, and shops in major tourist areas, but we found we needed XCD for the small shops and market stalls. 
The East Caribbean Dollar to US Dollar exchange rate is fixed at $1(USD) = $2.70(EC). All other currencies have varying rates.  US dollars, Canadian dollars, and British pounds can be easily exchanged at banks in St. Lucia, but other foreign currencies may incur extra charges. 
Language in St. Lucia
The official language of St. Lucia is English, although most locals speak St. Lucian Creole, a language with French, English, and Dutch influences.
Voltage in St. Lucia
In St. Lucia, the standard voltage is 240 V, and the frequency is 50 Hz. This means visitors from certain parts of the world will need to travel with an adaptor.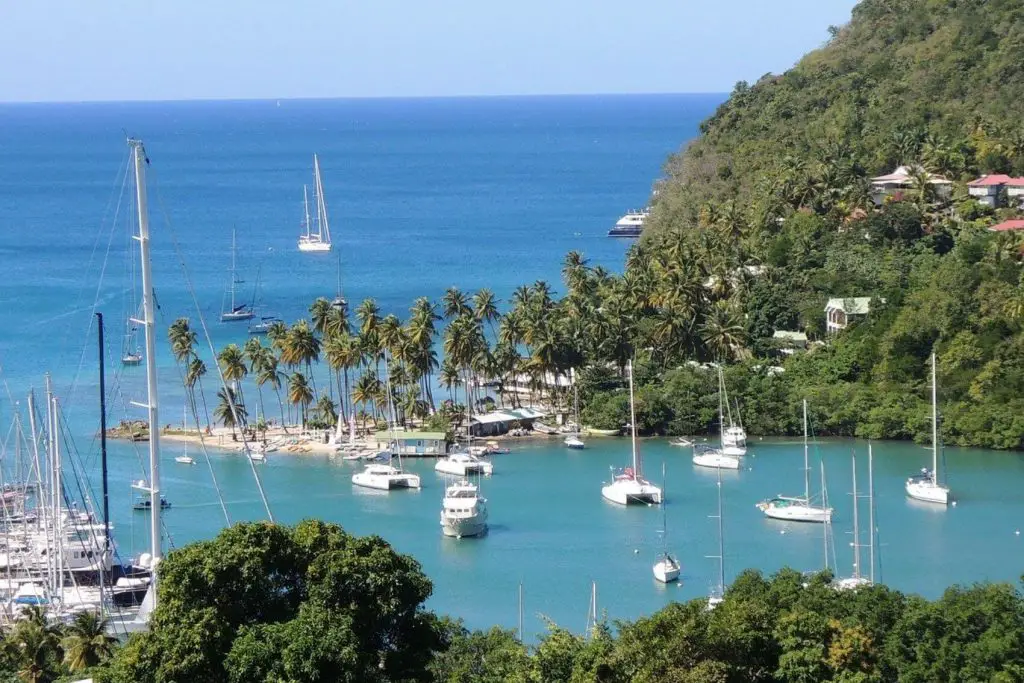 Local Tax
There are two types of tax you will incur on your visit to St. Lucia. Hotels and restaurants charge an additional 8% in government taxes as well as an applicable 10% service charge. There is also a departure tax of $33 XCD or $13 USD for all visitors 12 years old and up. This tax is factored into the price of your plane ticket when travelling by air or is payable at the time of departure when travelling by boat. 
Safety in St. Lucia
St. Lucia is generally a safe island where tourists are unlikely to become victims of crime. However, normal safety precautions should be taken as petty crimes do occur.
Where to Stay in St. Lucia
St. Lucia has many great places to stay, most of which are located on the island's western side.  There are both budget and luxury accommodations, as well as vacation rental properties and all-inclusive resorts. 
We stayed at the Windjammer Landing Beach Resort just north of Castries. This upscale all-inclusive resort boasts private hillside villas and magnificent oceanfront suites with luxury amenities, five-star dining, and more. 
Families visiting St. Lucia should check out the Coconut Bay Resort and Spa. Located on the island's southeastern shores, this all-inclusive resort is close to the airport and many attractions. They also have a water park which looks out of this world!
If you're looking for the epitome of luxury in St. Lucia, stay at Jade Mountain or the Ladera Resort. Both offer magnificent views of the Pitons, private plunge pools and some of the best cuisines on the island. 

Have you visited the island? What other tips and suggestions do you have that will guide visitors as they travel in St. Lucia? I'd love to hear about them in the comments section below!
PIN IT FOR LATER