A guide to the best destinations for a weekend getaway from Paris to other areas of France
Paris is a fantastic hub for exploring several other regions in France due to its central location in the northern part of the country. So if you have time, I recommend spending the weekend in at least one or two of the following destinations outside Paris.
Travel times from Paris to these destinations range from 1 hour and 45 minutes to nearly 4 hours by either car or train and while the cities closer to Paris could be seen in one day, it's always more enjoyable to spend the weekend.
If you don't have a spare weekend to visit any of these great destinations, be sure to take day trips from Paris to experience all that France has to offer.
Looking to go further afield? Why not check out these other European cities within a few hours of Paris.


Strasbourg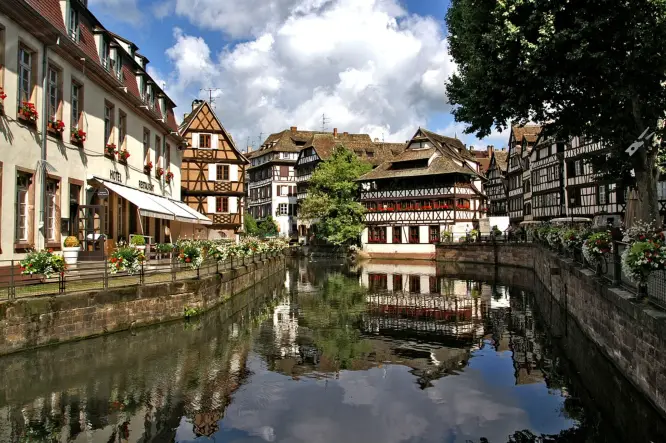 Distance: 1h 46 minutes by train
The European capital and capital of Alsace, Strasbourg is a young and dynamic city. Like many major European cities, Strasbourg is home to world-renowned historical heritage sites: the Grande Ile is listed as UNESCO World Heritage. Encircled by the arms of the river Ill, the city centre is home to the main sites and monuments which make Strasbourg so famous.  Source: www.tourisme-alsace.com
What to do:
Stroll through "Petite France" and appreciate the half-timbered houses dating back to the 16th and 17th centuries.
Catch the light through the 12th- to 14th-century stained-glass windows at the Cathedral of Notre-Dame
Attend the German-style Christmas Market in December
Pay a visit to some of the many museums
Admire the Classical-style facade of the Chamber of Commerce
Cruise under the covered bridges and through the locks on a Batorama boat tour
How to get from Paris to Strasbourg: TGV Train from Paris Est to Strasbourg  1 h 46 min
Cars: Follow A4 to Rue de la Kaltau in Strasbourg. Take the exit toward Meinau/Neudorf from E52 4 h 26 min (485 km)


Nantes
Distance: 2h 20minutes by train
Nantes is a city in western France, located on the Loire River, about 50 km from the Atlantic coast. Regularly quoted in newspapers as being one of the nicest cities in France, Nantes is also renowned for being a rich, lively and innovative city. Nantes strikes a remarkable balance between historical heritage and innovation, way of life, economy and culture. Located at the mouth of the Loire River, Nantes is, by nature, a welcoming, creative and forward-looking city. Source: en.nantes.fr/
What to do:
Enjoy a fascinating walk inside the castle walls at Chateau des Ducs de Bretagne
Tour one of the 15 world class museums
Join a mechanical universe where giant machines come to life at Les Machines de L'ile
Visit the imaginative botanical gardens, Jardin des Plantes, in the center of the city
Take note of the Gothic architecture at Cathedrale de Saint-Pierre et Saint-Paul
How to get from Paris to Nantes: TGV Train from Paris Montparnasse to Nantes  2 h 20 min
Cars: Follow A10 and A11 to Boulevard de la Prairie de Mauves in Sainte-Luce-sur-Loire 3 h 19 min (372 km) Then continue on Boulevard de la Prairie de Mauves. Take Boulevard de Seattle, Boulevard de Sarrebruck and Rue de Strasbourg to Rue Saint-Vincent in Nantes 15 min (7.5 km)


Bordeaux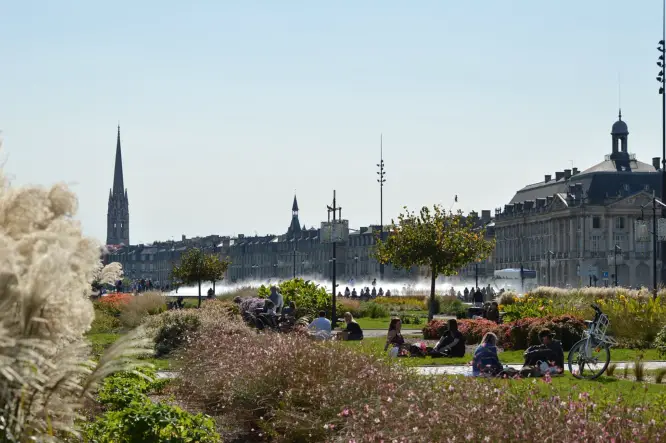 Distance: 2 h 9 min by train
Bordeaux is a small city with a worldwide reach, thanks to the wine business it has dominated since at least the 13th century. Grape cultivation actually goes back as far as the 8th century. Vinexpo, the largest wine fair on the planet, is held there each June.  Source: www.linkparis.com/
What to do:
Tour the state of the art wine museum, La Cité du Vin
Wander around l'Esplanade des Quinconces, the biggest city square in Europe
Take a guided visit of the town aboard either a tourist train or an open top bus
Photograph Mirroir d'Eau, a contemporary world heritage site by UNESCO
Visit the town centre at Place de la Bourse
Cool off in the mist at the fountain of the Monument aux Girondins
Climb the tower at Cathedrale Saint-Andre for great views
Go for an evening stroll to see the city lights from La Pont de Pierre
How to get from Paris to Bordeaux: TGV Train from Paris Montparnasse to Bordeaux-St-Jean  2 h 9 min
Cars: Follow A10 to Boulevard Aliénor d'Aquitaine in Bordeaux. Take exit 4 from A630 5 h 6 min (574 km)


Lyon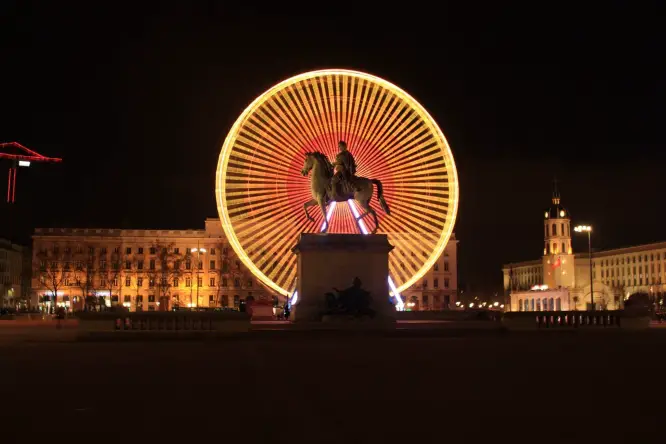 Distance: 1h 57 minutes by train
France's third largest city, Lyon offers a vibrant mix of art, history, sophisticated shopping and nightlife, with a glut of gourmet restaurants that have earned it the label of gastronomic capital. Source: ca.france.fr/
What to do:
Walk around the center of the old town in the district of Saint-Jean
Admire the 19th-century architecture at Notre Dame de Fourvière
Wander around the narrow underground Renaissance passageways called Traboules
Tell time on the enormous clock at the Cathedral Saint Jean Baptiste
Ride the funicular or walk up  Fourviere Hill for beautiful panoramic views
Encounter animals from around the world at the Parc de la Tête d'Or
Search for roughly 100 murals painted on the walls around the town
Learn the history of the Theatres Romains de Fourviere, which are over 2000 years old
How to get from Paris to Lyon: TGV Train from Paris Gare de Lyon to Lyon Part Dieu  1 h 57 min
Cars: Follow A6 to Cours de Verdun Récamier in Lyon. Take exit 39C from A6  4 h 7 min (458 km)


Beaujolais
Distance: 3h 56 minutes by car
Beaujolais is a French province with its capital in historic Villefranche-sur-Saône, world-known for its light, fruity wine, and beautiful scenic landscapes dotted with picture-perfect vineyards. Located north of Lyon, Beaujolais is ancient and breathtakingly beautiful with charming stone villages, imposing Romanesque churches, and elegant 17th and 18th-century castles. Source: vacationidea.com/
What to do:
Spend the night in a castle converted into a luxury hotel
Catch sight of the Alps from the viewpoint atop Mont Saint Rigaud
Appreciate the 15th-century windmill in the commune of Romaneche-Thorins
Make your way down Rue Nationale, the main shopping street in Villefranche-sur-Saône
Visit Oingt, one of the most beautiful villages in France
Take a tour of the vineyards and sample wines from the region
How to get from Paris to Beaujolais: TGV Train from Paris Gare de Lyon to Dijon Ville 1 h 36 min then SNCF Train from Dijon Ville to Villefranche-s-Saone 1 h 39 min
Follow A6 to D306 in Arnas. Take exit 31.1 towards Villefranche from A6 3 h 44 min (424 km)


Avignon
Distance: 2 h 39 min by train
Avignon is full of history and full of life. Capital of the Vaucluse and the Côtes du Rhône, seat of the popes and city of art and culture, theatre, cinema, museums, big stores and little shops, Avignon is a small city that has everything a big one has, and then some… Source: http://www.avignon-et-provence.com/
What to do:
Enjoy a meal in the bustling pedestrian square, Place de l'Horloge
Remark at Le Palais des Papes, the largest Gothic Palace worldwide
Hum a famous tune at Pont Saint-Benezet (Pont d'Avignon)
Check out Le Rocher des Doms for panoramic views of the surrounding area
How to get from Paris to Avignon: TGV Train from Paris Gare de Lyon to Avignon TGV   2 h 39 min
Cars: Follow A6 and A7 to Route Touristique des Bords du Rhône/D225 in Le Pontet. Take the D225 exit from D907  6 h 11 min (683 km)


Calvados (Normandy)
Distance:  1 h 43 min by train
Rich in both history and natural beauty, Calvados is home to the Normandy landing beaches and the Bayeux tapestry, several very popular coastal resorts and lovely countryside. A perfect region for relaxing – or exploring!  Source: www.francethisway.com/
What to do:
Take a tour of the memorial sites along the D-Day landing beaches
Pay tribute to lives lost at one of the war cemeteries in the area
Examine the details on the 70m long  Bayeux Tapestry
Explore Beuvron, named one of the most beautiful villages in France
Climb the steps to the dome of Sanctuaire Sainte Therese for amazing views
Sample regional delights including Apple cider, Calvados Liqueur and Pommeau
Visit the popular resort towns of Deauville and Trouville
How to get from Paris to Calvados: SNCF Train from Paris St Lazare to Lisieux  1 h 43 min
Cars: Take A13 to D675 in Surville. Take the A132 exit from A13  1 h 39 min (179 km)    Drive to D579 in Lisieux   19 min (18.3 km)
Note: Can be combined with Étretat, Honfleur and Fécamp for an epic weekend getaway from Paris.


Étretat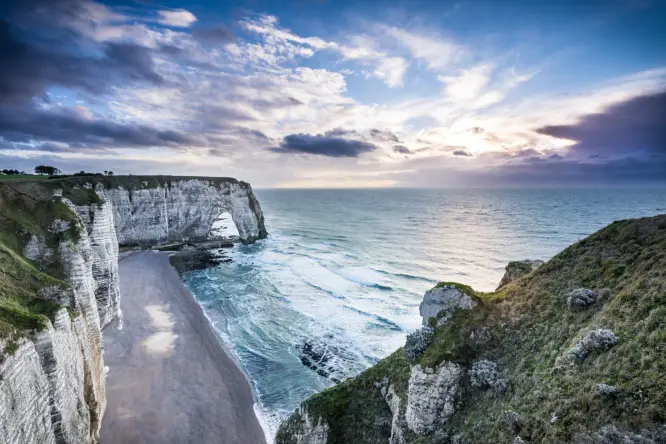 Distance: 2h 13 minutes by car
The stunning cliffs of Étretat are world-famous for their naturally-formed archways. Snap some photos of these geological wonders (you won't be the first) as you ramble along the coastal path. Historic chateaus and chapels pepper the landscape, and a range of annual festivals infuse this provincial seaside town with revelry. Source: www.tripadvisor.ca
What to do:
Hike the natural shoreline at Chemin des Douaniers
Take a guided boat tour to see The Aval Cliff and The Aiguille from the sea
Notice the unusual sculptures at Les Jardins D'Etretat
Head to Les Plages Étretat to catch some rays on the pebble beach
How to get from Paris to Étretat: SNCF Train from Paris St Lazare to Breaute-Beuzeville 1 h 58 min then Keolis Seine-Maritime Bus from Breaute-Beuzeville to Étretat Mairie 32 min
Cars: Take A13 to N182 in Marais-Vernier  1 h 29 min (159 km) Continue on N182. Take D910, D39, D81,  and D39 to Rue Prosper Brindejont in Étretat  47 min (39.9 km)


Fécamp
Distance: 2 h 18 min by train 
Framed by impressive white cliffs, this historic coastal town offers a heady cocktail of attractions. Fécamp is both port, resort, ducal town, a pilgrimage destination, art centre and the home of a famous liqueur. Source: http://en.normandie-tourisme.fr
What to do:
Visit the only Benedictine distillery in the world where you can sample the liqueur
Hike the steep trail at Cap Fagnet for breathtaking views of the cliffs and sea
Learn about sea life, history, fine art, childcare and ethnography at the Musée des Pêcheries
How to get from Paris to Fécamp: SNCF Train from Paris St Lazare to Breaute-Beuzeville  1 h 58 min then SNCF Train from Breaute-Beuzeville to Fécamp 20 min
Cars: Take A14, A13 and A150 to D926 in Bermonville. Take exit 8 from A29  1 h 38 min (168 km) Follow D926 to Fécamp 23 min (23.7 km)


Honfleur
Distance: 2h 10 minutes by car
Ports don't come any prettier than Honfleur on the Seine's estuary. Glorious historic houses jostle for position on the quays, as do galleries and restaurants. Packed with cultural sights, Honfleur has a wealth of attractions to delight its many visitors. Source: http://en.normandie-tourisme.fr
Things to do:
Admire L'église Sainte-Catherine, the largest wooden church in France
Look around the picturesque old port, Le Vieux Bassin
Immerse yourself in a tropical paradise at Naturospace
Cross the 2141 m long bridge, Pont de Normandie from Honfleur to Le Havre
Visit Notre Dame de Grace and listen to the bells
How to get from Paris to Honfleur: Flixbus Bus from Paris, Paris Pont de Levallois to Honfleur  2 h 10 min
Cars: Take A13 to D289 in Gonneville-sur-Honfleur. Take exit 1 from A29  1 h 40 min (180 km) Continue on D289. Drive to Honfleur 11 min (6.2 km)


Le Havre
Distance: 2h by car
Le Havre is a modern and surprising city. Its immense port, a door to the English Channel, ranks as one of the most important in France and in Europe. Both the port and the beach are directly connected to the city centre by tram. A remarkable example of post-war architecture and urbanism, the heart of the city, designed by Auguste Perret, has been a Unesco World Heritage Site since 2005.  Source: travelguide.michelin.com/
What to do:
Gawk at the massive 107m tower belonging to l'Eglise St-Joseph
Study works from the late-19th and 20th-century at the Musee des Beaux Arts Andre Malraux
Spend the afternoon at the beach, less than 500m from the center of the city
Admire the bourgeois architecture at the late 18C Maison de l'Armateur
Tour the marvellous Hanging Gardens overlooking the bay of the River Seine
Take in incredible panoramic views from 100 meters above the English Channel at Cap de la Hève
How to get from Paris to Le Havre: SNCF Train from Paris St Lazare to Le Havre 2 h 13 min
Cars: Take A13 to E5 in Gonfreville-l'Orcher  1 h 42 min (180 km) Take N282, D6015 and Quai Colbert to Le Havre  16 min (9.0 km)
Note:  On a weekend getaway from Paris you can easily combine Le Havre with destinations like Etretat and Honfleur via the Normandy Bridge.


Caen & D-Day Beaches – WW2 (Normandy)
Distance: 2 h 10 min by train
Allied troops landed on the beaches of Normandy and began the liberation of Europe from years of Nazi occupation Source: http://en.normandie-tourisme.fr
Things to do:
Visit the one or all of the five D-Day beaches and learn about 'Operation Overlord'
Tour the Caen Memorial Center whose main focus is the Battle of Normandy
Pay a visit to Sword Beach and the Atlantic Wall Museum in Ouistreham
Learn about Canada's contribution to the Battle of Normandy at the Juno Beach Centre
Go to Omaha Beach and appreciate the American Cemetery and Overlord Museum
Gawk at the bomb craters at the top the cliffs of Pointe du Hoc
See one of only 6 remaining B26 Marauder bombers at the Museum of the Landings
How to get from Paris to Caen: SNCF Train from Gare de Paris-St-Lazare to Gare de Caen 2 h 10 min
Cars: Take A13 to Boulevard Jean Moulin in Caen. 2 h 10 min (228 km)


Verdun – WWI
Distance: 2h 45 minutes by car
World city of peace, Verdun will be forever associated with one of the bloodiest battles of the First World War. The battlefield visits in this area, where the conflict has left its mark in a landscape in some places still disrupted, cannot fail to make an impression. Today's Verdun, though, has another side to it: a city of lively streets, an attractive waterfront along the River Meuse and extensive surrounding woodlands ideal for walkers. Source: travelguide.michelin.com/
What to do:
Pay a visit the Verdun Battlefield where the longest battle of the First World War took place
Experience the conditions at Fort Douaumont, a target for German troops during WW1
Take part in many interactive exhibits at the Memorial of Verdun; Museum and Memorial Hall of the Battle of Verdun
Learn how 2000 soldiers lived during 1916 in La Citadelle Souterraine de Verdun
Remark at the iconic historical gateway, La Porte Chaussee
Tour the 18th Century Episcopal Palace of Verdun
How to get from Paris to Verdun: TGV Train from Paris Est to Metz Ville 1 h 24 min then SNCF Train from Metz Ville to Verdun 1 h 21 min
Cars: Follow A4 to D163 in Les Souhesmes-Rampont. Take exit 30-Voie Sacrée from A4 2 h 10 min (243 km)   Take Voie Sacrée/D1916 and Route de l'Argonne to Verdun 13 min (12.7 km)


Mont Saint-Michel
Distance:  3 h 41 min (357 km) by car
The Mont-Saint-Michel is one of Europe's most unforgettable sights. Set in the mesmerizing bay where Normandy and Brittany merge, the island draws the eye from great distances. For centuries one of Europe's major pilgrimage destinations, this gravity-defying medieval monastery is now a UNESCO World Heritage Site, as is its breathtaking bay. Source: http://en.normandie-tourisme.fr
What to do:
Hire a guide to lead you across the Bay of the Mont-Saint-Michel
Appreciate the greatest tidal range in Continental Europe
Spend the night at one of the fine hotels inside Mont-Saint-Michel
Stroll among throngs of other tourists along La Grande Rue
Admire brightly coloured stained glass windows, at the quaint Eglise Paroissiale Saint-Pierre
How to get from Paris to Mont-Saint-Michel: TGV Train from Paris Montparnasse to Dol de Bretagne  2 h 48 min then SNCF Train from Dol de Bretagne to Pontorson-Mont-St-Michel 15 min then Mont Saint Michel Shuttle Bus from Pontorson-Mont-St-Michel to Mont Saint-Michel 20 min
Cars: Take A13 and A84 to N175 in Poilley 3 h 5 min (334 km) Continue on N175. Drive to Place de la Gare in Pontorson 12 min (15.6 km)


Bourges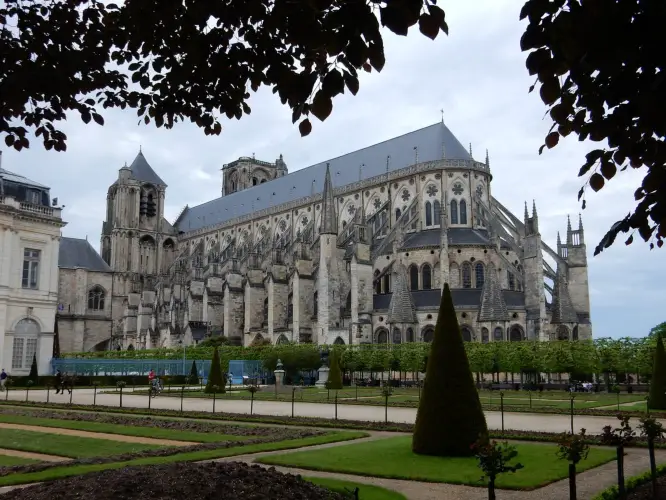 Distance: 2h 4 minutes by train
Initially, a prosperous Roman city, then a major artistic centre in the late 14C, Bourges became the economic hub of Berry, and since 1977 a top music venue with the Springtime in Bourges Festival. Bourges is rich in monuments: the magnificent cathedral of St Etienne, historic city ramparts, fine mansions and gardens, religious edifices and humble homes of great simplicity. Source: travelguide.michelin.com
What to do:
Marvel at the original stained glass windows inside the St Étienne Cathedral, a UNESCO World Heritage Site
Visit the French style garden, Jardin de l'Archevêché, adjacent to the Cathedral
Wander around the Old Town of Bourges and admire half-timbered houses from the 15th and 16th Centuries
Pay a visit to Palais Jacques-Coeur, a Gothic residence designed by King Charles VII
How to get from Paris to Bourges: SNCF Train from Paris Austerlitz to Bourges  2 h 4 min
Cars: Follow A10 and A71 to N151 in Bourges. Take exit 7 from A71  2 h 4 min (233 km)


Saint-Malo
Distance: 3 h 5 min by train
Walking through the cobbled streets of St Malo's old town feels like you've stepped back in time. This popular tourist destination and busy ferry port offer visitors an authentic glimpse into Brittany's important seafaring past.  Source: http://www.brittanytourism.com
What to do:
Wander inside the walls of the fortified city of Saint-Malo and notice the buildings which have been rebuilt or restored since the Second World War
Stroll along the Saint-Malo Ramparts for impressive views over the town and sea
Learn about more than 500 species of fish from around the world at the Grand Aquarium – Saint-Malo
Explore the tidepools along La Plage du Sillon
Admire the vistas from the tower at Le Chateau de Saint-Malo
How to get from Paris to Saint-Malo: TGV Train from Paris Montparnasse to St Malo 3 h 5 min
Cars: Take A10, E50 and N157 to Rue du Général Patton/Voie de la Liberté/D137 in Saint-Malo  3 h 34 min (403 km)


Colmar
Distance: 2h 18 min by train
Whether exploring on foot or from a boat along the canals of this "Little Venice", the fountains, half-timbered houses and geranium-decked balconies represent quintessential Alsace. Colmar is also renowned for its gastronomy and is the perfect base from which to explore the local wine route. Source: travelguide.michelin.com
What to do:
Imagine you are in a fairytale while wandering through the impressive Old town of Colmar
Pay a visit to Unterlinden museum, famous for the 16C Issenheim Altarpiece
Admire the murals on the 16th Century Pfister house
Indulge in Baeckoeffe, a type of Alsatian casserole, and pair it with a world-class Alsatian wines
How to get from Paris to Colmar: TGV Train from Paris Est to Colmar (2 h 18 min)
Cars: Continue on A4. Take N104 to N4 in Pontault-Combault. Take exit 17b from N104 for 18 min (25.4 km)  Continue to Grand Est for 1 h 50 min (153 km) Continue on N4. Take A31, A33, N59, N159 and N59 to D83 in Houssen. Take exit 23 from N83 for 2 h 54 min (268 km) Continue on D83. Take Rue des Papeteries to Colmar for 11 min (5.8 km)


Annecy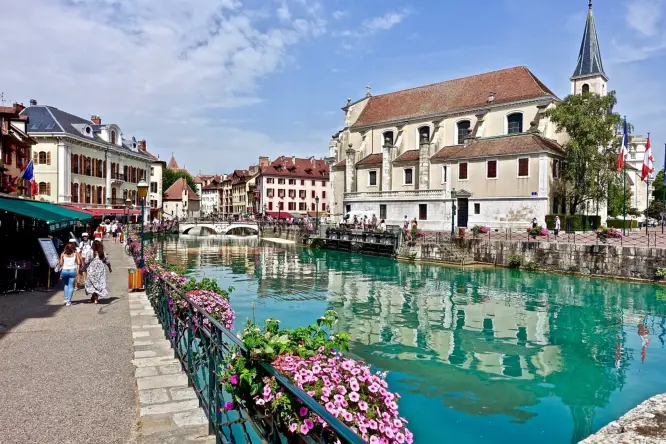 Distance: 3 h 43 min by train
Annecy is located in the Rhone-Alpes region on the bank of the lake that bears its name, in the northern French Alps, 50km north of Chambery, and 40km south of Geneva (Switzerland). Annecy is internationally known for the beauty of its harmonious landscapes, but also for the quality of the lake water, thanks to the conservation efforts for over 50 years, making it the purest lake in Europe. This pure, clear water escapes from the lake, and flows into the channels that run in the "old town" (historic center of Annecy), which gives it its picturesque nickname of "Venice of the Alps". Source: ee.france.fr/
What to do:
Hop aboard a tour boat for the perfect view of "Europe's Cleanest Lake", Lake Annecy, and its surrounding mountains
Spend a quiet afternoon relaxing in Les Jardins de l'Europe
Visit a former prison and courthouse at Le Palais de l'Île, built in the 12th century on an island in the Thiou River
Explore the historic buildings as you walk along the narrow streets of La Vieille Ville
How to get from Paris to Annecy: TGV Train from Paris Gare de Lyon to Annecy   3 h 43 min
Cars: Take A6, E15 and A40 to D908B in Metz-Tessy. Take exit 17-Annecy-Nord from A41 for 5 h 10 min (559 km)   Take D1201 to Annecy 6 min (4.2 km)



Related posts: Paris Bucket List: 51 of the Best Things to See, Eat and Do


Pin it for later
Follow me on social media!