Picture yourself strolling along the pristine beaches of Saint Lucia, the soft ocean breeze caressing your face as the tantalizing aromas of freshly cooked dishes waft through the air. While this Caribbean paradise is renowned for its stunning landscapes and warm hospitality, it's time to peel back the layers and uncover the hidden gem that lies within its vibrant cuisine. Saint Lucian cuisine, a fusion of African, French, and Caribbean influences, offers a delectable feast for the senses, transporting you to a world where flavours dance on your palate and culinary traditions reflect the island's rich cultural tapestry.
Whether you're a devoted foodie or simply someone with an appetite for adventure, exploring Saint Lucian cuisine promises to be an unforgettable journey. Embark with us as we delve into the vibrant markets, savour traditional dishes passed down through generations, and immerse ourselves in the captivating stories behind each mouthwatering recipe. From street food delights to fine dining experiences, Saint Lucia's culinary landscape has something to offer every palate, all infused with the island's unique spirit.
So, fasten your seatbelts, prepare your taste buds, and join me as I unveil the hidden culinary gems of Saint Lucian cuisine. Let's discover the enchanting world of Saint Lucian cuisine together.
A Gastronomic Paradise: Discover the Hidden Gems of Saint Lucian Cuisine
Overview of Saint Lucian Cuisine
When it comes to culinary adventures, Saint Lucian cuisine stands out as a true reflection of the island's vibrant culture and natural abundance. Rooted in a captivating blend of African, French, and Caribbean culinary traditions, Saint Lucian dishes weave together a tapestry of flavours that is as unique as the island itself. The fusion of these influences has birthed a bold, diverse, and unforgettable cuisine. 
One of the defining characteristics of Saint Lucian cuisine is the abundant use of local ingredients and fresh produce. With fertile volcanic soil and a tropical climate, the island is a treasure trove of vibrant fruits, aromatic spices, and bountiful seafood. From succulent mangoes and tangy passion fruits to fiery scotch bonnet peppers and fragrant cinnamon, each ingredient adds its own distinct flair to culinary creations. Whether it's the hearty stews and soups bursting with flavours or the perfectly grilled seafood delicacies, Saint Lucian cuisine showcases the island's natural bounty. 
Staple Ingredients and Traditional Dishes

Saint Lucia's culinary repertoire is deeply intertwined with the bounties of the sea and the land. Seafood takes center stage, capturing the essence of the island's coastal lifestyle. From succulent grilled lobster and flavorful red snapper to delectable conch fritters, the seafood offerings in Saint Lucian cuisine delight seafood enthusiasts.
But it's not just the ocean that contributes to the culinary magic of Saint Lucia. The island's fertile soil yields a dazzling array of tropical fruits, vegetables, and spices that infuse traditional recipes with a burst of exotic flavours. Picture the vibrant hues and juicy sweetness of mangoes, bananas, and papayas. Imagine the aromatic scents of nutmeg, cinnamon, and allspice that permeate the air. These tropical ingredients add depth and complexity to dishes like callaloo soup, plantain chips, and sweet potato pudding, tantalizing taste buds with every bite.
Beyond the seafood and tropical produce, Saint Lucian cuisine embraces a vibrant medley of spices and herbs that elevate the flavours to new heights. From fiery scotch bonnet peppers to fragrant thyme and basil, these seasonings lend a distinct character to dishes, creating a harmonious symphony of tastes. The clever use of these local ingredients and spices in traditional recipes showcases the island's agricultural abundance and pays homage to the rich cultural heritage that has shaped Saint Lucian cuisine.
When it comes to traditional dishes, Saint Lucian cuisine boasts a repertoire that is as diverse as it is mouthwatering. These beloved culinary creations are an integral part of the island's cultural fabric, telling stories of heritage and flavour that have been passed down through generations. Among the national dishes that define Saint Lucian cuisine, one stand out is Green Fig and Saltfish. This iconic dish features green bananas (known locally as "figs") cooked until tender, then paired with salted codfish, vibrant spices, and aromatic herbs. Combining the mildly sweet bananas and the savoury, flaky saltfish creates a harmonious blend of flavours that captures the essence of the island's coastal lifestyle.
Another popular dish that exemplifies the hearty and soul-warming nature of Saint Lucian cuisine is Bouyon. This one-pot meal features a rich, flavorful broth filled with a medley of ingredients, including root vegetables, leafy greens, meat (such as chicken or beef), and aromatic herbs and spices. The slow simmering process allows the flavours to meld together, resulting in a comforting and robust dish often enjoyed during festive gatherings and family celebrations.
Accra, a beloved appetizer in Saint Lucian cuisine, is a mouthwatering fritter made from salted codfish that has been soaked, flaked, and combined with a mixture of onions, herbs, and spices. This delightful deep-fried delicacy boasts a crisp exterior and a tender, flavorful center, making it a popular choice for street food enthusiasts and those craving a satisfying snack.
These traditional dishes hold a deep historical and cultural significance for the people of Saint Lucia. They not only represent the fusion of African, French, and Caribbean influences but also serve as a testament to the resourcefulness and creativity of the island's ancestors. These dishes reflect a time when ingredients were carefully utilized, and the flavours were crafted with love and ingenuity. Today, they continue to be cherished symbols of identity and unity, bringing people together to celebrate the rich heritage of Saint Lucian cuisine.
Street Food Culture in Saint Lucia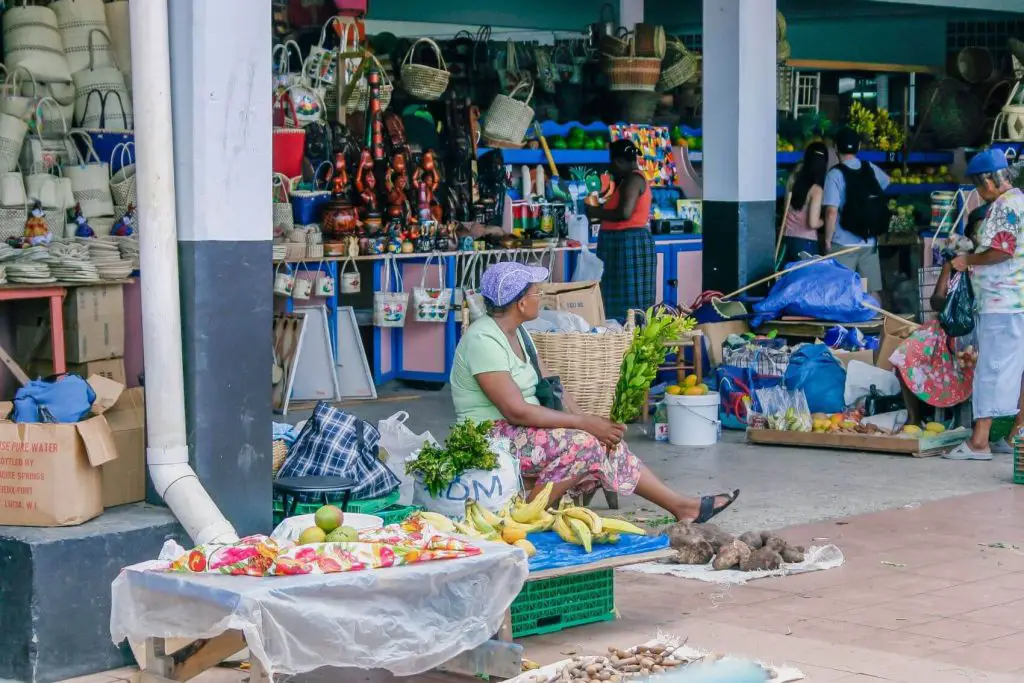 When it comes to immersing yourself in the vibrant culinary scene of Saint Lucia, exploring the island's street food culture is an absolute must. Here, the tantalizing aromas and sizzling delights beckon you to indulge in a world of flavorful street eats that reflect the heart and soul of Saint Lucian cuisine. From bustling food stalls to lively outdoor markets, the streets of Saint Lucia come alive with an array of delectable treats.
Grilled seafood takes center stage in the street food scene, showcasing the island's bountiful coastal offerings. Picture succulent shrimp, lobster tails, and fish skewered and cooked over an open flame, infusing the air with their mouthwatering scents. The smoky flavours and perfectly charred textures create a feast for the senses, inviting you to savour the true essence of the Caribbean's oceanic bounty.
But street food in Saint Lucia is more than just seafood alone. Barbecue enthusiasts will find their taste buds tingling with delight as they encounter juicy and tender meats expertly seasoned and cooked to perfection. From finger-licking jerk chicken to succulent pork ribs slathered in tangy barbecue sauce, the smoky flavours and irresistible aromas will leave you craving more.
Another street food favourite in Saint Lucia is the beloved roti, a culinary delight with Indian influences. Picture soft, warm flatbreads enveloping various flavorful fillings, such as curried chicken, tender beef, or vibrant vegetable medleys. Bursting with fragrant spices and a harmony of textures, the roti is a portable delight that perfectly balances comfort and flavour.
To truly experience the authentic street food culture of Saint Lucia, visit the local vendors and markets that line the streets. From the bustling Castries Market, where vendors proudly display their colourful array of fresh produce, spices, and homemade treats, to the lively Friday night street food party known as the "Jump Up" in Gros Islet, you'll find yourself immersed in an atmosphere of lively chatter, tantalizing aromas, and friendly smiles. Engage with the vendors, listen to their stories, and allow their passion for Saint Lucian cuisine to guide your culinary adventure.
Influences and Fusion in Saint Lucian Cuisine

What sets Saint Lucian cuisine apart is the fusion of these diverse culinary traditions, resulting in a harmonious blend of flavours and techniques. Traditional dishes often incorporate elements from multiple culinary backgrounds, creating a unique fusion that showcases the island's cultural diversity. This fusion is not limited to traditional dishes alone. Saint Lucian chefs also embrace contemporary culinary techniques and infuse them with the island's traditional flavours. This blending of old and new, traditional and contemporary, creates innovative and exciting culinary experiences that captivate the taste buds.
Upscale restaurants in Saint Lucia have emerged as pioneers of modern Caribbean fusion cuisine in recent years. These establishments artfully blend the island's traditional flavours with international influences, creating a dining experience that is both sophisticated and rooted in Saint Lucian culinary heritage. Chefs draw inspiration from global trends while staying true to the island's rich traditions, resulting in tempting dishes that showcase the diversity and creativity of Saint Lucian cuisine. From seafood delicacies with a French flair to fusion creations that combine local ingredients with international techniques, these restaurants provide a platform for the evolution of Saint Lucian cuisine in the modern culinary landscape.
In essence, Saint Lucian cuisine is a dynamic fusion of African, French, and Indian influences, constantly evolving to embrace new techniques and international flavours. It celebrates the island's cultural diversity and culinary heritage while paving the way for innovative creations that push the boundaries of traditional flavours. 
Unique Dining Experiences and Festivals

In Saint Lucia, dining is not just about the food—it's an immersive experience that combines breathtaking settings, cultural traditions, and tantalizing flavours. One of the island's unique dining experiences is beachfront dining, where you can savour delectable dishes while being caressed by gentle sea breezes and serenaded by the rhythmic waves. Whether it's a romantic dinner for two or a lively gathering with friends, dining on the beach creates an ambiance that is simply unforgettable.
For those seeking a deeper culinary immersion, culinary tours are a must. These tours take you through the island's vibrant markets, local farms, and hidden culinary gems, allowing you to engage with local producers, taste authentic flavours, and learn about the traditional techniques that shape Saint Lucian cuisine. From farm-to-table experiences to interactive cooking classes, these culinary tours offer a unique opportunity to delve into the heart of Saint Lucia's culinary culture.
Food holds immense significance in the vibrant festivals and celebrations of Saint Lucia. During the Saint Lucia Jazz Festival, the island comes alive with the mesmerizing sounds of jazz, and food becomes an integral part of the experience. Food stalls line the festival venues, offering a tempting array of dishes that showcase the flavours of Saint Lucian cuisine. From succulent barbecued meats to flavorful seafood creations, festival-goers can indulge in culinary delights while immersing themselves in the rhythm of the music.
Similarly, the Soleil Summer Festival, a celebration of Saint Lucian culture and heritage, features a vibrant culinary component. Traditional food plays a central role during this festival, with street vendors and local restaurants serving authentic dishes passed down through generations. From hearty stews to spicy curries, the flavours of Saint Lucian cuisine take center stage, creating a sensory experience that reflects the island's vibrant cultural tapestry.
One festival that truly showcases the culinary highlights of Saint Lucia is the annual Food and Rum Festival. This event brings together renowned local and international chefs, mixologists, and rum experts to showcase the island's gastronomic delights. Attendees can indulge in various culinary experiences, including tasting menus, cooking demonstrations, and mixology workshops. From traditional dishes with a modern twist to innovative rum-infused creations, the Food and Rum Festival offers a feast for the senses and a glimpse into the evolving culinary scene of Saint Lucia.
Farm-to-Table Movement and Sustainability

In recent years, Saint Lucia has witnessed the rise of a vibrant farm-to-table movement that celebrates the importance of locally sourced ingredients and sustainable practices. This culinary trend emphasizes the connection between food, community, and the environment, showcasing the island's commitment to preserving its natural resources and supporting local farmers. Restaurants and eateries across Saint Lucia have embraced this movement, forging partnerships with local farmers and artisans to bring the freshest, highest-quality ingredients to their tables.
Initiatives promoting sustainability and locally sourced ingredients have gained traction in Saint Lucia, fostering a sense of environmental consciousness within the culinary community. From organic farming practices that minimize the use of chemicals and promote biodiversity to the encouragement of traditional farming techniques, these initiatives seek to protect the island's fertile soils and fragile ecosystems. In addition, by prioritizing sustainable sourcing, restaurants and chefs support local farmers and artisans and reduce their carbon footprint, contributing to a healthier and more resilient food system.
For conscious travellers seeking to engage with the farm-to-table movement, farm tours offer an immersive experience connecting them with their meals' origins. These tours provide an opportunity to explore local farms, learn about sustainable farming practices, and witness the harvest of fresh produce firsthand. From cocoa plantations to organic vegetable gardens, these farm tours allow visitors to engage with the local community, gain insight into traditional agricultural practices, and develop a deeper appreciation for the flavours of Saint Lucian cuisine.
In addition to farm tours, conscious travellers can indulge in eco-friendly dining options that align with their values. From restaurants that prioritize local and organic ingredients to those that minimize waste through recycling and composting, these dining establishments provide an eco-conscious dining experience. Menus showcase the bounty of locally sourced ingredients, allowing diners to savour the flavours of Saint Lucian cuisine while supporting sustainable practices.
The farm-to-table movement and sustainability initiatives in Saint Lucia promote a deeper understanding of the island's culinary heritage and contribute to preserving its natural beauty and resources. By embracing locally sourced ingredients, supporting local farmers, and prioritizing sustainable practices, Saint Lucian cuisine is paving the way for a more environmentally conscious and resilient food system. 
Best Places to Experience Saint Lucian Cuisine
When it comes to experiencing the authentic flavours of Saint Lucian cuisine, there are several standout restaurants and eateries that will take your taste buds on a memorable journey. One such establishment is The Coal Pot, nestled on the waterfront in Castries. Known for its romantic ambiance and stunning views, this restaurant offers a delectable menu featuring traditional Saint Lucian dishes. Must-try items include their famous Callaloo Soup, a flavorful blend of local greens and spices, and their mouthwatering Grilled Fish with Creole Sauce, showcasing the island's fresh seafood at its best.
For a unique culinary experience, head to Boucan by Hotel Chocolat in Soufrière. Set against the backdrop of lush cocoa groves, this restaurant combines Saint Lucian cuisine with the island's renowned cocoa heritage. Indulge in dishes infused with cocoa elements, such as the Cocoa Grilled Pork Ribs or the Cocoa Gazpacho, which offer a delightful fusion of flavours. The restaurant's bean-to-bar experience also allows guests to witness the chocolate-making process, creating a multisensory dining adventure.
To immerse yourself in the vibrant local culture, visiting Castries Market is a must. Here, you'll find a bustling hub of food vendors and artisans showcasing the best of Saint Lucian produce and flavours. Engage with the vendors, sample local fruits, spices, and snacks, and let the lively atmosphere ignite your senses. Take advantage of the opportunity to try the national dish of Saint Lucia, Green Fig and Saltfish, which combines the island's beloved green bananas with savoury salted cod.
For an off-the-beaten-path experience, venture to the town of Dennery on the east coast of Saint Lucia. This is where you'll find "Fish Friday," a lively street food festival that celebrates the island's seafood culture. Join the locals and visitors alike as they gather to enjoy a wide array of grilled fish, lobster, and other seafood delicacies. The vibrant atmosphere, live music, and the chance to savour freshly prepared seafood straight from the grill make this a must-visit destination for food enthusiasts.
When exploring local markets and interacting with vendors, embracing the island's warm and friendly culture is important. Engage in conversations, ask for recommendations, and be open to trying new flavours and dishes. Local vendors are often proud to share their culinary traditions and may even offer you samples. Don't hesitate to ask about the ingredients and cooking techniques used in their dishes—it's a fantastic opportunity to learn more about the intricacies of Saint Lucian cuisine.
From elegant waterfront restaurants to lively street food festivals and vibrant markets, Saint Lucia offers many options for experiencing its authentic cuisine. Whether you indulge in The Coal Pot's refined flavours or embark on a sensory journey at Boucan by Hotel Chocolat, each location presents a unique ambiance and a chance to savour the best of Saint Lucian dishes. And remember to explore the local markets and interact with the vendors, as they offer a glimpse into the vibrant food culture of the island. So, get ready to tantalize your taste buds and embark on a culinary adventure that will leave you craving more of Saint Lucia's flavours and hospitality.

In conclusion, the culinary journey through the flavours of Saint Lucian cuisine has been nothing short of remarkable. We've explored the unique characteristics of Saint Lucian cuisine, influenced by African, French, and Indian culinary traditions, resulting in a harmonious fusion of flavours and techniques. From staple ingredients like seafood, tropical fruits, and spices to traditional dishes like Green Fig and Saltfish, Bouyon, and Accra, the culinary landscape of Saint Lucia is as diverse as it is vibrant. 
We've delved into the street food culture, where grilled seafood, barbecue, and roti tantalize the senses, and we've witnessed the emergence of modern Caribbean fusion cuisine in upscale restaurants, showcasing the evolution of Saint Lucian flavours. Furthermore, we've highlighted the significance of food in Saint Lucian festivals and celebrations and the growing farm-to-table movement and sustainability initiatives that prioritize local ingredients and eco-conscious practices. 
With recommendations for popular restaurants and eateries, exploring local markets, and engaging with vendors, the path to experiencing the authentic flavours of Saint Lucian cuisine is within reach. So, as you plan your visit to Saint Lucia, let your taste buds guide you through this gastronomic paradise, and allow yourself to be enchanted by the rich culinary heritage that awaits you.
PIN IT FOR LATER