St. Lucia is one of the most beautiful Caribbean islands. Its lush emerald slopes are covered with banana and cocoa plantations and its rugged coast features delightful fishing villages and crescent-shaped beaches like you've never seen before. 
A haven for outdoor enthusiasts and adventure seekers, St. Lucia has many exciting things to do including ziplining, hiking, mountain biking, horseback riding, swimming, scuba diving and more.  The island also boasts amazing and unique attractions like the world's only drive-in volcano, the iconic twin peaks of the Pitons, and large rainforest preserves with dense tropical vegetation and waterfalls perfect for swimming. 
With so many activities to choose from in St. Lucia, I recommend selecting a few of the following things to do. Then, spend several days outside your resort experiencing the best of what this incredible destination has to offer. 
Check Out These Unforgettable Things to Do in St. Lucia that the Whole Family Will Enjoy
Disclosure: This page contains affiliate links. As a Booking.com associate, I earn a small commission should you choose to book through my links.
Related Posts: First-Timers Guide to St. Lucia
Real St. Lucia Tours Island Expo Tour – A Fabulous Day in St. Lucia
50 Interesting Facts About St. Lucia

The Pitons
Soufriere, St. Lucia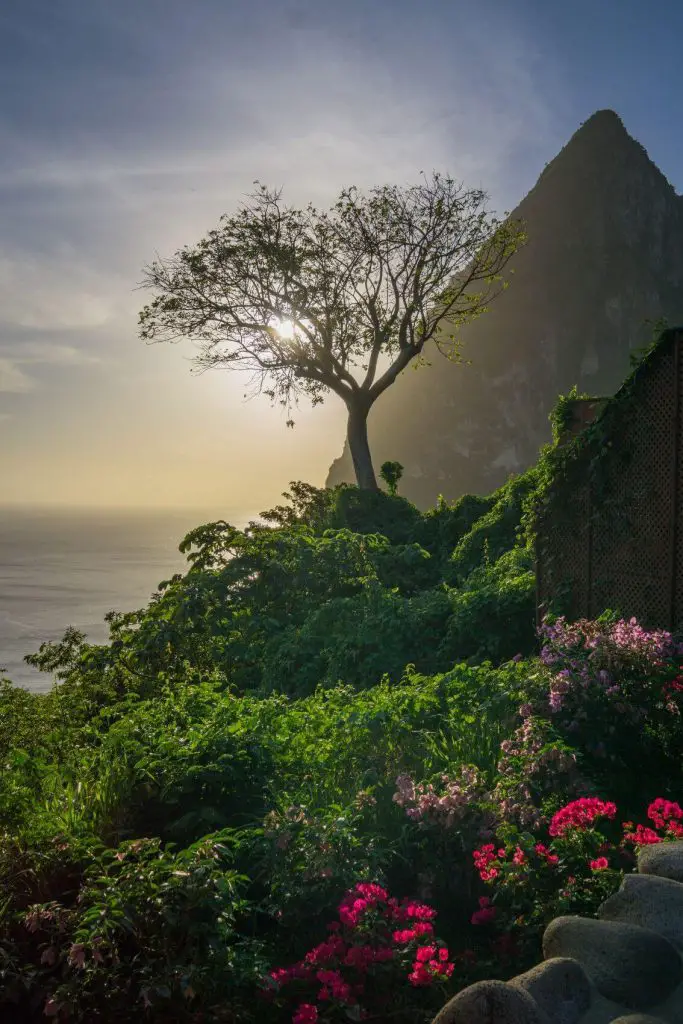 The Pitons are a UNESCO World Heritage Site and St. Lucia's most iconic landmarks. They are also the most photographed site in the Caribbean. Soaring roughly 2500 ft high, these twin peaks were formed by volcanic activity between 200,000 and 300,000 years ago. While it is possible to climb both the Gros Piton and the Petit Piton, it is a strenuous hike. In fact, the Petit Piton is so steep that it should only be climbed by experts. For this reason, most travellers head to Soufriere to marvel at the magnificent views.  
Want to stay in a hotel with views of the Pitons? Check out Jade Mountain Resort, which is one of the best luxury all-inclusive resorts in the Caribbean.
Pigeon Island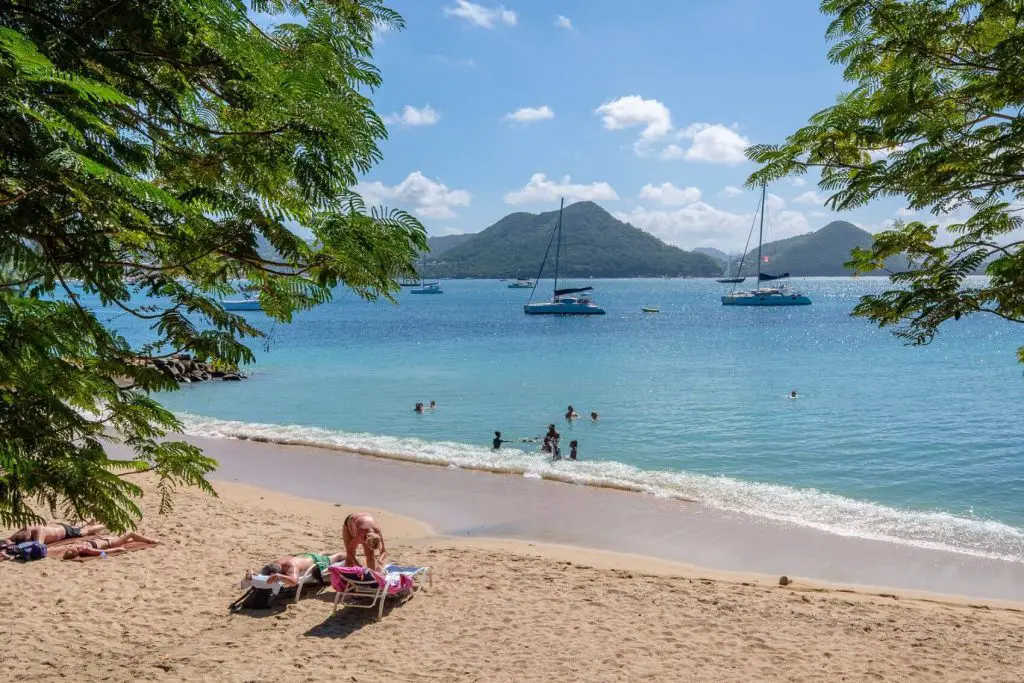 Located across from Rodney Bay on the northern tip of St. Lucia, Pigeon Island National Park is one of the top-rated things to do on the island. Designated a Historic Landmark, the area is perfect for a diverse group of travellers with 18th-century military ruins to explore, a lookout point with panoramic views and deserted beaches for swimming. Connected to the mainland by a causeway, this 44-acre peninsula is easily accessible by land or water. 

Rodney Bay
Rodney Bay, St. Lucia

Rodney Bay is a great base for exploring all the fantastic things to do in northern St. Lucia. It is also one of the island's most popular destinations for shopping, dining, and entertainment. Nearby attractions include St. Lucia's biggest shopping mall, Pigeon Island National Park and Reduit Beach. 

Reduit Beach
Rodney Bay, St. Lucia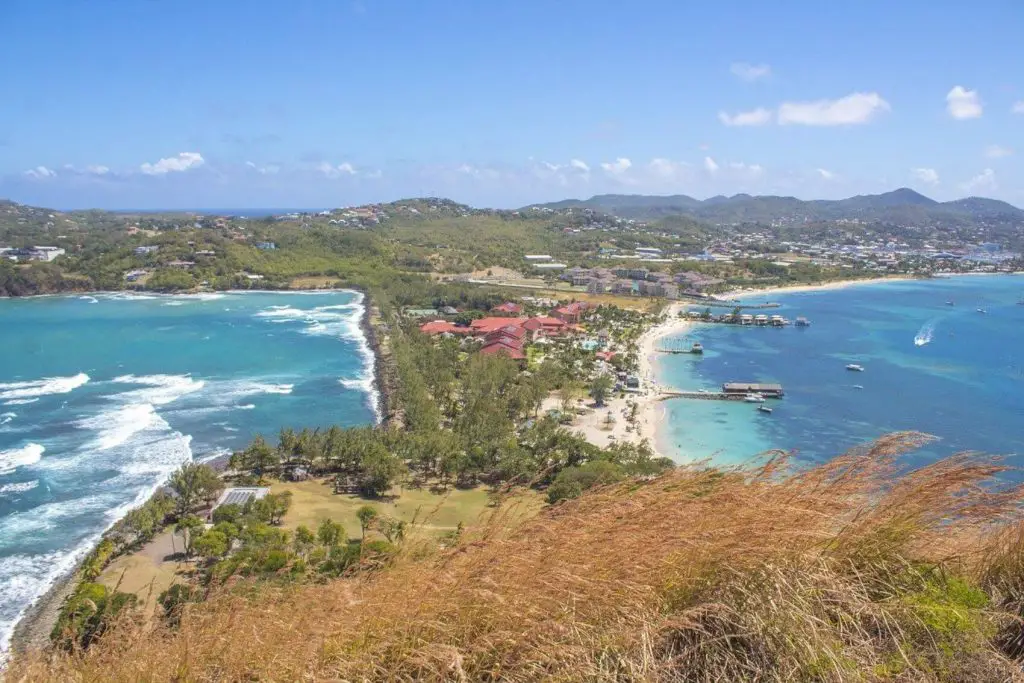 Reduit Beach is one of the most visited beaches in St. Lucia, and a favourite amongst cruise ship passengers. Spanning an impressive 5-miles, its soft white sand and clear turquoise waters are unlike other beaches on the island.  Reduit Beach offers visitors a variety of things to do including spa treatments on the beach, lounging in the sun, and various water sports like snorkelling, windsurfing and waterskiing. The best times to visit are in the morning and evening when there are fewer crowds. This allows for a much better experience.  

Splash Island Water Park
Reduit Beach Ave, St. Lucia
Located just offshore on St. Lucia's famous Reduit Beach, Splash Island Water Park is home to the Eastern Caribbean's first inflatable water park. Perfect for the young and the young at heart, they offer a trampoline, climbing wall, swing, monkey bars, high jump, water polo and water volleyball. With lifeguards on duty at all times, this is one of the best places on the island for adventurous families looking for a day of fun. 
If this water park isn't enough to get your adrenaline pumping, check out the facilities at the Coconut Bay Beach Resort. This family-friendly all-inclusive resort has it all –  an activity pool, a lazy river, waterfalls, water slides – check it out!

Anse Chastanet
Soufriere St. Lucia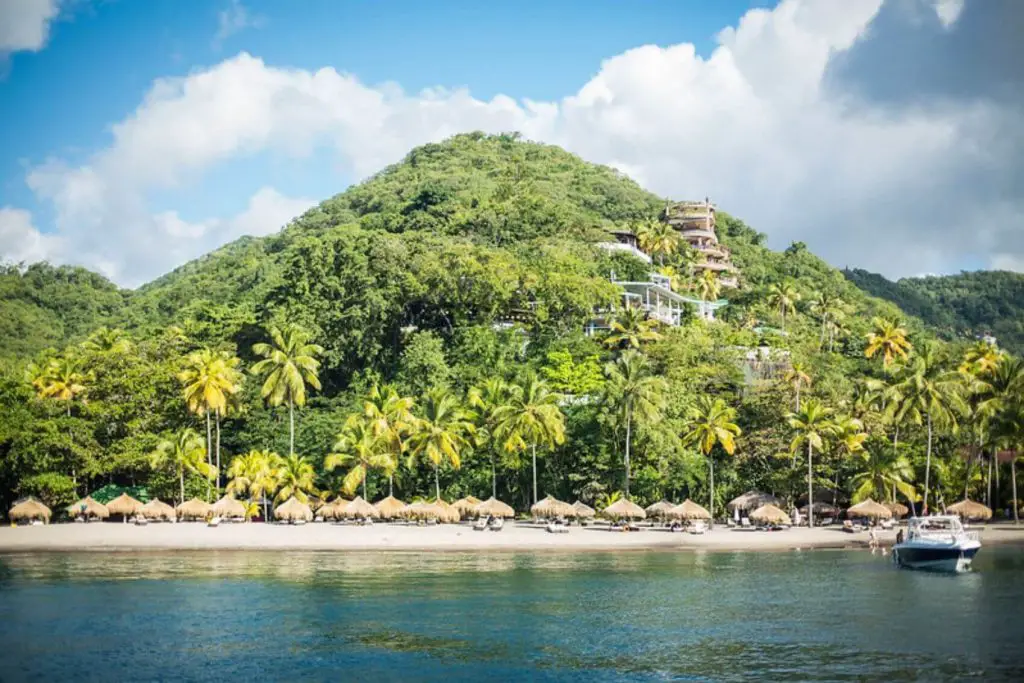 Said to be the best place for snorkelling and diving in St. Lucia, Anse Chastanet is a sheltered beach with beautiful views of the Pitons. The waters here are crystal clear and home to an abundance of sea life including coral, parrotfish, angelfish, wrasse and barracudas. Some visitors even report swimming among the sea turtles! After visiting Anse Chastanet, be sure to walk along the path to Anse Mamin, a much quieter and less developed beach with a small bar and grill onsite.
If you'd like to stay nearby, both the Jade Mountain Resort and the Anse Chastanet Resort are great choices. In fact, they offer some of the most luxurious accommodations in St. Lucia!

Diamond Falls Botanical Gardens
Soufriere, St. Lucia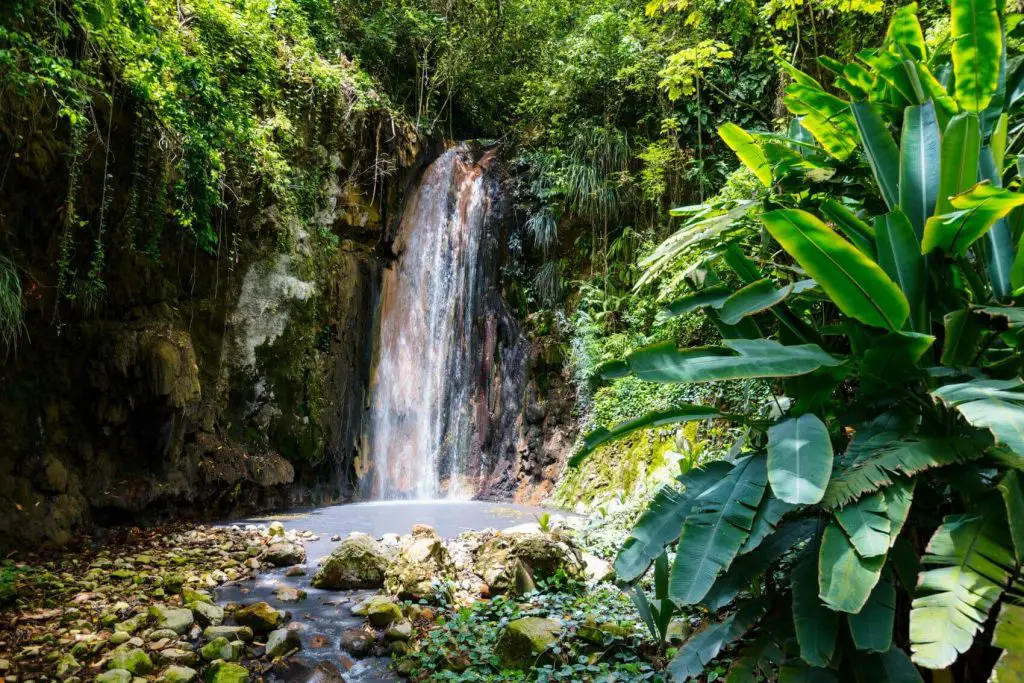 Part of the Soufrière Estate, the Diamond Falls Botanical Gardens is a relaxing place to spend an afternoon in St. Lucia. Offering more than just colourful foliage and beautiful tropical plants, the gardens feature a magnificent waterfall, a nature trail, mineral baths and a restaurant.  With a low entrance fee, this is one of the best budget-friendly attractions on the island. 

Morne Fortuné
Castries, St. Lucia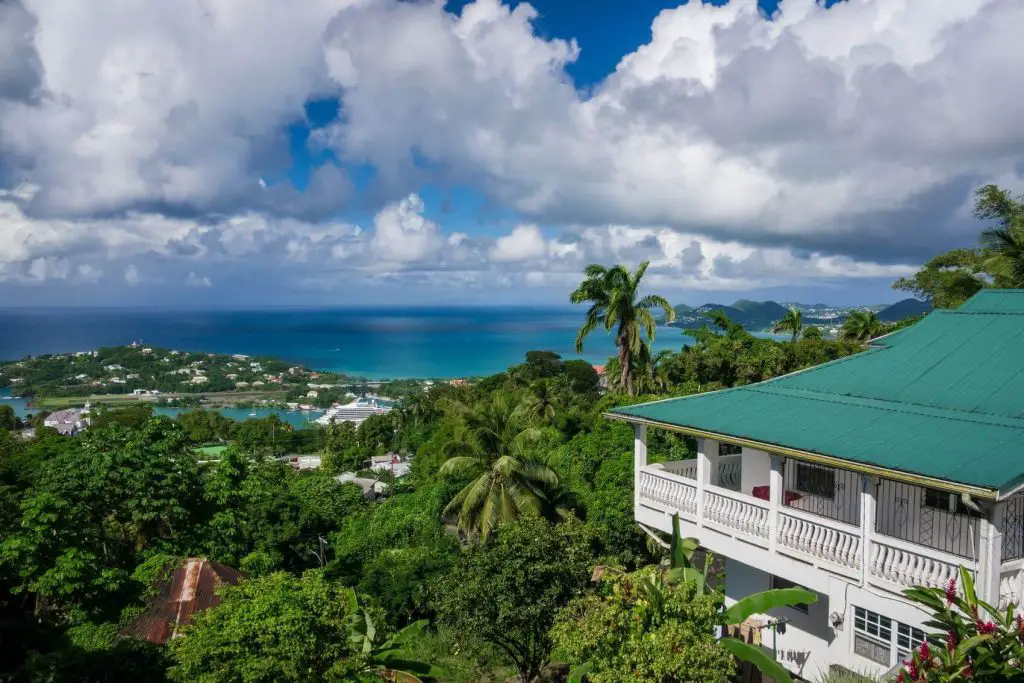 Meaning "Hill of Good Luck," Morne Fortuné is home to the Fort Charlotte, an 18th-century military outpost offering stunning panoramic views of Castries and the harbour.  On a clear day, it is even possible to see as far as Martinique. The fortifications which remain here include old military buildings and cannons and the Inniskilling Monument, which commemorates the British victory over the French in 1796. 

Sulphur Springs Park
Soufriere, St. Lucia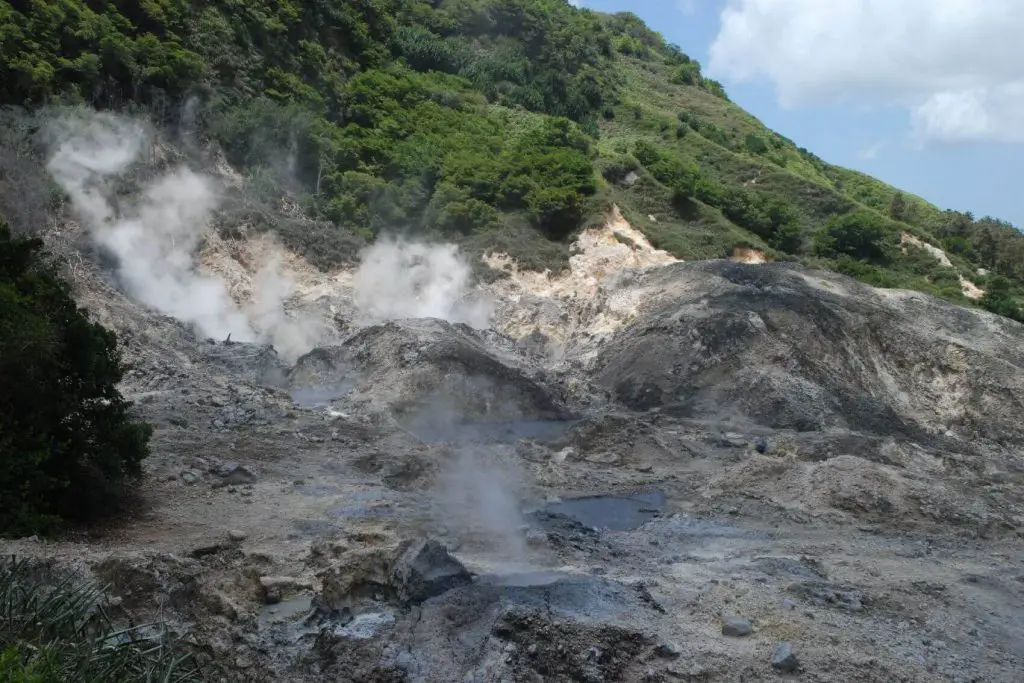 As the Caribbean's only drive-through volcano, visiting the Sulphur Springs Park is an essential thing to do while in St. Lucia.  After all, where else will you have the chance to drive along the edge of an active volcano? Sulphur Springs Park also features warm sulfuric pools perfect for that natural mud-bath experience. Said to have healing properties, these muddy pools will leave your skin feeling silky smooth while also having the potential to ruin your swimsuit.  This attraction is often packed with tour groups, so try to visit early in the day to avoid the crowds. 

Toraille Waterfall
Soufriere, St. Lucia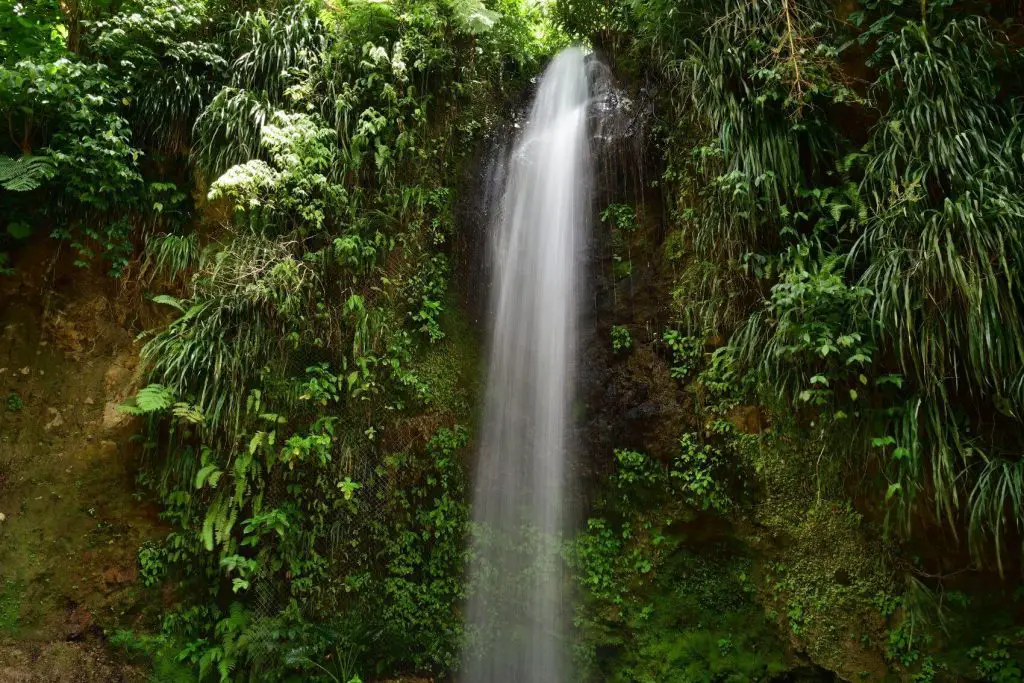 Visitors who want to swim in a waterfall while on vacation should look no further than the Toraille Waterfall. One of St. Lucia's most visited natural attractions, this 50ft waterfall cascades over a cliff into a shallow pool that's perfect for a refreshing dip. Located not far from Soufriere, visits here are often combined with Sulphur Springs Park. 

Tet Paul Nature Trail
Soufriere, St. Lucia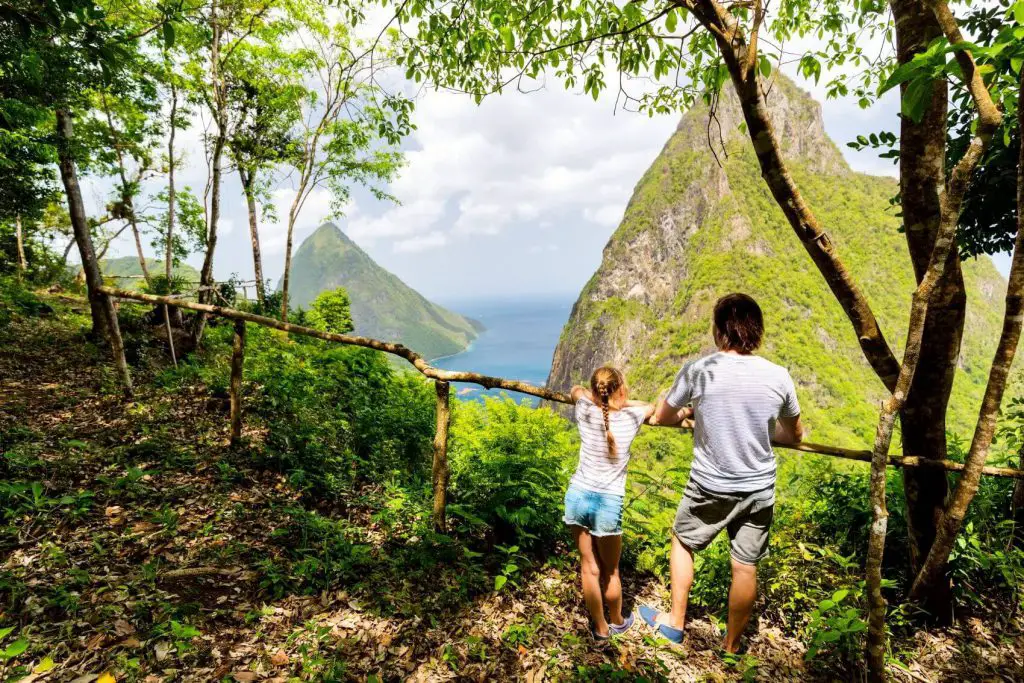 There are many places to hike in St. Lucia, but the Tet Paul Nature Trail stands out amongst the rest for its spectacular views of the Pitons. For me, it's even more appealing since it's one of the easiest hikes on the island! Rated easy to moderate, the most challenging part of the trail is the "stairway to heaven," a steep staircase leading up to panoramic views of southern St. Lucia. You can sometimes even see Martinique and St. Vincent on a clear day. Other highlights along the Tet Paul Nature Trail include a working farm, a traditional historic home, and many medicinal plants and trees. The whole loop takes an average of 45 minutes to complete. 

Marigot Bay
Marigot Bay, St. Lucia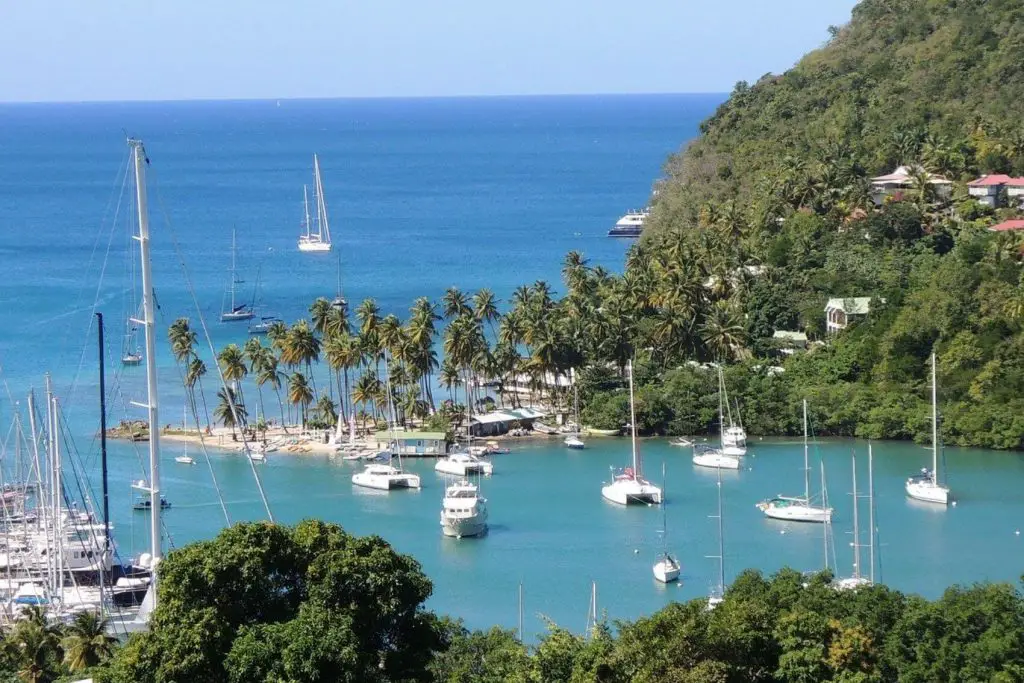 Located just 5 miles south of Castries, Marigot Bay is one of the most idyllic bays in the Caribbean and a must-see destination in St. Lucia. I recommend heading to the lookout point on the road heading towards the bay for the best views. While the harbour is spectacular and the shore is beautiful, Marigot Bay itself has little to offer for daytrippers aside from a few restaurants and high-end shops.  

Castries Market
Castries, St. Lucia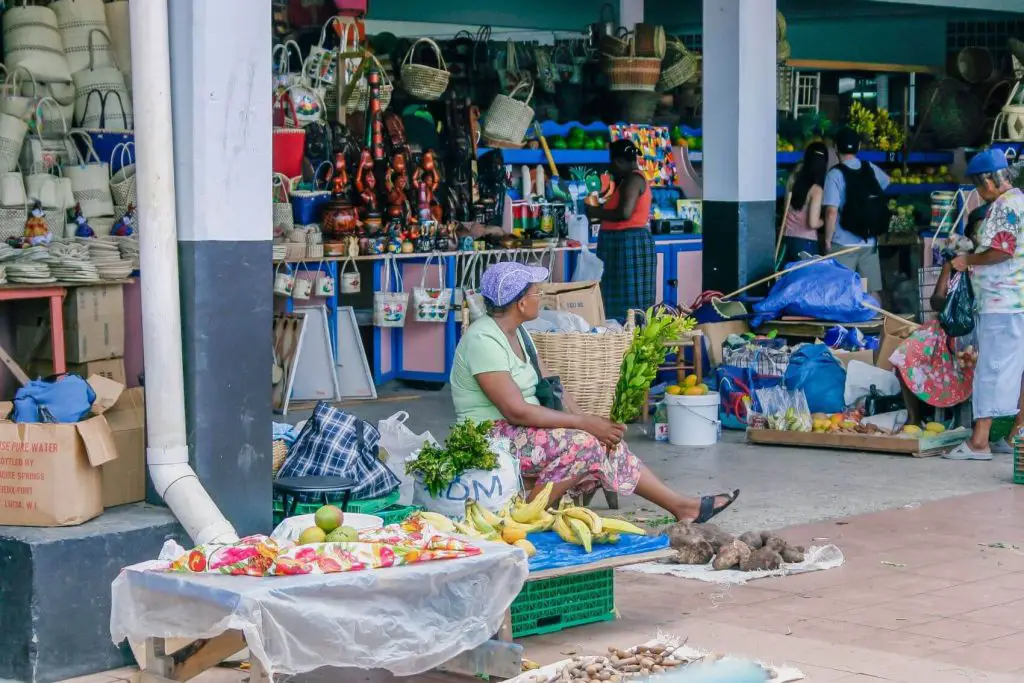 Often bustling with cruise ship passengers, the Castries Market is the best place to go for tourists who want to shop for souvenirs in St. Lucia. It's also a great opportunity to meet some local vendors and learn about their crafts. Selling everything from wood carvings to homegrown produce, it's hard not to leave the Castries Market empty-handed. While the market is open Monday through Saturday, I recommend going on Saturday morning when the locals come in from elsewhere on the island to set up their stalls.

Derek Walcott Square   
Castries, St. Lucia
Named after St. Lucia's distinguished 1992 Nobel Laureate, Derek Walcott Square is a large public park located adjacent to the Cathedral of the Immaculate Conception in Castries. It has plenty of shade, lovely tropical flowers, and a bandstand. The square is busiest on Sundays, as many local families congregate here after church. 

Cathedral of the Immaculate Conception
Bourbon St, Castries, St. Lucia

The Cathedral of the Immaculate Conception is the Caribbean's biggest church and the most famous landmark in Castries. Built in 1897, it measures an impressive 200 ft long by 100 ft wide. Despite its simple stone exterior, it boasts a wonderful mixture of traditional and modern frescos on the inside walls.  

Ziplining
In St. Lucia, one of the most popular things to do for adventurous travellers is ziplining through the rainforest. Although there are several places on the island where ziplining is offered, the best place to go is Morne Coubaril Estate. Featuring iconic views of the Pitons, ziplining here is like nothing else you will ever experience.  

Aerial Tram Ride
Babboneau, St. Lucia  

If the thought of ziplining turns your stomach, consider experiencing the rainforest canopy aboard an aerial tram instead.  Rainforest Adventures in Babboneau offers a 2.5-hour long excursion in an open-sided gondola where knowledgeable guides teach visitors about the flora and fauna surrounding them.

Chocolate Making
Since cocoa is grown all over St. Lucia, one of the things you should do while on vacation is learning about the chocolate-making process. The best tours to take are the "Tree to Bean" and "Bean to Bar" tours, where you actually get to make your own chocolate bars! Many hotels also offer in-house chocolate-related experiences such as spa services and warm cocoa tea. 

Hike in the Rainforest
In St. Lucia, there are more than 19,000 acres of rainforest perfect for hiking and outdoor enthusiasts. Beginner hikers looking for an easy walk should check out the mile-long trail through Barre de l'Isle Forest Reserve while more experienced hikers will love the challenge of the Enbas Saut Waterfall Trail within the Edmund Rain Forest Reserve. Both trails are well-maintained and offer close-up views of tropical flowers and plants, as well as panoramic views of the mountains and the sea. 

Spa Treatments 
After spending so much time exploring all the great things to do in St. Lucia, a great way to unwind is by enjoying a relaxing spa treatment. In fact, most hotels on the island feature an onsite spa and some even include daily treatments in their room rates! 

Mountain Biking
One thing most people don't know about St. Lucia is that it is a great place to go mountain biking. The island's forested mountain trails can be a challenge and the sights are breathtaking. To get the best experience, head to Bike St. Lucia, which offers 12 miles of private trails on the grounds of Anse Mamin. You will cycle through the remnants of an 18th-century plantation house and pass through the dense rainforest vegetation before enjoying a picnic lunch and a swim. It's a great way to spend the day!

Friday Night Gros Islet Street Party
Rodney Bay, St. Lucia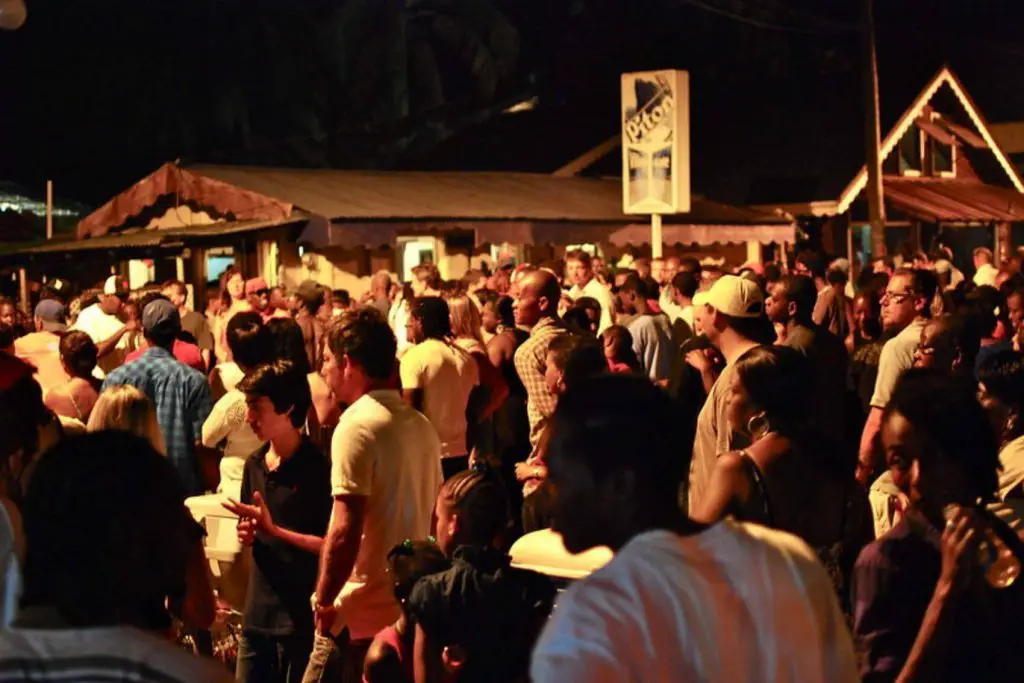 Also called the Gros Islet Jump Up, this Friday night street party is a popular thing to do amongst locals and tourists in St. Lucia who enjoy the party atmosphere. On the crowded streets, locals sell BBQ conch and chicken and pork and serve up a wide range of rums or the local Piton beer. There are giant speakers blaring reggae, soca and calypso which play on into the night making it a great place to dance the night away. 
If you aren't staying in the area but want to find a similar party atmosphere, check out the Anse La Raye fish fry on Friday nights or the Dennery fish fry on Saturdays.

Charter a Boat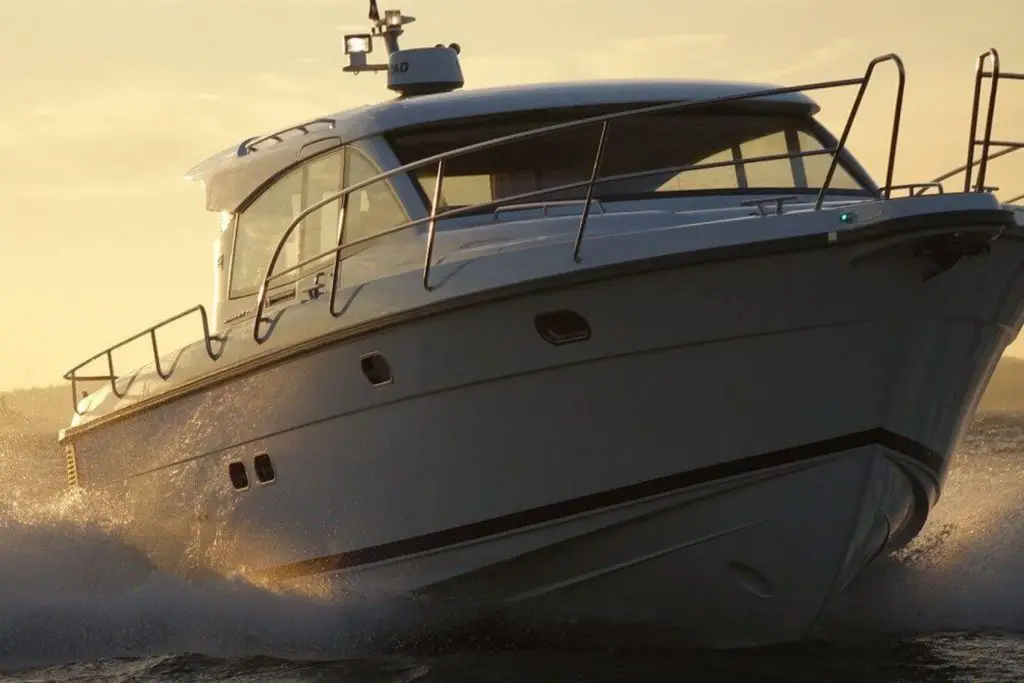 In St. Lucia, one of the best ways to get from the northern part of the island down to Soufrière is by boat. Not only is it an epic experience, but it also has the added bonus of avoiding the rough windy roads. There are sailboats, catamarans and powerboats available for charter in Rodney Bay and Marigot Bay, some of which even come with a crew.  Those who'd rather not charter their own boat can join one of the many sailing trips which take you to visit the most popular things to do in southern St. Lucia. 

St. Lucia Golf & Country Club
Cap Estate, St. Lucia
Golfers in St. Lucia will love the 18-hole championship golf course at the St. Lucia Golf & Country Club. Located in the northern part of the island at Cap Estate, this 6,829-yard, par 71 course offers stunning views of both the Atlantic Ocean and the Caribbean Sea. The 20,000 sq. ft. clubhouse is equally as impressive with its drinks cart, full bar, restaurant, duty-free pro-shop and driving range.

Sample Craft Beer 
Castries, St. Lucia
Craft beer connoisseurs don't usually think of St. Lucia when it comes to handcrafted ales. However, after sampling the finely crafted beer at the Antillia Brewing Company they might change their minds.  Using only the best malts and hops, Antillia brews unique beers specifically for the tastes and climate of St. Lucia. These include island flavours such as chocolate, passion fruit, and grapefruit. 

Rum Tasting
Roseau, St. Lucia
If you're interested in tasting some St. Lucian rum, St. Lucia Distillers is the place to go.  Their most commonly used rum is Bounty, while the Chairman's Reserve is top-shelf quality. They offer plenty of spiced rums that are infused with flavours such as cinnamon, bay leaf, vanilla, nutmeg, as well as rums that have been aged in barrels for between 5 and 12 years. Be sure to take the Rhythm of Rum tour for an exclusive look inside the distillery itself!

Horseback Riding on the Beach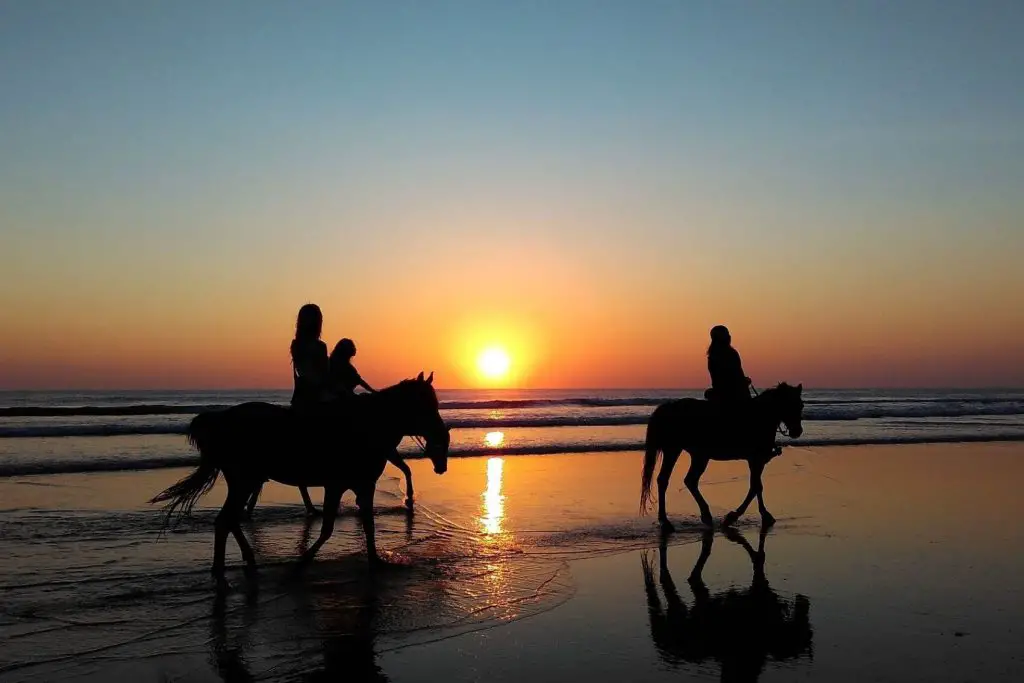 If you've ever dreamed of riding on horseback into the sea, St. Lucia is the place to do it. It requires no previous experience and is fun for all ages! The best spots on the island for horseback riding on the beach are the Atlantic Shores Stables on the south coast and Sandy Hoofs St. Lucia on the east coast.

Soufrière

Founded in about 1745, Soufrière has great historical importance in St. Lucia. It was the island's first capital city and the site of the guillotine during the French Revolution in 1780. Best viewed from a panoramic lookout on the main road to Vieux Fort, this vibrant fishing village is a port of call for several sightseeing cruises.

Sample Local Flavours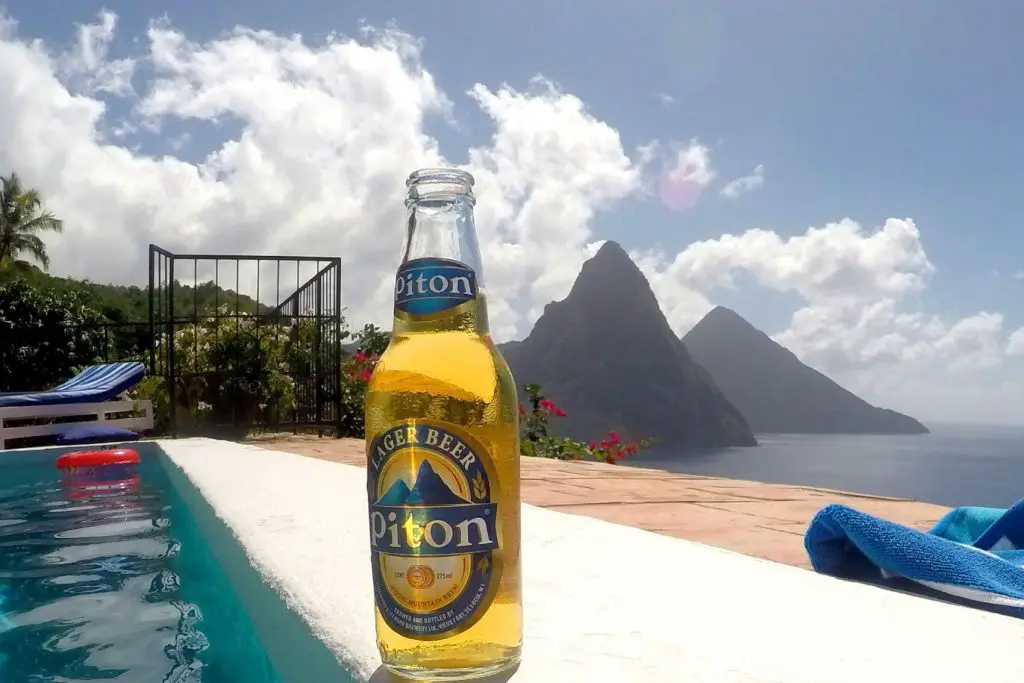 A favourite thing to do amongst travellers in St. Lucia is sampling some of the local flavours. Green fig and saltfish is the island's national dish and are featured on the menu at many local restaurants.  In this dish, boiled green fig (which is the local name for plantain) is topped with a dried salted codfish topping to create a hearty and flavourful meal. Other popular foods to try in St. Lucia include grilled meat and seafood, as well as fresh fruits such as bananas and breadfruit. To quench your thirst, the best things to drink are fresh coconut water, cocoa tea, unique fruit juices and St. Lucia's local Piton beer. 

Have you been to St. Lucia? What was your favourite thing to do on the island? I'd love to hear about it in the comments section below!
---
Pin it for later