Once a small fishing village, Ocho Rios, on Jamaica's north coast has become a luxurious port city with many great things to do nearby. Meaning "Eight Rivers" in Spanish, it attracts not only beach lovers but also adventure seekers, nature explorers, and culture junkies.  Unlike Negril where the beach is the main focal point or the bustling city of Montego Bay, Ocho Rios has a diverse combination of natural attractions and cultural activities. 
Remember, even if you are staying elsewhere in Jamaica, you can still check out the things to do in and around Ocho Rios. Montego Bay and Kingston are less than two hours away, making it an easy day trip from either of these Jamaican cities. 
So without further ado, here are the best things to do in and around Ocho Rios, Jamaica!
See also: Fun things to do in Negril
The Top-Rated Things to do in Montego Bay
Best Activities in the Ocho Rios Area

Dunn's River Falls
Hwy A3, Ocho Rios, Jamaica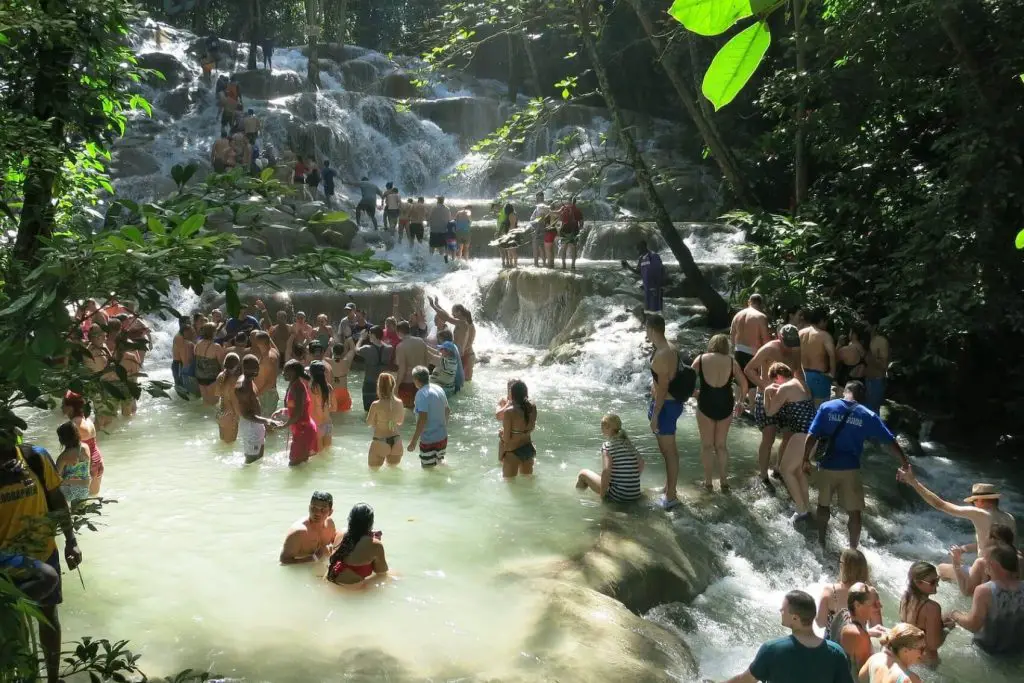 Known as Jamaica's most famous waterfall, Dunn's River Falls is one of the top attractions in Ocho Rios. Located just outside the city, this tiered waterfall cascades 600 feet down to the cool swimming hole below. Visitors can climb the tiers to the top of the falls either solo or with the help of a well-trained guide. Dunn's River Falls is a popular thing to do amongst cruise ship passengers, so if you are staying in Ocho Rios, it's wise to plan your visit when there are no ships in port.  Expect to spend anywhere from 45 minutes to two hours visiting Dunn's River Falls. Be sure to pack a camera, a spare set of clothing, and water shoes as the limestone rocks are very slippery. 

Island Gully Falls  (The Blue Hole)
Thatch Hill Rd, Lodge, Jamaica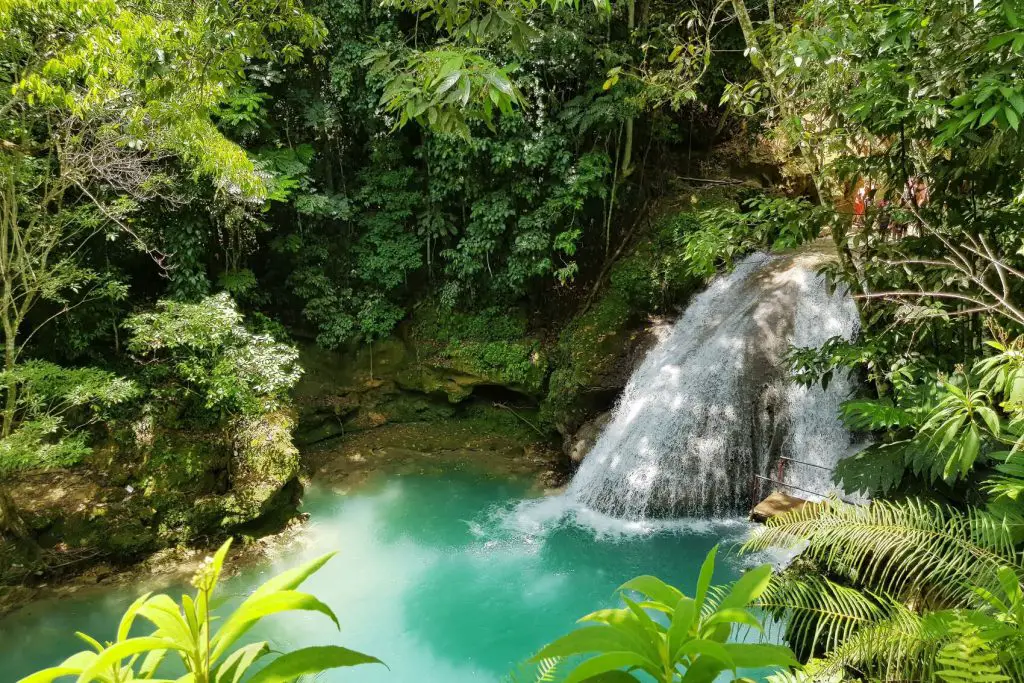 Over the last decade, Island Gully Falls, also known as the Blue Hole, has gone from a hidden gem to the most visited attraction in Jamaica. Located in the jungle 25 minutes south of Ocho Rios, this series of small lagoons and waterfalls is a stunning natural attraction. Visitors here can expect to jump from rope swings, dive from the top of a waterfall, and take a dip in the turquoise water. There are also guides onsite that will tell you the safest places to jump and the best places to swim. So bring with you your water shoes, your towel, and your sense of adventure. 

Mystic Mountain
Ocho Rios, Jamaica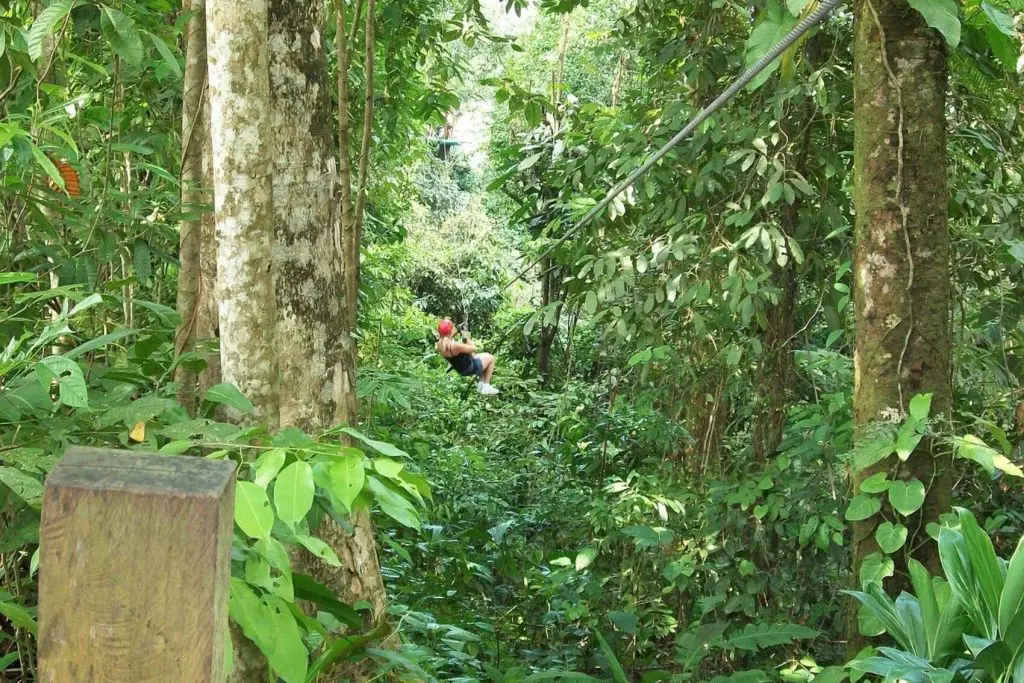 One of the best things to do for families in Jamaica is to visit Mystic Mountain in Ocho Rios. This adventure park has a variety of activities for people of all ages. A visit to Mystic Mountain starts with ascending the mountain on a chairlift. Once at the top, you can enjoy admiring the panoramic views below, swimming in the infinity pool and sliding down the waterslide. Then afterwards, you can choose to descend the mountain by ziplining, bobsledding, hiking or riding the chair lift. Packages are available for adventurous visitors who wish to zipline and bobsled, and there are also combo tour packages that combine Mystic Mountain with the nearby Dunn's River Falls. Plan to spend at least two or three hours here. Don't forget to pack your camera and a swimsuit!

Shaw Park Gardens & Waterfalls
Ocho Rios, Jamaica
Shaw Park Gardens & Waterfalls is the largest botanical garden in Ocho Rios. Its 25-acre grounds are a dream come true for nature lovers with tropical flowers, many species of birds and scenic views overlooking the coast. Guided tours are available, perfect for those who want to learn more about the history and the plants. Visitors can expect to spend an hour or two strolling around the gardens.

Green Grotto Caves
Discovery Bay, Jamaica

While it's a little bit outside Ocho Rios, visiting the Green Grotto Caves is one of the most exciting things to do in Jamaica. Formerly used by the Arawak Indians and as a hideaway for escaped slaves and Spanish settlers fleeing from the British, these limestone caves have a fascinating history. Tours here are extremely impressive, taking you underground to see the stalactites, stalagmites and freshwater grotto. Heads up that there are bats and snakes in the caves and that the walkways are often slippery.  

Nine Mile Tour
Nine Mile, Saint Ann Parish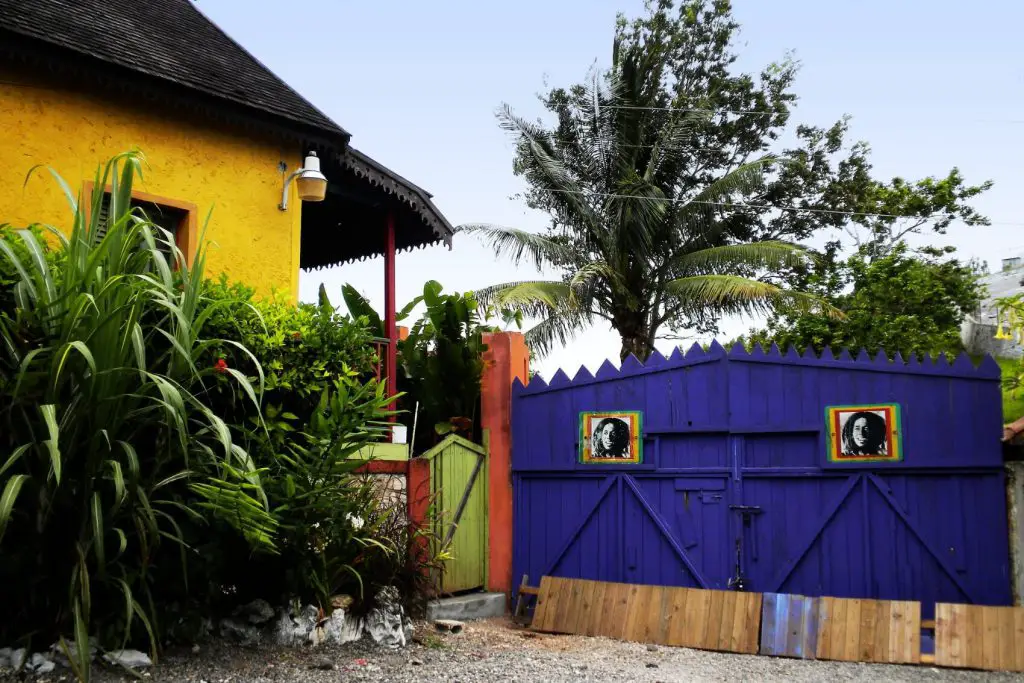 Located in Jamaica's Saint Ann Parish, the village of Nine Mile is a must-visit for any reggae fan.  As both the birthplace and resting place of the legendary Bob Marley, it is the best spot on the island to hear tales of Marley's life and to learn about the Rastafarian culture. Tours of Nine Mile are cannabis-friendly, and visitors can expect to be offered a wide array of ganja-related products. 

Turtle River Falls and Gardens
Eden Bower Road, Ocho Rios
One of the best eco-friendly things to do in Ocho Rios is to tour Turtle River Falls and Gardens. A beautiful 15-acre hillside property, these gardens are home to 14 cascading waterfalls, several varieties of indigenous and endangered plants, as well as a lovely Japanese Koi Pond. Other highlights at Turtle River Falls include feeding the exotic birds at the walk-in aviary and taking a dip in the tropical swimming pool, complete with a swim-up bar and grill.  Visitors should plan on spending an hour and a half touring the gardens and an additional hour enjoying the other amenities on-site. 

Firefly Estate
Grant's Town, Jamaica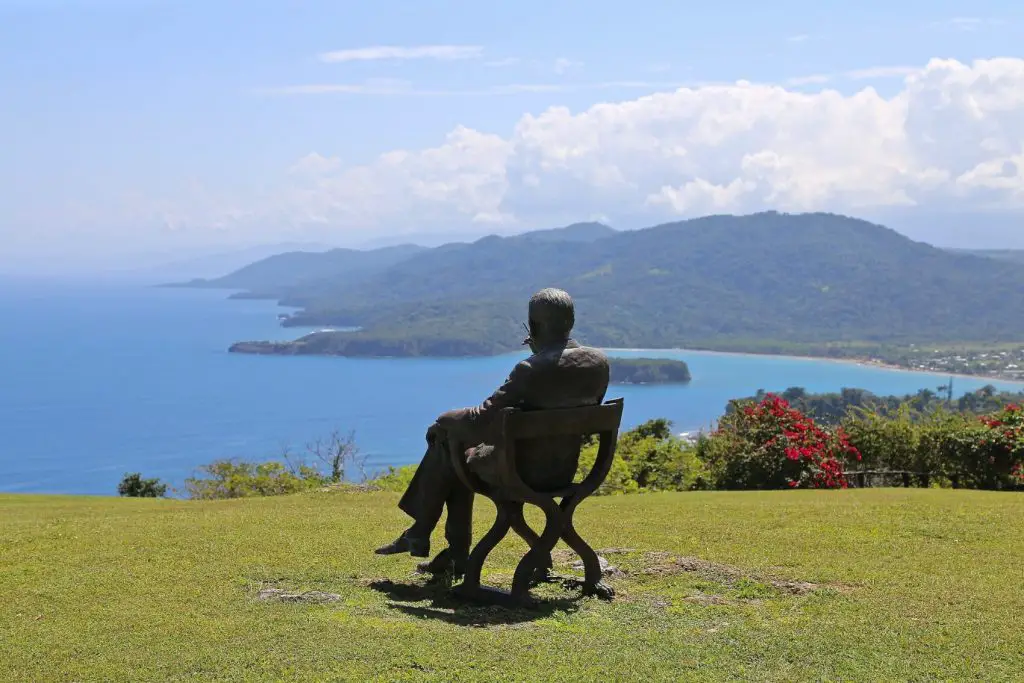 Visitors who are looking to take in some of the most magnificent coastal views near Ocho Rios should head up to Firefly, the hilltop home and burial place of the playwright, Sir Noel Coward. Although the main attraction here is the museum within Coward's former vacation home, the true highlight is the property itself. Don't forget to pack your camera!

Fern Gully Scenic Drive
Ocho Rios, Jamaica

If you're looking for a short yet impressive thing to do near Ocho Rios, take a drive through Fern Gully. This 5km road has been paved over an old riverbed, running south out of town. Here, you can roll your windows down and breathe in the fresh air in what feels like a tunnel created by giant tree ferns forming a canopy overhead. It's a spectacular experience. Along the way, you also have the option to stop at the roadside vendors to purchase wooden carvings and other souvenirs.

River Tubing on the White River
Ocho Rios, Jamaica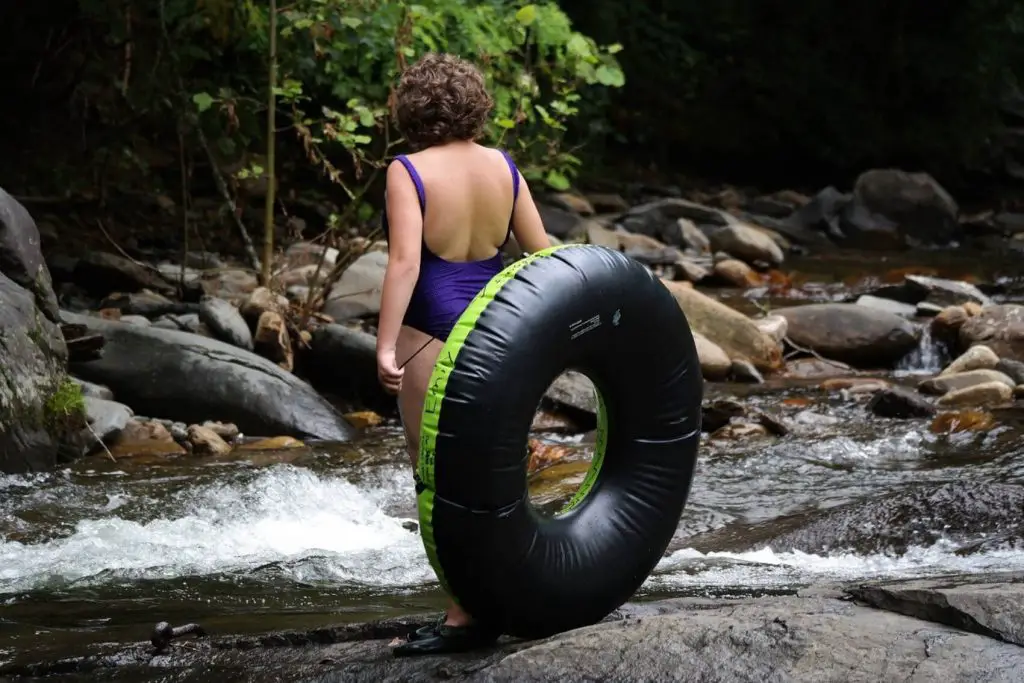 Another great activity for all ages in the Ocho Rios area is tubing on the White River. Set high in the mountain, the gentle rapids carry visitors down the river in large inner tubes. The experience is fantastic, as while you float, you get to admire the clarity of the water and the exotic birds in the treetops. Guides singing reggae music only add to the relaxed ambiance. The River Tubing Safari is a 90-minute adventure offered by Chukka Caribbean Adventures, the same tour provider we used on our trip to Negril. 

Beach Horseback Ride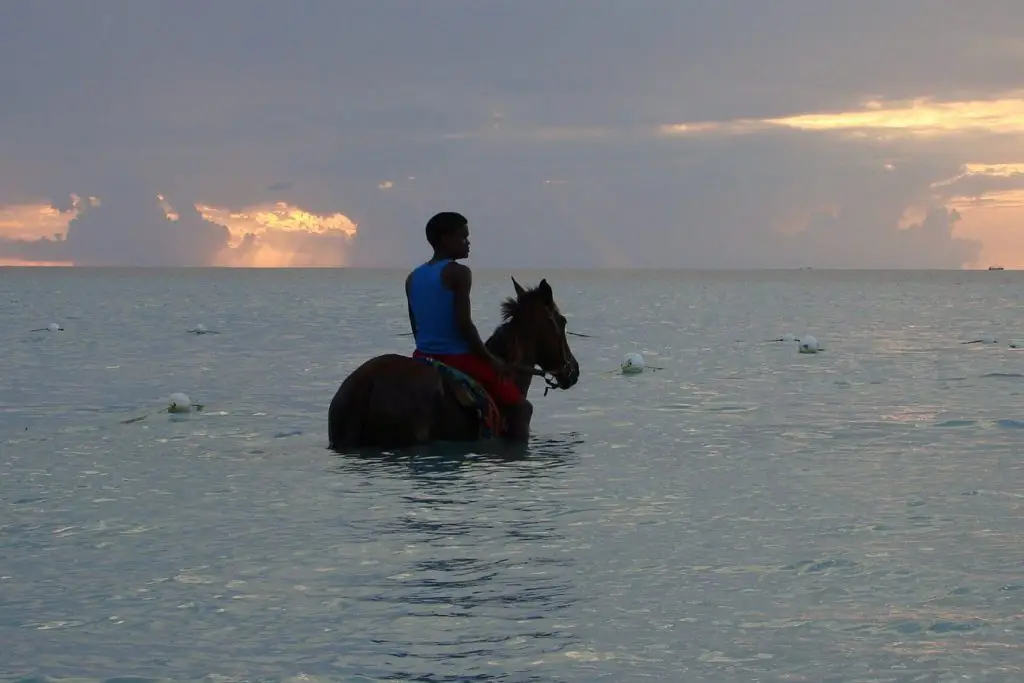 One of the most memorable things to do in Ocho Rios is riding on horseback into the ocean.  Not only is it a blast, but it is a great way to explore the island! Tours are offered by several companies and usually range from $60-100 per person. With horses geared towards all riders, there is no experience necessary for this epic experience. 

Konoko Falls and Park
1 Mahoe Falls Road, Ocho Rios, Jamaica

When it comes to natural attractions, Konoko Falls and Park is one of the most impressive in Jamaica. Located just 5 minutes from Ocho Rios, this hidden gem has many things to do, including taking guided tours of the property, visiting a small zoo, and checking out the museum and gift shop. They also have an aviary and a budgie feeding station which is a total thrill for kids. Similar to Dunn's River Falls, there is the opportunity to climb the falls and swim in the lagoon. Aside from the guests here from special events, people usually around two hours visiting Konoko Falls and Park.

Rio Nuevo Battlefield
Tower Isle, Jamaica
A must-visit for any history buff is the battle site between the Spanish and English in 1658. Located several kilometres east of Ocho Rios near the mouth of the Rio Nuevo River, the park-like property boasts a museum and an unspoiled beachfront.  

Yaaman Adventure Park
Rte 3, Ocho Rios, Jamaica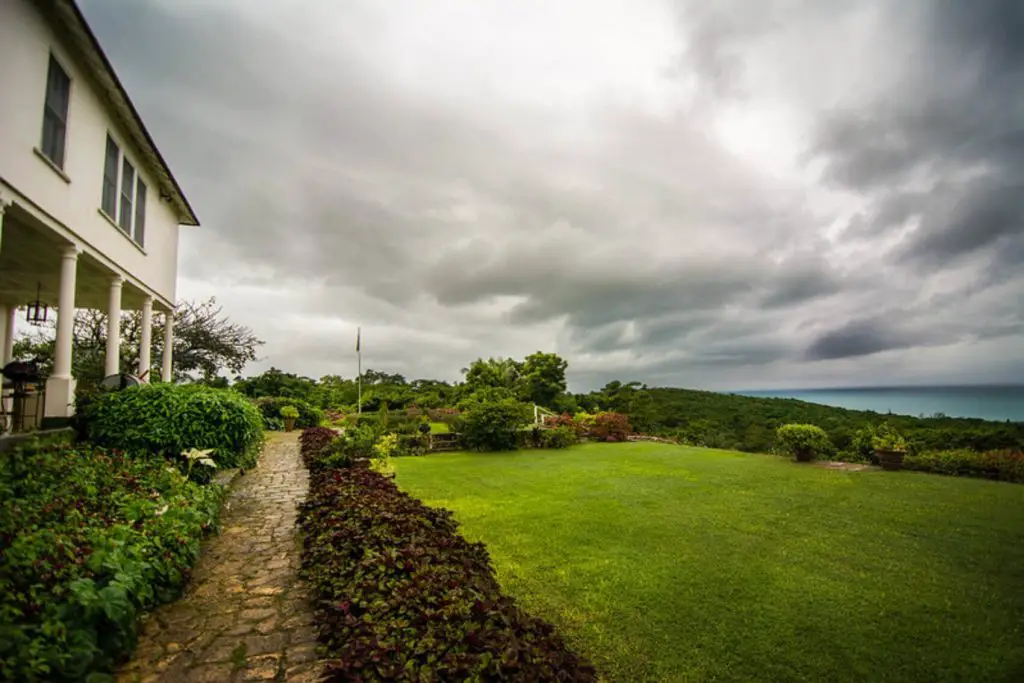 At Yaaman Adventure Park in Ocho Rios, their slogan is "the place where you will find all the fun things to do in Jamaica!" That couldn't be more true. Formerly known as Prospect Plantation, this 18th-century estate offers exciting cultural and adrenaline-pumping experiences. Plan to spend at least half a day preparing Jamaican cuisine, meeting the birds in the aviary and riding mud buggies, jitneys and/or camels!

James Bond Beach
Oracabessa, Jamaica
An essential stop for any James Bond fan is James Bond Beach. Located in Oracabessa, about 20 minutes east of Ocho Rios, it is the secret hideaway of "James Bond" novelist Ian Fleming, and where he penned his famous "007" series. Here, visitors can chat with the locals, enjoy freshly caught seafood, and get a firsthand look at authentic Jamaican culture. 

Bay Beach / Turtle Beach
Ocho Rios, Jamaica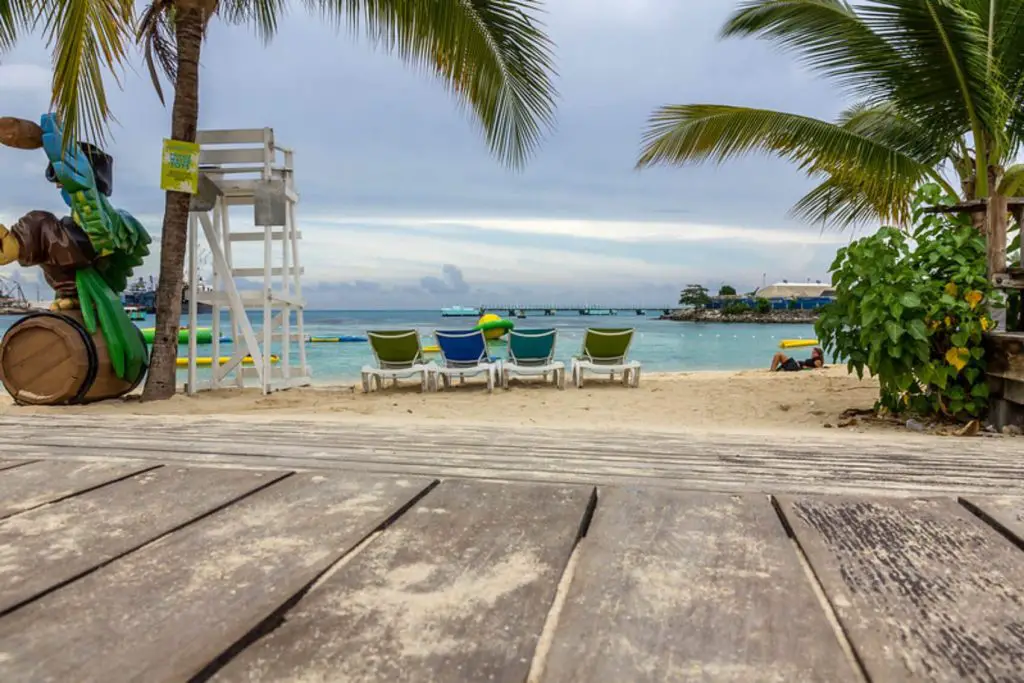 Bay Beach, also known as Turtle Beach, is the closest beach to the Ocho Rios cruise port. It is perfect for families with calm, shallow water for swimming. There is an entry fee of 200 JMD, which includes amenities such as changing facilities, picnic tables and lounge chairs.  Water sports and boat rides are also offered onsite.

Dolphin Cove
Belmont Road, Ocho Rios, Jamaica
When visiting Ocho Rios, one thing you should avoid doing is visiting Dolphin Cove. Although this is a popular marine park that offers up-close dolphin encounters, these experiences are ethically questionable and should, therefore, be avoided.

Wondering where to stay in Ocho Rios? Check out this comparison of Sandals Royal Plantation and Sandals Ochi and this Sandals Royal Plantation review.
As you can see, Ocho Rios, Jamaica, is a fun, family-friendly destination with a ton of exciting things to do. So whether you are stopping by on a cruise or staying for a week, you're bound to have a fantastic time. 
To learn more about the areas outside Ocho Rios and the things you can do on the island, check out my pages on the relaxing beachfront town of Negril and the bustling port city of Montego Bay.

What are your favourite things to do in Ocho Rios? Let me know in the comments section below!

Pin it for later