Roughly 2 hours from Paris, the Loire Valley is well-known for its magnificent castles, lovely villages, and world-class wines. Visitors to the area have a wide variety of accommodations to choose from including hotels, B&B's, guest houses, castle hotels, and vineyard accommodations. The vineyard accommodations in the Loire Valley are amongst the best in France and make a great base for exploring the surrounding countryside.

Vineyards in the Loire Valley with On-site Accommodations

Domaine des Bidaudieres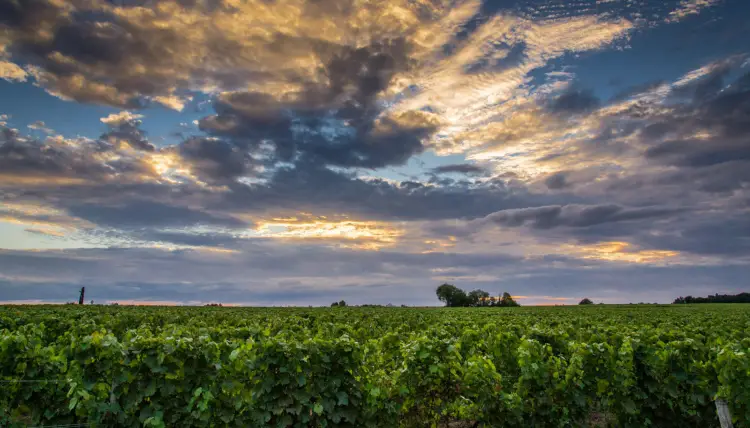 Rue du Peu Morier, 37210, Vouvray, France   +33 (0) 2 47 52 66 85
Located in the heart of the vineyard of Vouvray, this elegant XVIII century property was completely restored in 1996. Covering 15 hectares, Domaine des Bidaudieres features beautiful terraced gardens complete with an outdoor pool.
Inisde, each personalized guest room is tastefully decorated and comfortable. Rooms are equipped with air conditioning and feature breathtaking views of the surrounding Loire Valley countryside.
Pet-Friendly: No
Wheelchair Accessible: Yes

Domaine de Beausejour
Domaine de Beauséjour, 37220, Panzoult, France +33 (0) 2 47 58 64 64
The Domaine de Beauséjour offers vineyard accommodations overlooking the Vienne valley upstream of Chinon in the Loire Valley. The estate spans over 90 hectares and contains 27 hectares of AOC CHINON vineyards.
There are 3 rooms available plus an on-site cottage which is rented on a weekly basis. A crib and highchair are available upon request at the time of booking, making this a great option for families. There is a pool which is located near the rooms and the cottage. All accommodations have panoramic views of the valley.
Pet-Friendly: Yes
Wheelchair accessible: No

Château de Marçay
Route du Château, 37500, Chinon, France     +33 (0) 2 47 93 03 47
Built on the ruins of an 11th-century fortress, this 15th-century château was converted into a hotel-restaurant in 1973.  The Château de Marçay features a 12 000 bottle wine cellar and operational equestrian stables.
The 22 Renaissance style guest rooms in the castle and it's West Wing are spacious and decorated with period pieces and traditional tapestries. Some rooms have views of the park while others look onto the central courtyard. Several also offer direct access to the swimming pool via a private terrace.
There are 15 hectares of parkland with shady alleys of linden trees, meadows of wildflowers, produce-filled orchards, vegetable gardens, and carefully cultured vineyards at the Château de Marçay.
Pet-Friendly: Yes. Charges may apply.
Wheelchair Accessible: restaurant: yes / hotel: no

Château de Pintray
D283, 37400, Lussault-sur-Loire, France +33 (0) 2 47 23 22 84
The Château de Pintray is located about 5 minutes from Amboise, near the Château de Chenonceau and halfway in between Azay le Rideau and Chambord. 
Offerings 5 guest rooms including 2 family suites, this 16th-century château is one of the finest places to stay in the Loire Valley. Located in the middle of the vineyard and the park, guests can explore the on-site wines of Touraine and Montlouis-sur-Loire. Wine tasting can be organized upon request.
Pet-Friendly: No
Wheelchair Accessible: No

Château de Rochecotte
43 rue Dorothée de Dino, 37130, Saint-Patrice, France  +33 (0)2 47 96 16 16
The 18th-century château-hotel, Château De Rochecotte sits on 24 hectares of wooded parkland surrounded by the vineyards of Bourgueil in the charming village of Saint-Patrice. Guests who choose their accommodations at this Loire Valley vineyard will appreciate the luxurious amenities such as a heated outdoor pool, a children's playground, and an Italian-style terrace. The restaurant of the château is also fantastic, serving gastronomical delights featuring numerous regional delicacies.
Within the château-hotel, there is a choice between 7 room categories, all of which are complete with modern comforts. Guestrooms are tastefully decorated in a distinctive baroque style complete with antique period furniture and luxurious textiles.
Château de Rochecotte is a terrific option for families travelling with a baby since cribs, bathtubs and changing mats are provided on request. There are also highchairs at your disposal in the restaurant. The heated swimming pool is open from May to October, from 9:00 am until 8:00 pm.
Pet-Friendly: Yes
Wheelchair Accessible: Yes

Domaine de la Soucherie
49750, Beaulieu-sur-Layon, France +33 (0) 2 41 78 31 18
20km south of Angers, in Beaulieu-sur-Layon, the Domaine de la Soucherie is located at a confidential address offering a panoramic view of the Layon Valley.
Guests rooms are situated in the "Maison d'Amis" which is composed of 4 guest rooms and in the "Maison des Vignes" lodging which offers 5 double rooms. Several suites directly overlook the vineyard.
Specializing in enotourism, the Domaine de la Soucherie hosts many wine-related events in its vaulted wine cellar and on the outdoor terrace overlooking the Layon valley. 
Pet-Friendly: No
Wheelchair Accessible: No

Château de l'Oiselinière
44190, Gorges, France Tel: +33 (0) 2 40 06 91 59
The Château de l'Oiselinière is located at the heart of the vineyards of Nantes surrounded by a park and meadows overlooking the Sèvre Nantaise.
Inside the castle there are 2 large bedrooms (Kestrel and Mésange) and 1 suite (Hulotte.) In the elegant outbuildings, there are 2 additional bedrooms (Bullfinch and Verdier) and a suite (Les Petits Oiseaux). All of which have been carefully decorated by Isabelle Verdier, the owner.
Facilities include a library, a billiard room, a lounge with a piano, a TV lounge, and a kitchenette with fridge, electric hob and microwave. Guests are welcome to enjoy meals on the terrace overlooking the park. 
Pet-Friendly: No
Wheelchair Accessible: Yes

La Closerie Saint Martin
6 rue du Prieuré, Les Roches Saint-Paul, 37500, Ligré, France   +33 (0) 2 47 58 17 24
La Closerie Saint Martin is a bed & breakfast located a short distance from the medieval town of Chinon in the Loire Valley. The buildings on the property once formed part of the priory of Les Roches Saint Paul, a branch of the abbey of Corméry. The oldest parts of La Closerie Saint Martin date back to the 14th century, while the most "modern" ones are from the 17th century. On the property, there are two buildings which shelter a leafy green courtyard and the former horse barn which has since been transformed into a cozy dining room perfect for reading or enjoying a drink.
La Closerie Saint Martin offers five individually decorated en-suite rooms in a small hamlet surrounded by vineyards. All rooms offer modern comforts including free wifi. 
Pet-Friendly:  Pets are allowed on request. Additional charges may apply.
Wheelchair Accessible: No

Château de Cheman
49320, Blaison-Gohier, France   +33 (0) 2 41 66 93 32
UNDER CONSTRUCTION



Pin it for later
Follow me on social media!