The Loire Valley a region located in central France which is known for its lively towns, fantastic wines and rich history. The region is also home to over 300 castles. Many of these castles have become private homes while others are government owned tourist sites. A select few chateau operate as hotels or bed and breakfasts, providing guests with the ultimate royal experience in the Loire Valley.

For other ideas for places to stay check out these Loire Valley vineyard accommodations

Disclosure: This page contains affiliate links. As a Booking.com associate, I earn a small commission should you choose to book through my links.


Domaine de la Tortinière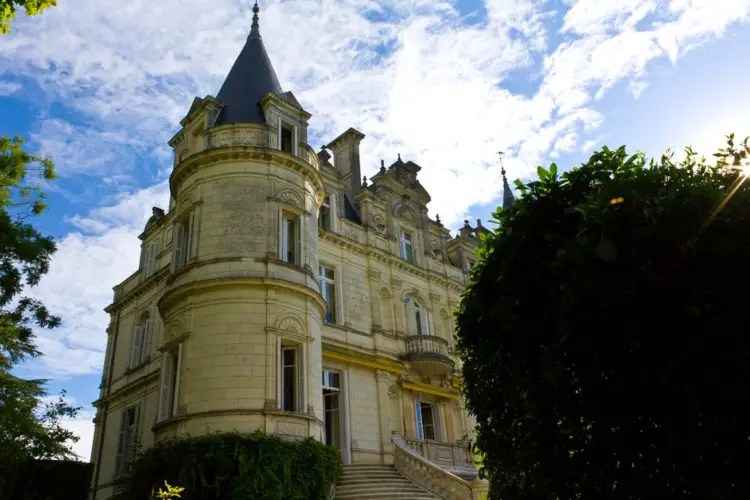 10 Route de Ballan, Veigné, France +33 (0) 2 47 34 35 00
Pet Friendly: Yes
Wheelchair Accessible: Partial
The Domaine de la Tortinière is conveniently located 15 kilometres from Tours, near many of the most visited chateaux of the Loire Valley. With 15 hectares of parkland, this luxurious property features breathtaking views of the Indre valley. 
There are 26 rooms and 6 suites within the Domaine de la Tortinière and its outbuildings, all of which perfectly combine modern conveniences with classical style. Equipped with air-conditioning, a mini-bar, room service, flat-screen TV's and free WiFi, this chateau caters to individuals and families seeking a quiet escape.  There is a tennis court, a heated pool and bicycle rentals available for guests.
The restaurant at Domaine de la Tortinière specializes in regional products such as the Marigny Marmande truffle, Racan pigeon and Sainte-Maure de Touraine goat cheese. Located in the former Orangerie, guests can enjoy their meal in either the main dining room or on the outdoor terrace.
Since becoming a hotel in 1955, Domaine de la Tortinière has welcomed many famous guests from all over the world including;  French President Georges Pompidou, Russian pianist Sviatoslav Richter, and British actress Audrey Hepburn.

Château de la Barre
72120, Conflans-sur-Anille, France  +33 (0)2 43 35 00 17
Pet Friendly: No
Wheelchair Accessible: Yes
Conveniently located near the most famous Loire Valley castles, Chateau de la Barre is one of the best hotels for experiencing life as a French aristocrat. Less than 2 hours from Paris, this impressive castle has been home to the Count and Countess of Vanssay since 1404. As guests of the estate, visitors will be surrounded by opulent decor including a magnificent collection of antiques, oil paintings and tapestries.
Château de la Barre boasts a 100-acre park with colourful gardens and surrounding XVI century fortifications. On-site there are 4 prestigious family suites, 5 individual rooms, and 2 self-catering cottages. The accommodations are uniquely decorated with designer fabrics, colours and period antiques giving each room its own personality. Certain rooms have Juliet balconies with views overlooking the estate and its defensive walls.
Upon arrival, a personalized greeting and tour of the château are given by Guy, the 20th Count of Vanssay, which gives visitors an authentic royal experience. Guy is not just a Count but is also a wine expert who will assist in choosing the ideal wine from the castles spectacular wine list. Marnie, the Countess of Vanssay, runs an on-site travel agency and is a wealth of information on the region. She is exceptionally helpful and will help plan your itinerary and share some lesser-known sights. She can even provide access to over 10 of France's finest chateaux which are not normally open to the public.

Château de Jallanges
37210, Vouvray +33 (0) 2 47 52 06 66
Pet Friendly: No
Wheelchair Accessible: Yes
Constructed by King Louis XI in 1465, the royal Château de Jallanges is a spectacular brick and stone castle hotel located between the cities of Tours and Amboise in the Loire Valley.  Surrounded by ancient cedar forests, the grounds feature an impeccably maintained Renaissance garden and a recently restored 17th-century chapel.
The Château de Jallanges offers a selection of 5 guestrooms featuring views of the park and garden, as well as two charming gites that cater to groups and large families. With exquisite furnishing, a tennis court, and both indoor and outdoor pools, guests are sure to enjoy this hidden gem.
Specializing in events such as weddings, gala evenings, and festivals, the Château de Jallanges has reception facilities to accommodate up to 500 people.

Château de Pray
Rue du Cèdre, 37530, Chargé, France +33 (0) 2 47 57 23 67
Pet Friendly: Yes
Wheelchair Accessible: Yes

The 4-star hotel and Michelin restaurant, Château de Pray is located on the south banks of the Loire River, 2 km outside the town of Amboise. Built during the 13th century and then remodelled during the Renaissance, Château de Pray offers guests an idyllic setting to relax and unwind.  The castle is set among 5 acres of wooded parkland which are also home traditional French gardens, a kitchen garden, and a heated pool.
There are a total of 19 rooms, at Château de Pray 15 of which are within the castle, and 4 in the more modern Renaissance Pavilion. The intimate and cozy accommodations are designed with antique furnishings, marble bathrooms, and are complete with modern conveniences.
Amenities include; multilingual staff, concierge service, room service, breakfast, dry-cleaning, on-site parking, and free WiFi. Château de Pray is ideal for families with babysitting services on demand and a heated outdoor swimming pool for the kids. The Michelin starred restaurant, l'Orangerie is located adjacent to the castle's courtyard.

Château de Chissay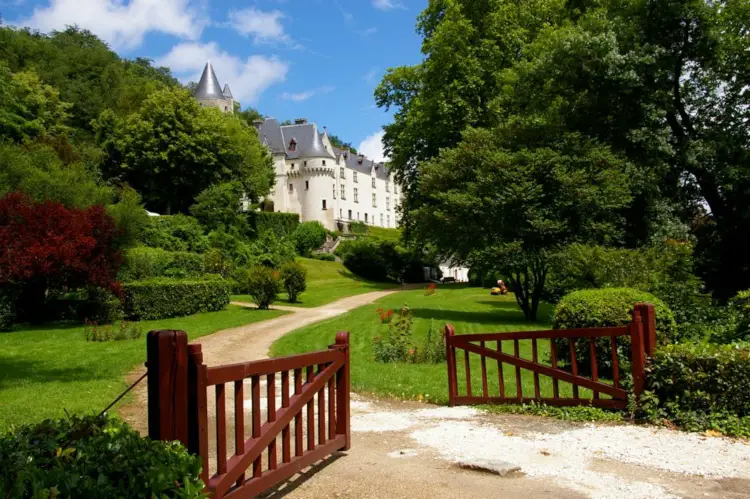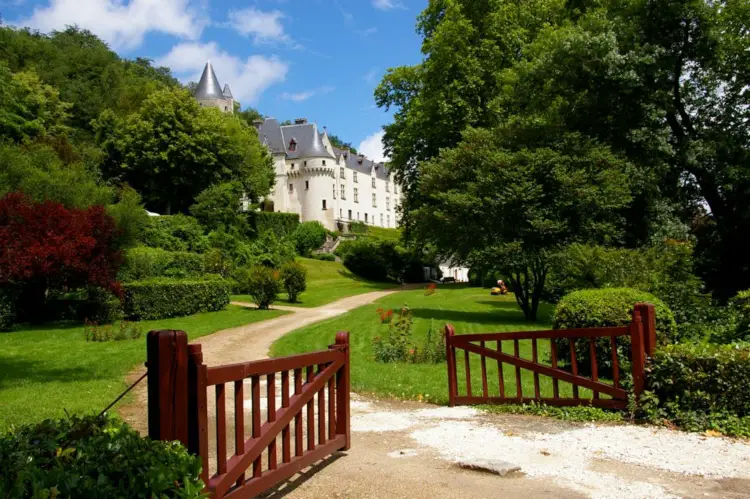 1 – 3 Place Paul Boncour, 41400, Chissay-en-Touraine, France +33 (0) 2 54 32 32 01
Pet Friendly: Yes
Wheelchair Accessible: Partial
Château de Chissay was built during the 16th century and transformed into a hotel during the late 1980s. This former Royal residence is in the ideal location for touring the best Chateaux of the Loire Valley.
Château de Chissay has 27 guest rooms and 5 suites located in the chateau, in the ancient stables or in a separate lodge. Each spacious room has its own unique qualities such as exposed ceiling beams and wrought iron fixtures. The most impressive suite at Château de Chissay is the Troglodyte Suite on the East end of the park. Carved out of the white stone cliff, this remarkable suite can sleep up to 4 guests.
Rooms are not equipped with television or WiFi, however, there is a TV lounge for guests and two free wireless access points in the castle. An unheated outdoor pool is available to use from May through September.

Château des Briottières
49330, Champigné, France  + 33 (0)2 41 42 00 02
Pet Friendly: Yes 
Wheelchair Accessible: No
Located within an hour of many Loire Valley castles, the Château des Briottières is both a family home and a luxury hotel. Renovated in 2010, this 18th-century castle has been in the Valbray family for 7 generations.
At the Château des Briottières there is a 50-hectare park with a wide variety of activities available. Guests will enjoy the walking and cycling paths, a heated swimming pool, a private tennis court, and fishing in the on-site lake.
The Château des Briottieres offers 15 elegantly decorated guestrooms. An impressive marble staircase leads to 10 guest rooms which are located within the castle.  There are 4 rooms are in the adjacent Fruitier building, while the nearby log cabin serves as the final guestroom. With period furniture, lavish textiles, and magnificent views over the park, staying at the Château des Briottieres is an unforgettable experience.  

Château de Noizay
124, Promenade de Waulsort (Entrance off Rue Victor Hugo,) 37210, Noizay, France  +33 (0)2 47 52 11 01
Pet Friendly: Yes
Wheelchair Accessible: Partial
Just 10 minutes from the Château d'Amboise, the luxurious Château de Noizay welcomes guests from around the world.  Constructed in the 16th century, the impressive 24-hectare walled estate was renovated and converted into a hotel in 1989. Amenities on-site include an outdoor pool, a tennis court, as well as bike rentals which are fantastic for touring the surrounding Vouvray vineyard. Le Castel, the hotels gourmet restaurant, serves seasonally inspired regional cuisine sourced from the area.
Guests at the Château de Noizay are dazzled by the magnificent wooden spiral staircase illuminated through colourfully stained glass windows. There are several living rooms showcasing fine materials such as silk and velvet, as well as a diverse selection of books in the library.
The Château de Noizay offers 19 uniquely decorated guest rooms which are located in the chateau and in the Pavillon de l'Horloge. The accommodations are tastefully furnished with authentic period furniture and some feature a private garden. 

Château de la Bourdaisière
25, rue de La Bourdaisière, 37270, Montlouis sur Loire, France  +33 (0) 2 47 45 16 31
Pet Friendly: Yes
Wheelchair Accessible: Partial
Located in the center of the Loire Valley, the Château de la Bourdaisière sits on a 55-hectare parcel of land between Amboise and Tours. This 16th-century castle hosts a large agro-ecological garden and is home to a collection of 700 varieties of tomatoes, 5000 colourful dahlias and an orchard with more than 100 varieties of fruit trees.
Adults and children alike will enjoy strolling through the castle park and discovering 30 educational plaques covering topics such as botany, zoology, entomology, geography, human anatomy and civic education. A tennis court, an outdoor pool and a wooded trail system perfect for unwinding after a day exploring the chateaux of the Loire valley.
The Château de la Bourdaisière has 25 rooms and 4 apartments located in either the castle, the Pavilion Choiseul, or the Clos Bourdaisière. The rooms in the château have been restored and decorated by its eccentric owner, Prince Albert de Broglie, and are decorated with opulent fabrics and period furniture. Certain rooms feature exposed beams, vaulted ceilings and canopy beds. All rooms have exceptional views overlooking the park.

Château de la Morinière
49600, Andrezé, France +33 (0) 2 41 75 40 30
Pet Friendly: No
Wheelchair Accessible: Yes
Located in the village of Andrezé, the Château de la Morinière lies in a picturesque park overlooking the Beuvron valley. Built in a romantic Napoleon III style, this chateau specializes in hosting celebrations including weddings, baptisms, and other gala events.
Bed and breakfast accommodations are available in the 5 guest rooms within the Château de la Morinière. An additional 5 rooms are located in the annex buildings where breakfast can be arranged for an extra charge. Château de la Morinière also has two self-catering gites on the property. These are rented on a weekly basis and can sleep up to 8 guests.

Château de L'Epinay
49170, Saint-Georges-sur-Loire, France  +33 (0) 2 41 39 87 05
Pet Friendly: Yes
Wheelchair Accessible: Partial
The Château de l'Epinay is a beautiful 18th-century chateau hotel set on a large 23- hectare estate west of Angers in the Loire Valley. With its own 7 hectare lake known as the 'Boire de l'Epinay', the landscape here is unlike those at other chateau-hotels in the area.
There are 20 individually decorated rooms in the Château de l'Epinay and its outbuilding. With a terrific balance of carefully chosen antiques and contemporary flair, guests will experience the ultimate comfort and luxury of French chateau living. Meals can be enjoyed at the castle restaurant, l'Orangerie, which prepares Italian cuisine using locally sourced seasonal produce.
Outdoor enthusiasts will love canoeing on the lake, playing on the tennis or basketball courts and learning the game of petanque. There is also a unique natural pool that provides a memorable swimming experience in the heart of nature. Inside the chateau, there is a home theatre, games room and music room. Spa facilities and physical fitness equipment are available on-site for guest's ultimate relaxation.

Château de Gizeux
37340, Gizeux, France +33 (0)2 47 96 45 18
Pet Friendly: Yes
Wheelchair Accessible: Partial
In the heart of the Loire-Anjou-Touraine regional park, the Château de Gizeux caters to guests looking for peace and tranquillity. Currently the permanent residence of the Bellay family, this hotel only has five rooms and an apartment available for booking.
Rooms and suites are located within the chateau and have been tastefully furnished with authentic period furniture. Guests will appreciate the free guided tour of the castle and the relaxing heated swimming pool. The Chateau de Gizeux is home to two large galleries containing murals dating from the seventeenth century. 
The property is open to the public for guided tours, family programs and often hosts art exhibitions.

Château de Rochecotte
43 Rue Dorothée de Dino, 37130, Saint-Patrice, France +33 (0) 2 47 96 16 16
Pet Friendly: Yes
Wheelchair Accessible: Partial
The 18th-century castle hotel, Château de Rochecotte is surrounded by the vineyards of Bourgueil in the charming village of Saint-Patrice. Sitting on 24 hectares of wooded parkland, guests will appreciate amenities such as a heated outdoor pool, a children's playground, and an Italian-style terrace. The is also a lovely restaurant at the chateau which features numerous regional delicacies.
Guests have a choice between 7 room categories, all of which are complete with modern comforts. Guestrooms are tastefully decorated in a distinctive baroque style complete with antique period furniture and luxurious textiles.

Château de Perreux
36 Rue de Pocé, 37530, Amboise, France   +33 (0)2 47 57 27 47
Pet Friendly: Yes
Wheelchair Accessible: Partial
On a hillside high above the Loire river, the Chateau de Perreux is ideally located for exploring the Château d'Amboise, Clos Lucé and the Château de Chenonceau. Dating back to 1701, this romantic castle combines contemporary style with antique period furniture, appealing to guests seeking modern elegance.  
This boutique chateau-hotel has 11 guest rooms in 4 categories. Several rooms offer exposed ceiling beams, four-poster beds and/or balconies with views over the park. The most unique feature at the Château de Perreux is the rocky tunnel which leads to a walled meadow garden and the outdoor swimming pool. Hammocks and sun-loungers are scattered around the pool and amongst the property for guests who prefer to relax.

Château de Marçay
37500, Marcay, France  +33 (0) 2 47 93 03 47
Pet friendly: Yes
Wheelchair Accessible: restaurant – yes /  hotel – no
The twin-turreted Château de Marçay is nothing short of a fairytale castle. Built during the 15th-century, the castle features a 12 000 bottle wine cellar and operational equestrian stables. A boutique hotel, Château de Marçay has 15 hectares of parkland with extensive gardens, a heated outdoor pool, and a tennis court.
The onsite restaurant, La Table de Marçay prepares gastronomical delights highlighting seasonal ingredients grown from the castle's own garden. Dining facilities are available both inside the castle and outdoors on the scenic stone terrace.
Château de Marçay offers 22 Renaissance style guest rooms located within the castle and its west wing. Decorated with period pieces and traditional tapestries, accommodations are comfortable and spacious. Some rooms have views of the park while others look onto the central courtyard. Several also offer direct access to the swimming pool via a private terrace.

Hôtel Château Golf des Sept Tours
D34, Le Vivier des Landes, 37330, Courcelles-de-Touraine, France  +33 (0)2 47 24 69 75
Pet Friendly: Yes
Wheelchair Accessible: Yes
Surrounded by forestland in the Loire Valley, the Hôtel Chateau Golf des Sept Tours was refurbished and opened to the public in 1991. The castle still maintains several original features such as a spiral staircase and monumental fireplace which date back to the Middle Ages. An impressive 18-hole golf course, as well as a traditional French restaurant and brasserie, attract locals and tourists alike. 
Each of the 22 guest rooms has been individually decorated with traditional antique furniture and plush fabrics.  A relaxing swimming pool is conveniently located on the outdoor terrace and massages can be arranged on request.

Château d'Artigny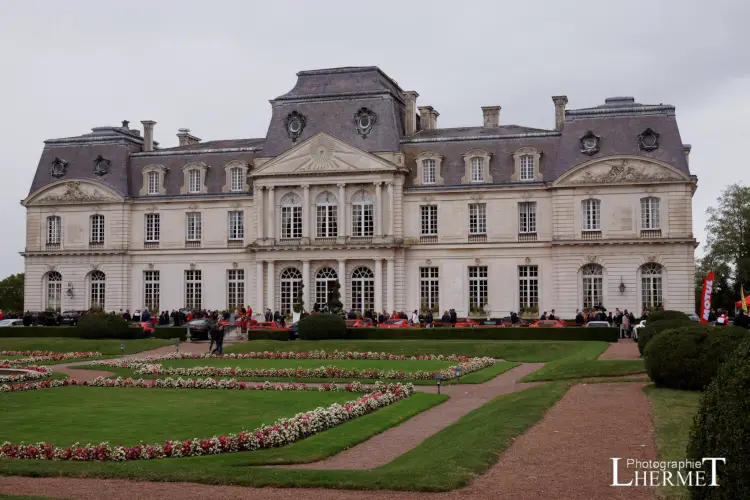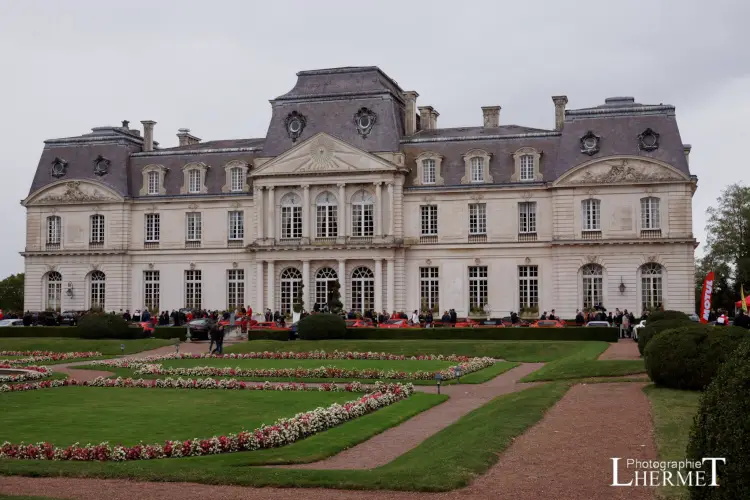 92 Rue de Monts, 37250, Montbazon, France  +33 (0) 2 47 34 30 30
Pet Friendly: Yes
Wheelchair Accessible: Yes
The majestic 19th-century Château d'Artigny sits amidst 25-hectares of parkland south of Tours. With its impressive sweeping staircases, trompe l'oeil frescoes, and lavish salons, this chateau hotel is sure to please anyone seeking an idyllic royal getaway in the Loire Valley. Owned by the legendary perfumer François Coty, this beautiful castle features panoramic views over the Indre river. 
The Chateau d'Artigny has been operating as a luxury hotel in the Loire Valley since 1961. Its 56 rooms are classified into 5 categories and are located within the castle, or in the adjacent Pavilion of Ariane and the City of Perfumes. Guestrooms are decorated with luxurious period furniture and have many modern conveniences. 
Château d'Artigny is known for its state of the art spa facilities which include an indoor pool, a Turkish bath, a steam room, and a sauna. Other amenities include 8 lounges, a tennis court, an outdoor heated pool, and a fitness center. Families with children will appreciate the specially designed menus and welcome gifts for guests under 12 years of age. Cribs, high chairs, booster seats, changing mats, bottle warmers, and baby monitors are available free upon request.
The gourmet restaurant "L'Origan" is located in the castle's rotunda dining room and serves regional dishes made from locally sourced products and the bar is warm and inviting, serving up an impressive selection of vintage Armagnac. Enophiles will be awestruck by the unique wine cellar with over 20000 bottles.

Sources: https://www.theguardian.com/, https://www.huffpost.com/, https://www.thehotelguru.com, https://theculturetrip.com/ 

Pin it for later
Follow me on social media!