Now that I'm beginning to plan our next family trip I can't help but reminisce about our previous vacation to the Windjammer Landing in St. Lucia. 
This was our family's first multigenerational vacation and our toddler's first international holiday. We were eager to find an upscale all-inclusive resort in the Caribbean that offered great food and beautiful beaches. It was also important that we found a destination that could accommodate 3 generations under one roof. 
We examined our options, and once we took into account our preferences we were able to narrow it down to several choices. It was a difficult decision, but after reading every review I could find we opted to stay at the Windjammer Landing in St. Lucia. 
We booked our vacation package with Yvonne Campbell, a GTA-based Travel Consultant/Destination Specialist and travelled on Air Canada Rouge.
To find out what it was like, continue reading.
See also: 50 Interesting Facts about St. Lucia
The First-Timers Guide to Visiting St. Lucia
Unforgettable Things to Do in St. Lucia
A Review of Windjammer Landing – One of the Best Resorts for a Multi-Generational Family Vacation in St. Lucia
A Review of Our Journey from Hewanorra International Airport to the Windjammer Landing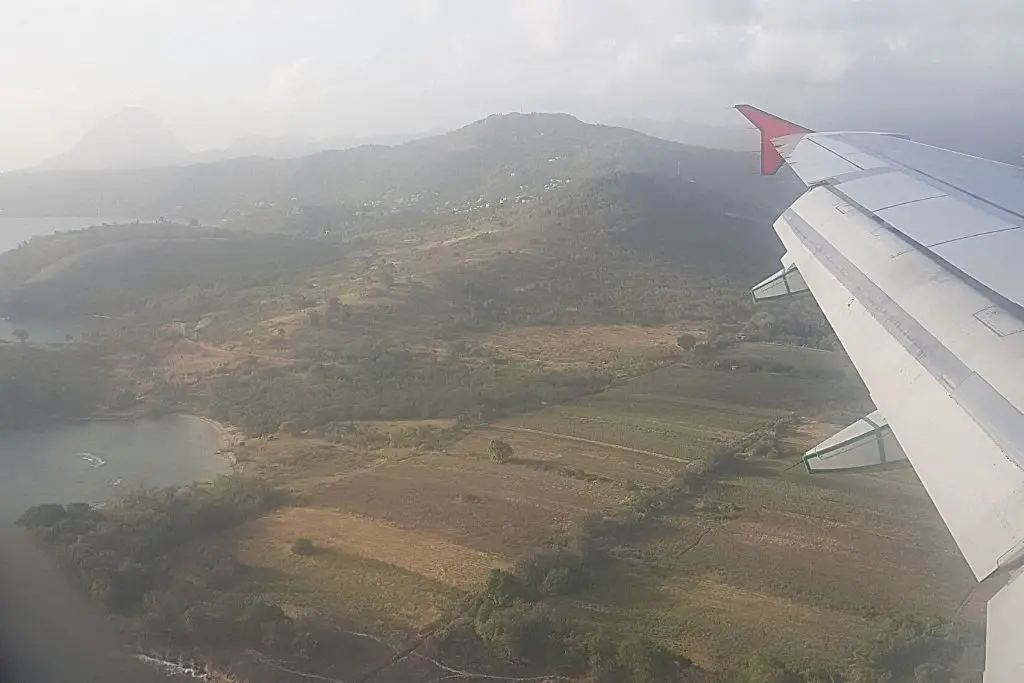 After landing at Hewanorra International Airport near Vieux Fort, we boarded our shuttle to the Windjammer Landing resort almost immediately. Riding in a small passenger van, our group of 5 travelled with 2 other couples. It was a white-knuckle drive. Our driver was fast, barrelling around other vehicles and blind hairpin turns. As darkness fell, I realized that driving in St. Lucia is not for the faint of heart!
The shuttle trip from Hewanorra Airport to the Windjammer Landing took roughly 75 minutes. Driving up the east coast of the island, we passed through the villages of Micoud, Mon Repos, and Dennery before cutting through the rainforest to Castries on the west side of St. Lucia.  After that, it was just a few more kilometres north to our resort.
Heads up the roads in St. Lucia are very windy and often poorly maintained. If you are prone to motion sickness prepare yourself by reading my helpful guide on how to avoid seasickness, and what to do if it happens.
A Review of our Experience Checking In at the Windjammer Landing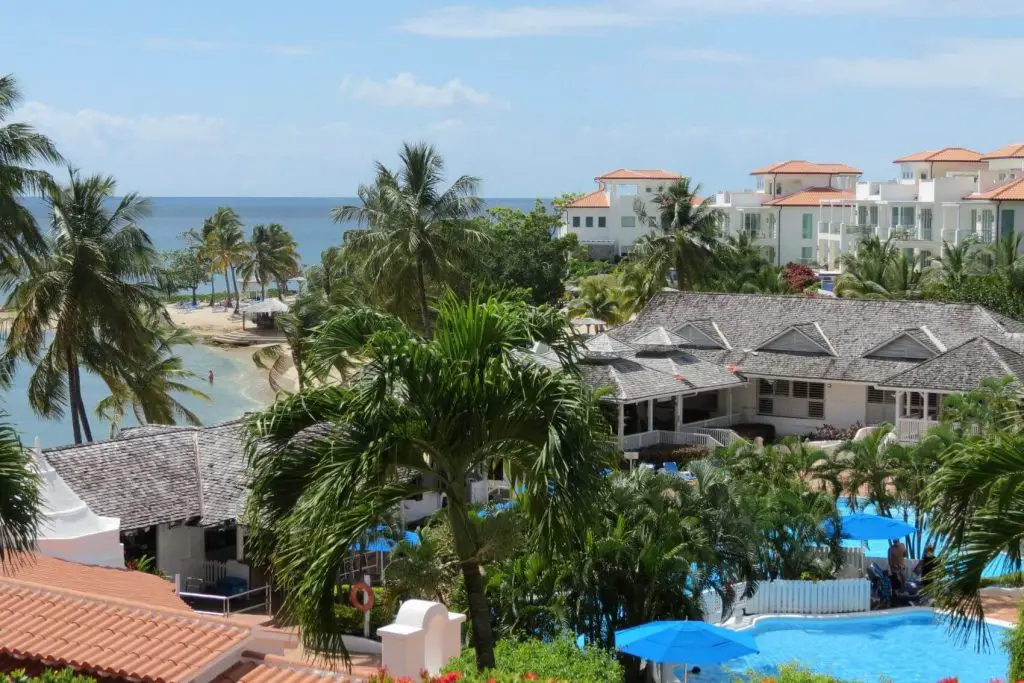 After a long day of travel, we arrived at the Windjammer Landing close to 9 pm. We were greeted promptly and were graciously offered refreshing cool towels and delicious rum punch. Following that, we received a brief introduction to the resort, ate dinner, and met one of the shuttle drivers, Terri. He was very friendly, helping us with our bags and driving us to our suite.
The next morning, we reported to the lobby and received more comprehensive information and a tour of the expansive facilities. We were also supposed to receive information about our return home, however, our Air Canada rep was nowhere to be found.
Be forewarned that there is a small push for guests to learn more about the Windjammer Landing Private Residence Club timeshare opportunities. In fact, we were approached about this by three different staff members during our week-long stay. Thankfully there was no pressure and a simple "no, thank you" sufficed.
A Review of the Grounds at the Windjammer Landing

Located in Labrelotte Bay on the northwest coast of St. Lucia, the Windjammer Landing offers an expansive 60-acre property along with a 1,500 foot powdery, white sand beach. It's an absolutely beautiful resort with even more beautiful views. We especially loved the combination of beachfront accommodations and hillside villas since despite being at full capacity, the resort never seemed crowded.
Heads up, there are some friendly cats and kittens who also call the Windjammer Landing home. While many guests weren't pleased to have them around, they were really quite sweet. 
A Review of our Two Bedroom Beachfront Suite at the Windjammer Landing

Our two-bedroom beachfront suite at the Windjammer Landing was located on the third floor, not far from the lobby on Hibiscus Lane. The beach, nearly all the restaurants and most of the swimming pools were close by.  It was lovely being able to walk where we needed to go, rather than relying on the resort shuttles. 
To access our suite, we could use one of two doors. Door A, which opened into the main kitchen/living area of a one-bedroom suite, or door B, which led to a separate unit with its own bathroom, kitchenette and balcony. Both units were joined by a lockable door much like those in connecting hotel rooms around the world. 
Once inside the rooms, typical Caribbean charm flourished with dark wood furniture offset by white linens and colourful accent pieces. The modern, spacious bathrooms, fully equipped kitchen, and massive balcony complete with a jacuzzi were among the highlights. 
Overall, the interior of our two-bedroom beachfront suite at the Windjammer Landing was functional, but not optimal for our multigenerational family unit.  Due to the placement of the pull-out couch in the main living area of Unit A, we were essentially trapped in our room or on the deck if our daughter was sleeping, while her grandparents in Unit B were able to come and go as they pleased. Had the balconies been connected or the pull-out couch been located in Unit B, we would have been able to enjoy our time to its fullest. 
A Review of the Food & Drinks at the Windjammer Landing

Dining at the Windjammer Landing was quite enjoyable. It was always easy to get dinner reservations, and as early eaters, we never had to wait for a table and always had our choice of seats.  
Breakfast
Breakfast at the Windjammer Landing was served at Dragonfly. There, we were able to choose from the à la carte menu or the buffet. Our preference was the buffet since it was quick and convenient. It featured a made-to-order egg/omelet station, pancakes, French toast, bacon, sausage, baked beans, potatoes, fresh fruit and even local dishes like green figs and saltfish. 
While there wasn't a huge variety to choose from, we had no complaints. Everything was tasty and well prepared. I was also especially impressed with the cleanliness of the buffet area. Unlike many other resorts, the breakfast buffet at the Windjammer Landing's Dragonfly restaurant was ideally located behind closed doors. This protected the food from the birds and insects and gave me confidence that refrigerated items were kept at an adequate temperature.  
Lunch
At lunch, we ate at Jammer's and Embers. Both restaurants offered spectacular ocean views from their beachfront locations. Embers, which specialized in grilled items, served a delicious selection of tacos, sliders, burgers and flatbreads. Our family's favourites included the Embers Special Flatbread, the Jerk Chicken Sliders, and the Fish Tacos. At Jammer's, the menu featured salads, roti, burgers, sandwiches and more. We loved the Glazed Ribs, the Catch of the Day and the Goat Curry West Indian Roti in particular. 
We looked forward to lunchtime every day and always had a hard time choosing where to eat. With so many great menu options at both restaurants, who wouldn't be! 
Dinner
For dinner, we ate at Jammer's, the Upper Deck, Papa Don's, and Dragonfly. All but Jammer's required a reservation.
The most casual dining restaurant at the Windjammer Landing was Jammer's. It was located along the beach and served a blend of local and international cuisine. Featuring salads, fish, steak, burgers, and roti, there was something for everyone.  
Next to Jammer's was The Upper Deck. Serving delicious steaks and extraordinary seafood dishes, it became our favourite dinner restaurant at the Windjammer Landing. That being said, the steaks tended to be more well done than we preferred. To receive our steaks medium-rare, we ordered them rare and they arrived perfectly. Also, be forewarned that guests on the All-Inclusive Plan will incur an extra charge when ordering from the Connoisseur's Choice menu. 
Papa Don's, the Windjammer Landing's Italian restaurant was set on the hillside overlooking Labrelotte Bay. Their menu featured typical Italian fare such as pizza and pasta as well as meat and fish dishes. While we enjoyed our meal here, the food was somewhat ordinary. We also found it inconvenient having to take a shuttle. For those reasons, we preferred to eat elsewhere. 
The final restaurant we tried was Dragonfly. Highlighting regional cuisines from around the Caribbean, they offered a small à la carte menu that featured items such as Mahi-Mahi Coconut Ceviche, Caribbean Braised Beef Short-ribs and Shrimp Curry. Although it wasn't our favourite restaurant, we loved the beachfront location and the laid-back atmosphere on the patio.
A Review of the Service at the Windjammer Landing

During our stay at the Windjammer Landing, we found the service to be quite inconsistent. For instance, we ordered cappuccinos on several occasions, yet we got a different drink each time. Similar to other Caribbean resorts service was slow, with meal times often lasting close to 2 hours. There was also a miserable cashier at the gift shop and a few unfriendly servers at the restaurants, however, for the most part, the staff were quite amicable. 
A Review of the Swimming Pools at the Windjammer Landing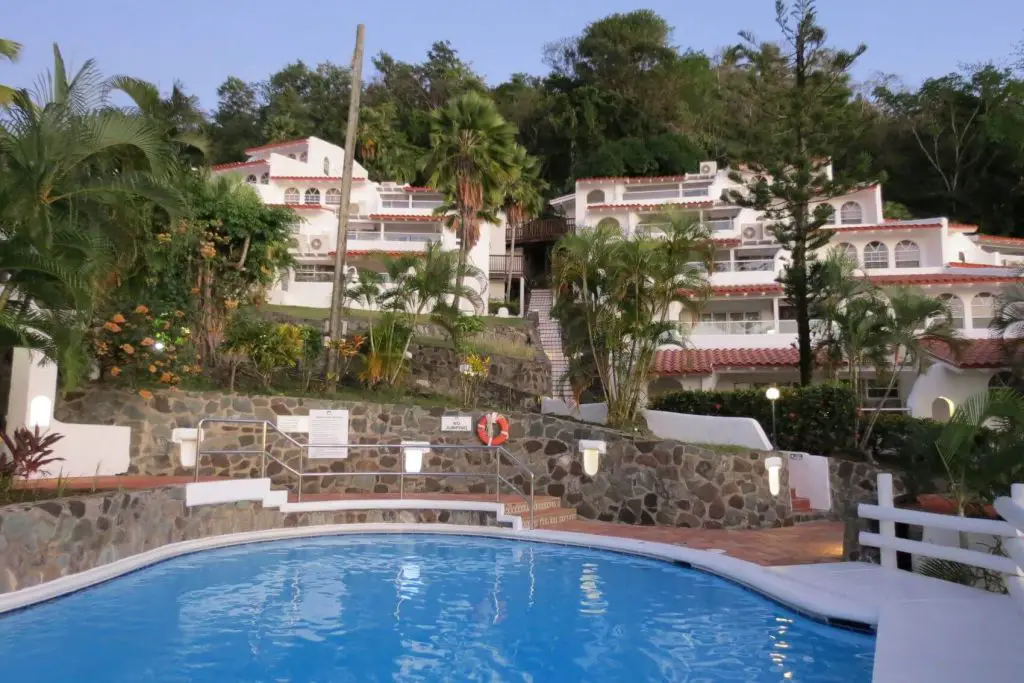 There were six resort swimming pools at the Windjammer Landing. The main pool, two that were ideal for children, and three others which were more secluded. We spent most of our time in the shallow kid's pool. Located next to the main pool and the lobby, we were never far from the action. We also swam in the lower Hibiscus pool which seemed to be deserted. Papa Don's pool, which was located on the hillside, offered the most impressive view of all the pools at the Windjammer Landing. It was spectacular, with sweeping views of Labrelotte Bay and the Caribbean Sea. 
A Review of the Beach at the Windjammer Landing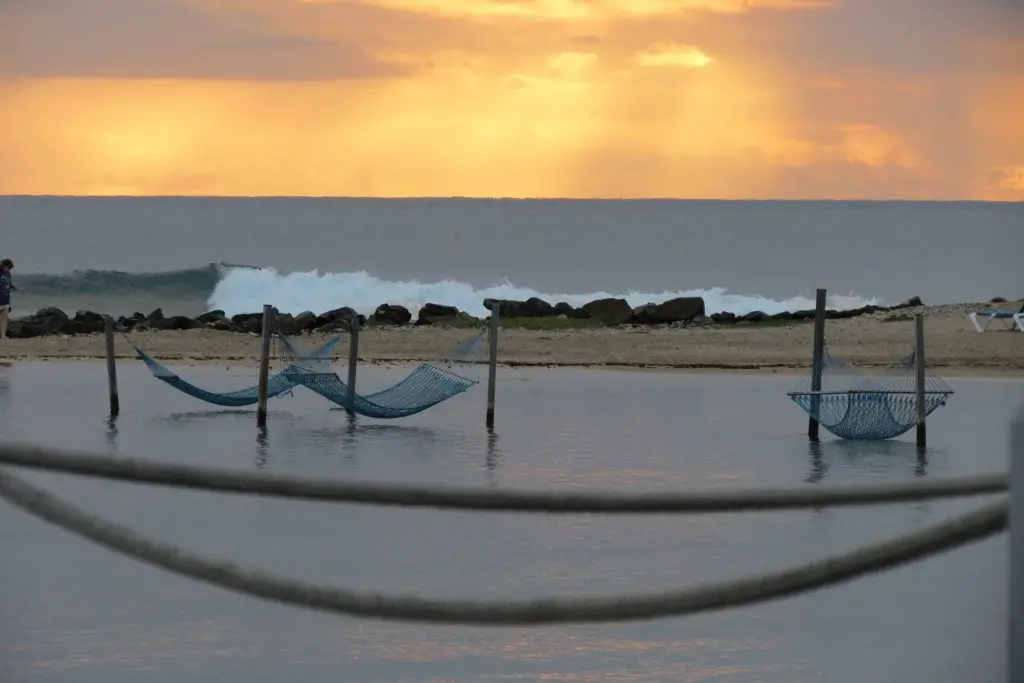 The 1,500-foot-long crescent-shaped beach at the Windjammer Landing was one of the resort's crowning features. Sheltered from the waves by the breakwater, the ocean was perfect for swimming. With two large wooden bins full of sand toys that we were able to borrow and a huge trampoline and inflatable waterslide in the ocean, it was also great for some family fun. That being said, be careful! We noticed several black sea urchins on the rocks within the swimming area. 
A Review of the Activities at the Windjammer Landing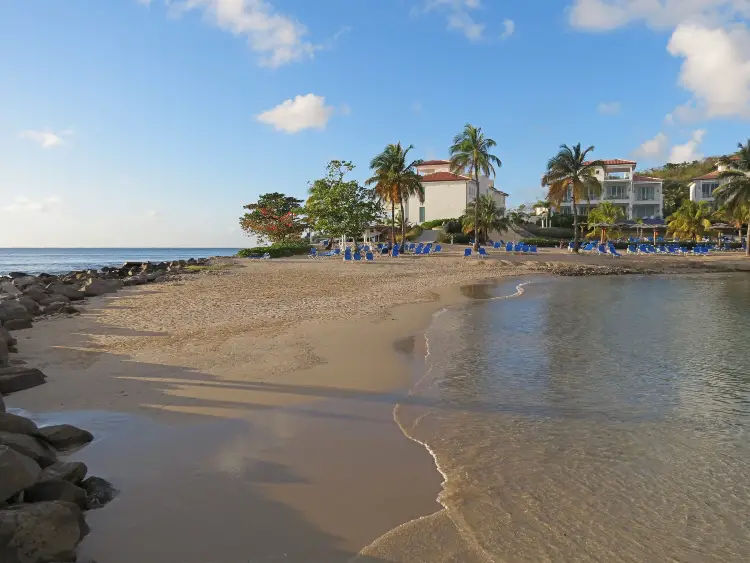 After checking out the activity schedule at the Windjammer Landing, we quickly realized there were fun things to do all the time. Every day was jam-packed with new activities such as water aerobics, poolside bingo, yoga, banana boat rides, and beach soccer. 
The watersports program at Windjammer Landing was especially fantastic. They offered free non-motorized water sports including windsurfing, stand-up paddleboarding, pedal boating, kayaking, snorkelling and tubing. There was also waterskiing, wakeboarding and scuba diving for an added fee. 
If your schedule isn't busy enough, you can always book day trips from the tour desk in the lobby. There are so many things to do in St. Lucia! Had we not already arranged to see some highlights on an Island Expo Tour with Real St. Lucia Tours, we might have chosen to join one of these tours.  
With so many onsite activities, it's no surprise that the Windjammer Landing appeals to so many people. Whether you're travelling as a family, couple, or group of friends, you're bound to have plenty to do. 
My Final Thoughts about the Windjammer Landing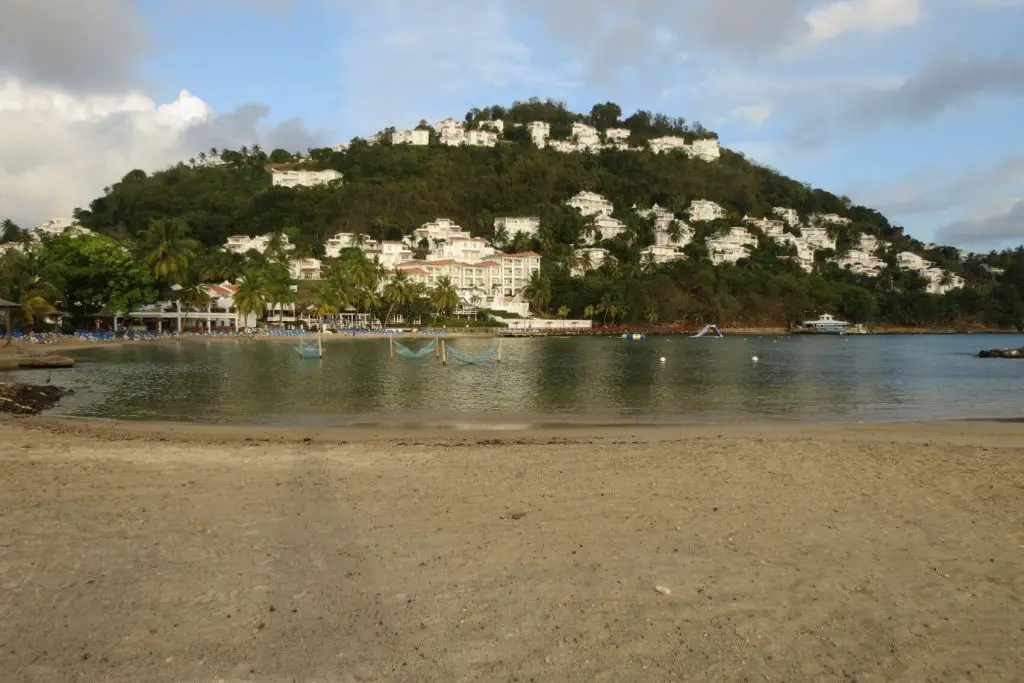 Overall, I am giving the Windjammer Landing all-inclusive resort in St. Lucia a positive review. This was our first multigenerational family vacation, and we all had a great time. I'm not surprised they have been named one of the ten best resorts in the Caribbean for families! Despite encountering a few minor issues, I wouldn't hesitate to recommend the Windjammer Landing to others. 

After reading our Windjammer Landing Review, would you stay at this amazing resort in St. Lucia?  I'd love to hear your opinion in the comments section below! 
---
Pin it for later