Prince Edward County Winery Accommodations
The Inn at Huff Estate

2274 County Road #1 Bloomfield, Ontario Canada  K0K 2G0
+1 613 393 1414 or 1 866 484 4667
The Inn at Huff Estates offers luxurious accommodations which are located alongside the Huff Estates Winery and Oeno Gallery in Prince Edward County. With state-of-the-art facilities and a modern tasting gallery, Huff Estates Winery is one of the most visited wineries in the region. 
The Inn at Huff Estates offers 21 guest rooms categorized into 3 groups. Every room has a private outdoor patio and a romantic fireplace for guests to enjoy. All guests receive a free wine tasting and vineyard tour.
From the May long weekend until Thanksgiving, Huff Estates restaurant serves lunch on the indoor/outdoor patio. Specializing in authentic Italian wood-fired pizzas, meals feature many locally sourced products.
Pet Friendly: No
Wheelchair Accessible: Yes
La Toscana Farmhouse at the Terracello Winery
2436 County Rd 1, Bloomfield, Ontario Canada K0K 1G0  
+1 613 243 2523
The La Toscana Farmhouse at the Terracello Winery is located between Picton and Wellington in Prince Edward County. From these accommodations, guests are in an ideal location to explore the local wineries and many of the best attractions in Prince Edward County.
The recently restored farmhouse sleeps 6 guests and features 3 bathrooms, a restaurant-grade kitchen, and an outdoor patio overlooking the vineyards. Accommodations are steps away from Prince Edward County's award-winning Terracello Winery, which provides the ultimate Italian agro-tourism experience.  On Thursdays or Fridays, guests are able to take an exclusive tour of the winery and enjoy a tasting with famed winemaker Tony Auciello Jr.
Terracello Winery also features a rustic patio restaurant famous for serving authentic Napoletana pizza along with carefully crafted wines. Prepared in small batches with ingredients imported from Italy, the pizzas are cooked onsite in two wood-fired ovens. These ovens close at several times throughout the year, therefore, it's advisable to contact the vineyard to ensure they are operational during your stay.
Pet Friendly: No
Wheelchair Accessible: No
Waupoos Estates Winery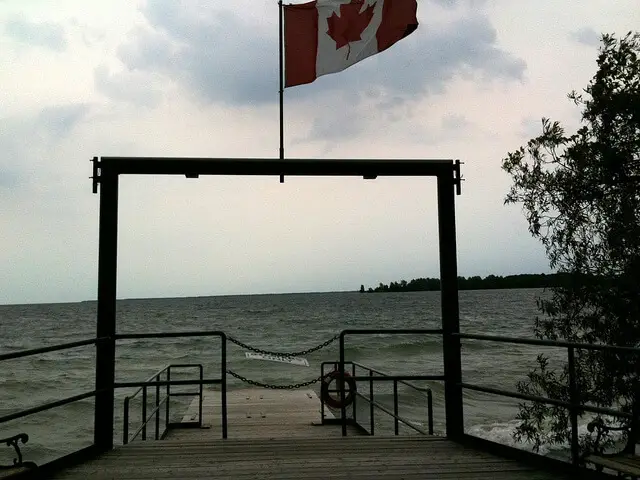 3016 County Road 8 Picton, Ontario Canada K0K 2T0  
+1 613 476 8338
Waupoos Estates Winery is the only winery in Prince Edward County located on the shores of Lake Ontario. The estate features more than 20 acres of established vineyards. There is a vegetable garden, a citrus grove, a fruit tree orchard and over 1500 maple trees which are tapped for syrup during the spring. They also have a small petting zoo which is a delight for the younger guests.
Waupoos Estates Winery offers a newly restored century home to accommodate overnight guests. The house has four tastefully decorated bedrooms, several parlours and a porch overlooking Lake Ontario. Guestrooms can be rented individually or as a group. 
Open for lunch, dinner, and special events, the Restaurant at Waupoos Estates Winery is supplied with local ingredients and fresh produce grown from their gardens.  The property boasts spectacular views overlooking Prince Edward Bay, making it the perfect spot to enjoy a meal paired with award-winning wines.
Pet-Friendly: No
Wheelchair Accessible: No
Vineyard Loft at the Three Dog Winery
1920 Fish Lake Rd, Picton, Ontario, Canada K0K 1W0  
+1 613 403 4323
Three Dog Winery is one of the newest wineries with on-site accommodations in Prince Edward County, covering roughly 100 acres at one of the highest points in the region. On weekends during the summer months, Three Dog Winery hosts live music on the patio and during the wintertime, guests can enjoy snowshoeing and bonfires.
At Three Dog Winery guests are able to rent a studio loft apartment overlooking its vineyards. Bookable through Airbnb, the newly built loft is suitable for 2 adults, featuring a queen-sized bed, rain shower, full kitchen, and BBQ. There is a private entrance with stairs to access the apartment built above the Three Dog yoga studio.
Pet-Friendly: No
Wheelchair Accessible: No
By Chadsey's Cairns Winery and Vineyard
17432 Loyalist Parkway, Wellington, Ontario Canada K0K 3L0  
+1 613 399 2992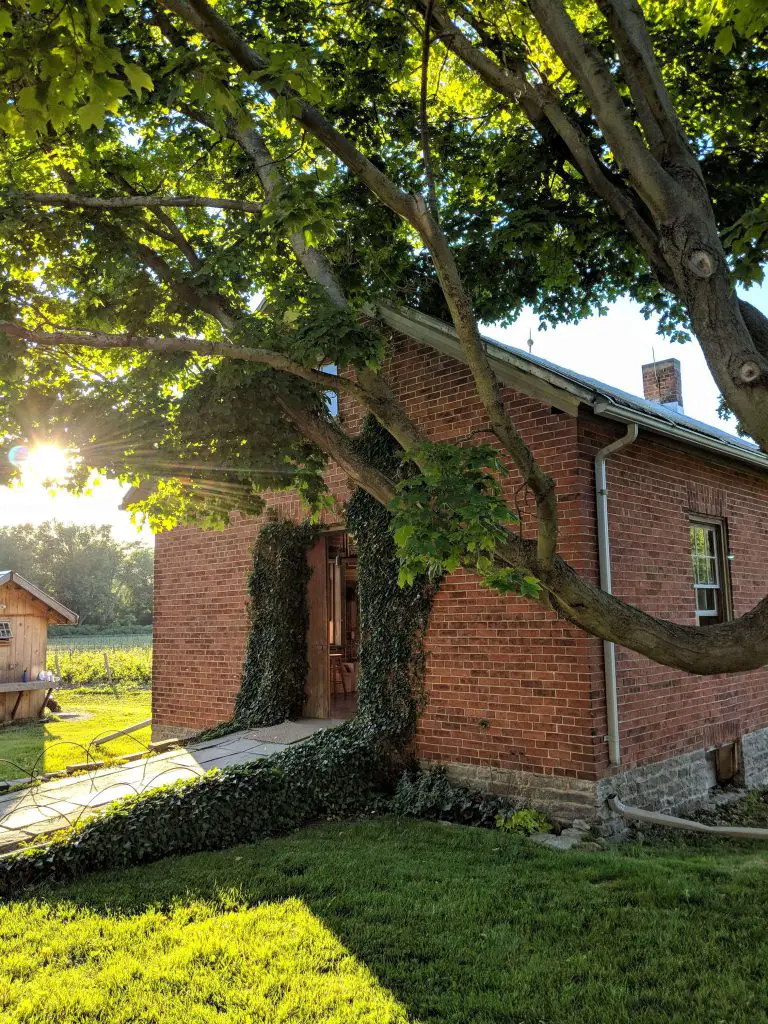 Overlooking Lake Ontario, By Chadsey's Cairns Winery & Vineyard is one of the original wineries in Prince Edward County. Only steps away from the vineyards and close to some of Prince Edward County's best beaches, restaurants and art galleries, this five-bedroom century-farmhouse is a fantastic starting point for exploring more of the region.
The farmhouse is rented on a weekly basis during the summer and for weekends in the off-season. Guests at By Chadsey's Cairns are invited to complimentary wine tastings and are encouraged to join the staff working in the vineyards. Guests are also given free passes to local provincial parks such as Sandbanks and North Beach.
Pet-Friendly: No
Wheelchair Accessible: No
Casa-Dea Estates Winery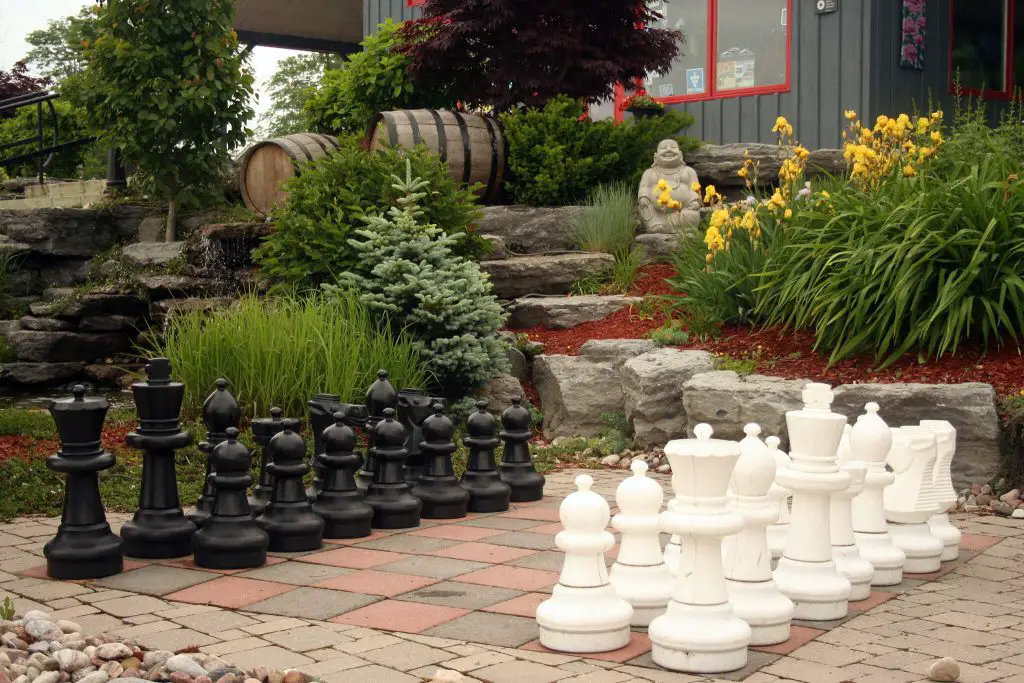 1186 Greer Rd, Wellington, Ontario Canada K0K 3L0  
+1 613 399 3939
The impressive guest house, Casa del Silenzio, at the Casa-Dea Estates Winery is ideally located at the heart of Prince Edward County's wine country. Just steps from 65 acres of Vinifera grapes, guests will appreciate the peaceful atmosphere of this 1400 sq ft home. Casa del Silenzio can be rented for a minimum of 2 nights, or for a full week at a time and is fully equipped to accommodate up to 6 guests.
La Pergola Restaurant & Patio is located at Casa-Dea Estates Winery and has a fantastic patio restaurant overlooking the vineyards of Prince Edward County.  Specializing in locally sourced ingredients with an Italian flair, each meal is created to be paired with their large selection of wines.
Pet-Friendly: No
Wheelchair Accessible: No

Fronterra Farm
242 North Beach Road (County Rd 27), Consecon, Ontario Canada 
K0K 1T0
1 800 427 1257
Fronterra Farm is a 58-acre organic farm nestled on the shores of North Bay in Prince Edward County. Offering luxurious glamping accommodations, guests are invited to stay in one of 10 log-framed tents on the property. Each canvas tent features hardwood floors, a king-sized bed, an outdoor bathroom, a fully-equipped outdoor kitchen, and a fire pit. Some tents offer picturesque views overlooking the North Bay marsh. There is no electricity at the campsites, making it a great escape for couples seeking a romantic getaway in Prince Edward County.
Fronterra Farm is dedicated to sustainable farming techniques and agro-tourism. Depending on the season, guests may be able to enjoy a tour of the barley fields and the production facility, or grab a peek at the Waldorf-style school on the premises. During the summertime, the owners of Fronterra Farms host farm-to-table dinners which highlight the flavours of Prince Edward County.
Fronterra will soon be opening a craft brewery where they will use locally sourced ingredients including the hops grown on the farm. They plan to produce a distinct line of wet-hopped beers which are known for their distinctive aroma and complex flavours.
Pet Friendly: No
Wheelchair Accessible: Yes