If you are planning to visit Paris, here are the famous french foods you absolutely need to eat.
Chocolates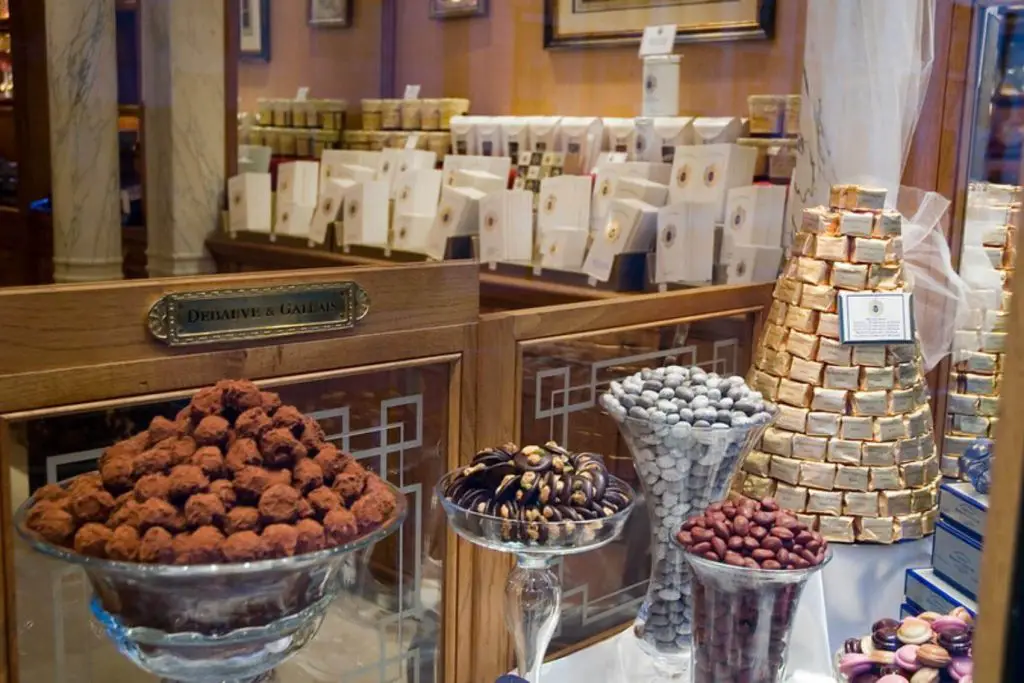 Some of the world's finest chocolatiers have set up shop in Paris, including artist and sculptor Patrick Roger, chocolate expert Gérard Mulot and Belgian chocolatier, Pierre Marcolini. Be sure to stop by their shops to indulge in a decadent treat! 

French Cheeses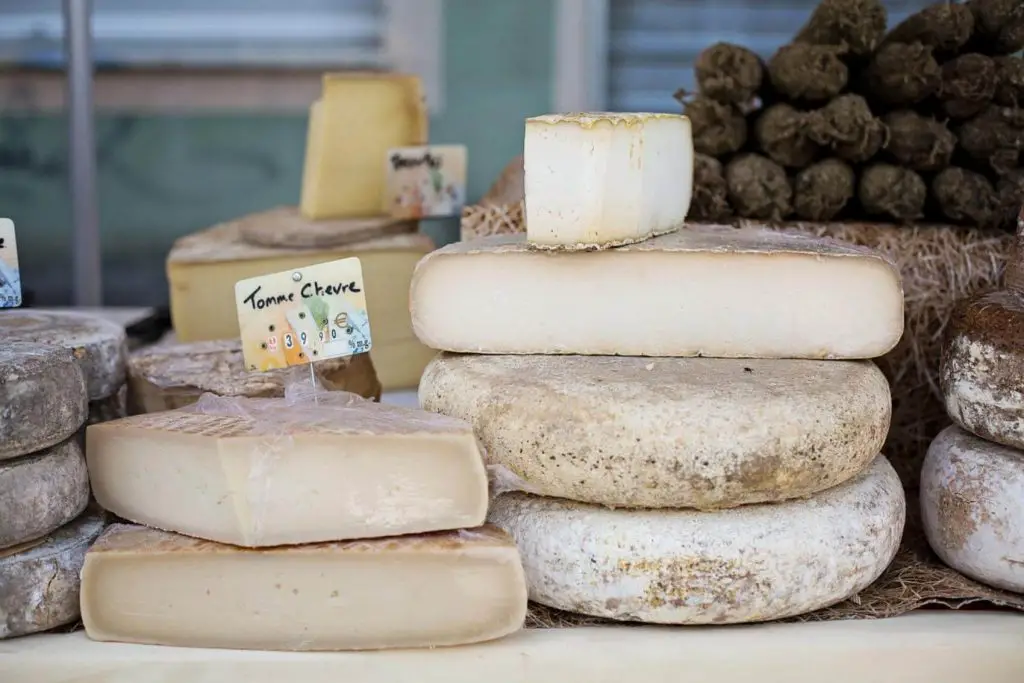 When in Paris, make it a goal to eat cheeses from each of the eight categories. Traditionally known as the "les huit grands familles de fromage" (the eight big cheese families) the groups are:
Fresh cheeses like Petit Suisse, Faisselle, and Brousse,
Soft cheeses with a natural rind, also known as white mould cheese. Popular varieties include Brie de Meaux, Brillat Savarin, and Camembert de Normandie, 
Soft cheeses with a washed rind which includes Époisses, Livarot, Mont d'Or and Munster,
Pressed and cooked cheeses such as Gruyère and Comté,
Uncooked semi-hard cheeses, also called uncooked pressed cheeses like Tomme, Morbier, Raclette and Reblochon, 
Blue cheeses like Roquefort, Bleu de Bresse, Bleu d'Auvergne, and Fourme d'Ambert
Goat's milk cheeses including Fleur du Maquis, Rocamadour, Sainte-Maure Caprifeuille, Sainte-Maure de Touraine, Soignon and Crottin de Chavignol.
Processed Cheeses, which are a medley of other cheeses and flavours. The most well-known cheese in this family is Boursin.

Steak Frites
My all-time favourite meal to eat in Paris is steak-frites. While this Belgian dish is served in restaurants around the world, there is nothing more memorable than eating steak frites in a restaurant with an Eiffel Tower view. While it sounds like a simple meal, the steak is beautifully cooked and the frites are fantastically crispy and golden brown.  This dish can also be served with a peppercorn, béarnaise or bordelaise sauce which perfectly complements the richness of the steak.
Learn more: A Guide to the Best Steak Frites in Paris

Oysters

There's no question about it, the French love their oysters. Served raw on the half-shell, they are best enjoyed with Champagne or a dry white wine.

Croissants

My favourite thing to eat for breakfast in Paris has always been a traditional croissant. Shaped like a crescent, these flakey, buttery pastries are usually served on their own or with a side of jam. Variations of the plain croissant include the chocolate-filled "pain au chocolat" and the "croissants aux amandes" which are filled with almond paste. 

Baguettes

Baguettes are long baton-shaped loaves of crusty French bread that are baked in boulangeries across Paris. Perfect for eating on the go, baguettes can be paired with French cheese and cured meat to create a simple picnic-style meal.  

Crème Brûlée

Crème Brûlée is a classic dessert found in restaurants all over Paris. It is prepared by topping rich vanilla custard with a hard caramelized sugar crust and is often chilled slightly before being served.  

Boeuf Bourguignon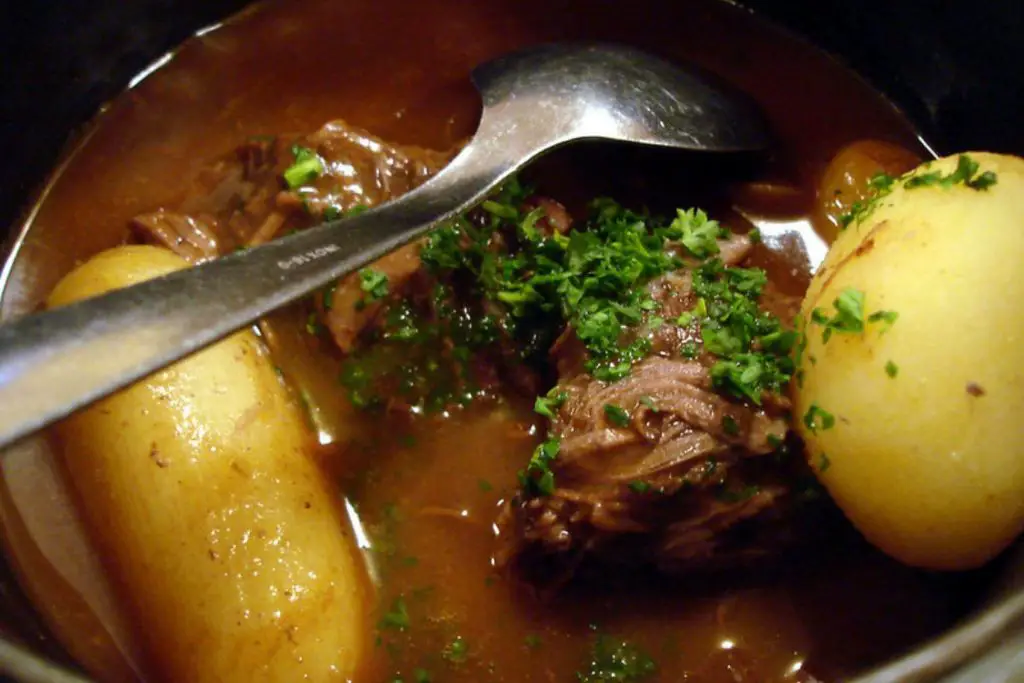 Well-known throughout the world, Boeuf Bourguignon is a delicious meat stew originating from the Burgundy region in east-central France. The dish is prepared by simmering the beef in a full-bodied red wine and then stewing it along with carrots, onions, and garlic. It is garnished with pearl onions, mushrooms, and crisp cubes of bacon as a final touch. 

Croque-monsieur/Croque-madame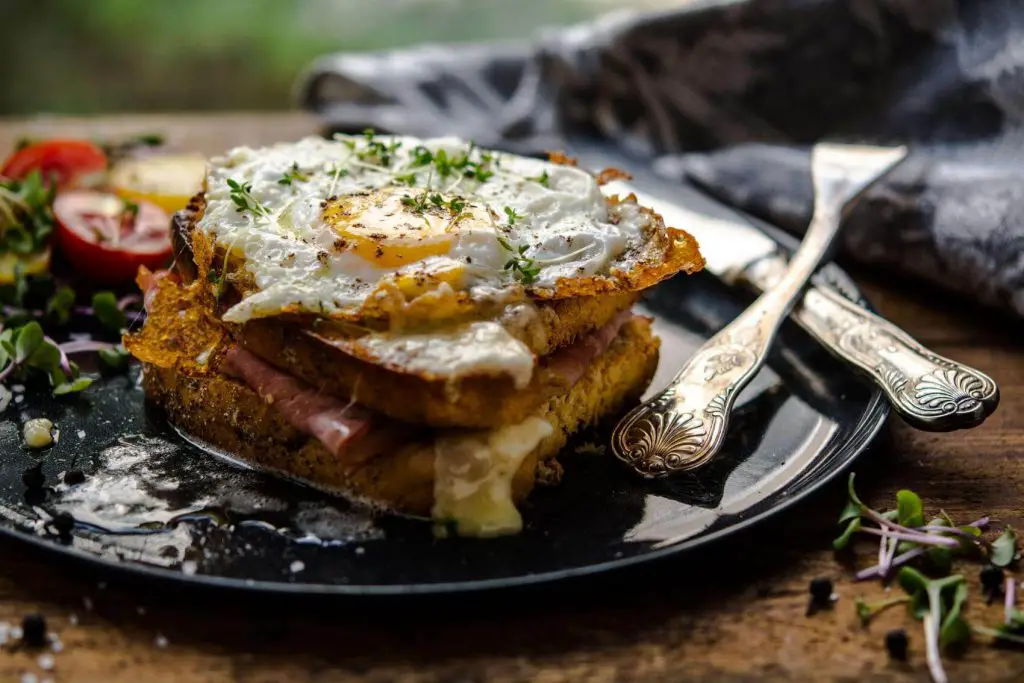 If you're looking to eat something simple with a twist on your Paris vacation, order a croque-monsieur. A variation of the grilled ham and cheese sandwich, croque-monsieurs are made by baking or frying thin bread, French ham and Gruyere cheese which results in a deliciously ooey-gooey sandwich. Certain restaurants make them even more decadent by filling or topping them with a creamy béchamel sauce. Croque madames are similar however they are topped with either fried or poached egg. 

Macarons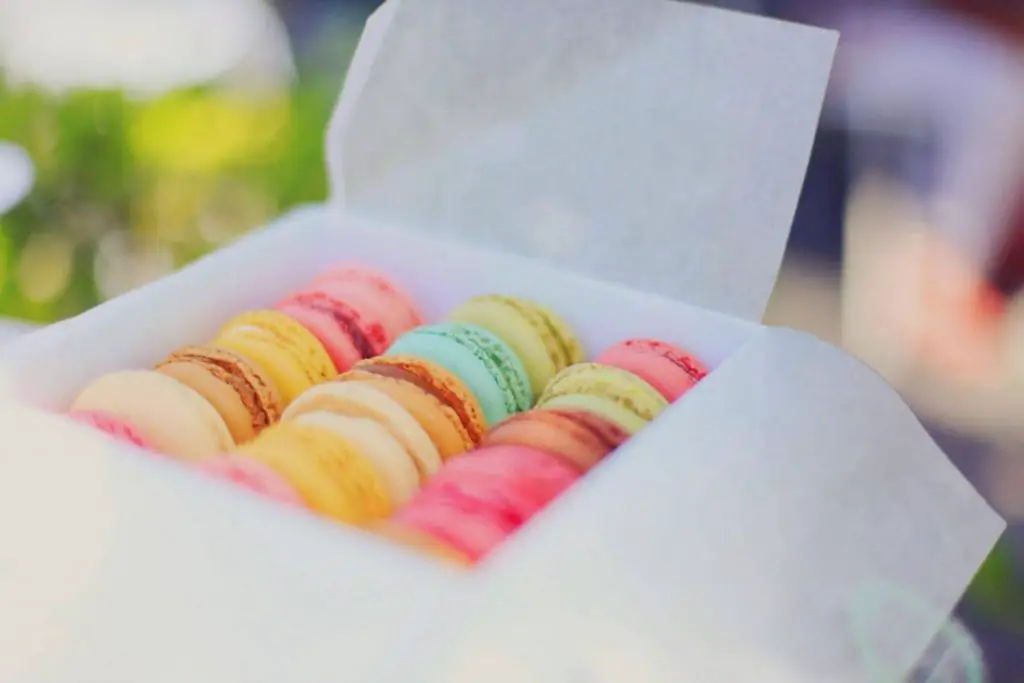 Not to be confused with macaroons, French macarons are essentially almond cookie sandwiches that are filled with a variety of ingredients. Macarons are wonderfully soft, and light with a semi-hard thin crust and the most popular fillings include ganache, buttercream, and jam.

Éclairs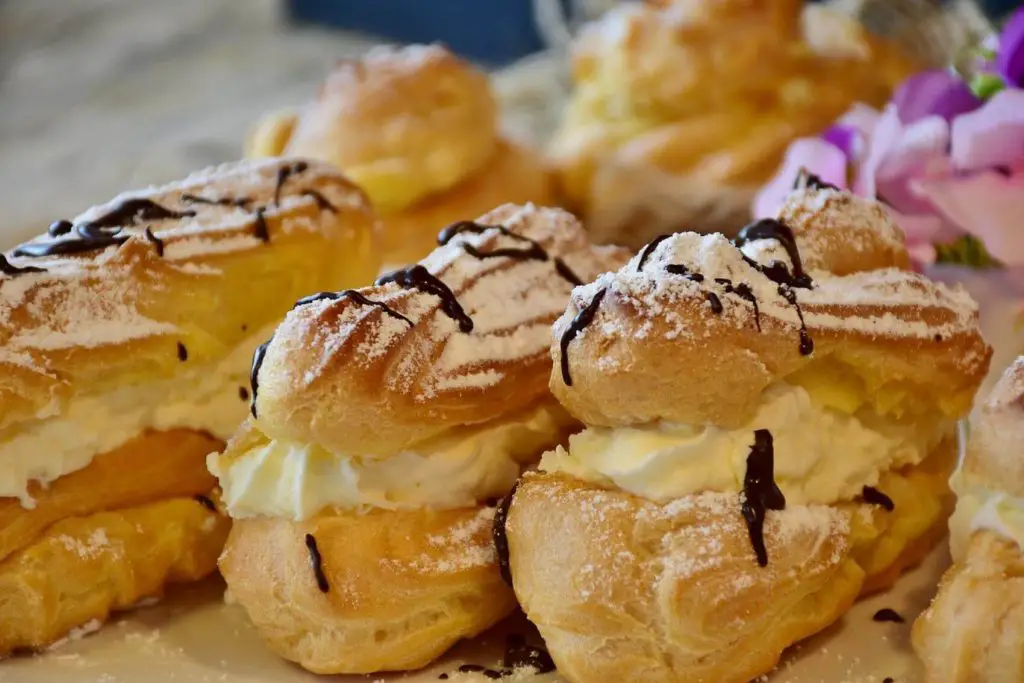 One of the most popular pastries to eat in Paris is an éclair.  Made from choux pastry, this long pastry is usually filled with custard or pastry cream and topped with fondant.

Foie gras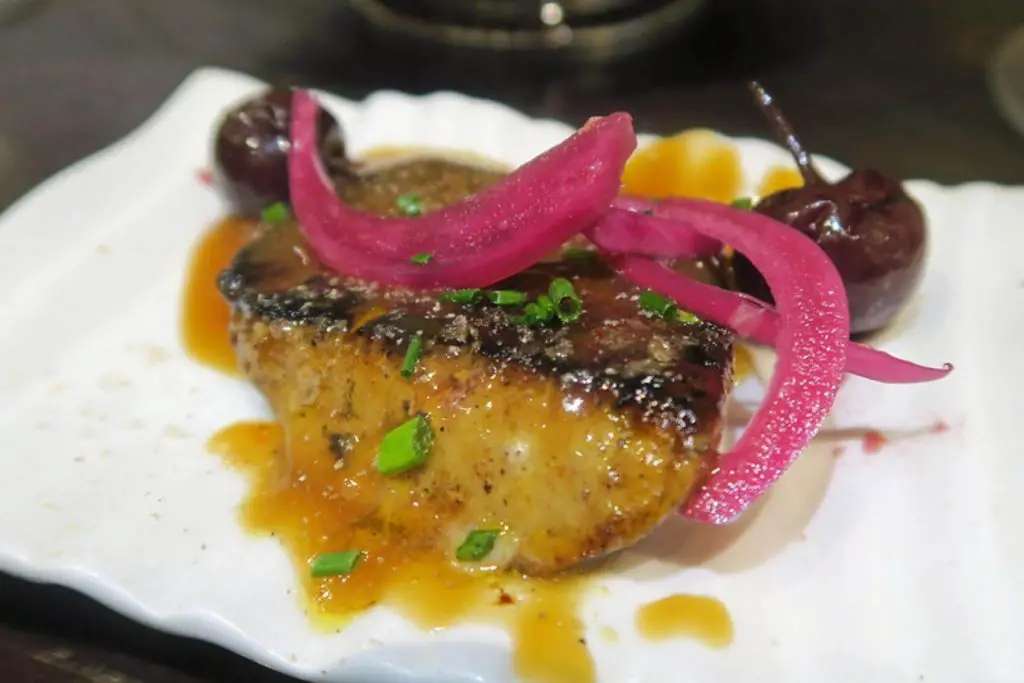 Foie gras is one of the most controversial famous French foods to eat while in Paris. In order to be produced, either geese or ducks are force-fed, resulting in a fatty liver, which translates into "foie gras" in French. Foie gras can be served whole but is often baked in a pastry crust lined with jelly or prepared into a mousse, a purée or a pâté. Its flavour can be described as very rich and buttery with a smooth texture.

Escargots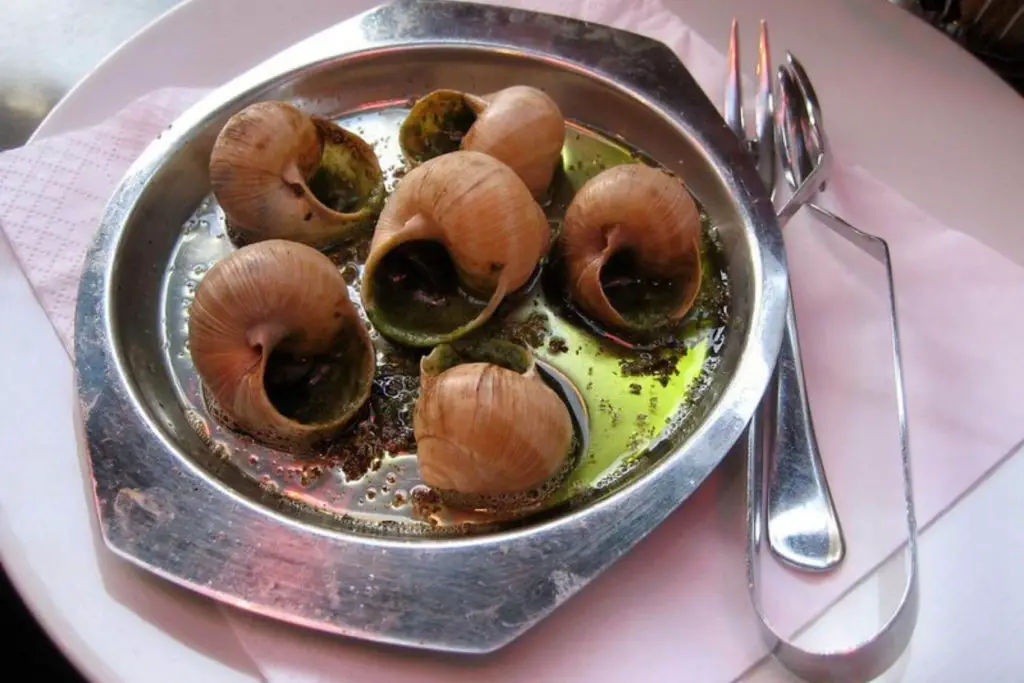 The French word escargots translates into snails, which are another delicacy to eat while in Paris.  Typically served as an appetizer, these giant land snails are usually prepared with garlic butter or wine and then placed back into the shells and served with a garlic butter sauce. Roughly 80% water, escargots are high in protein and low in fat (but only when prepared without butter).
Learn more: How to Find, Order and Eat the Best Escargots in Paris

Duck confit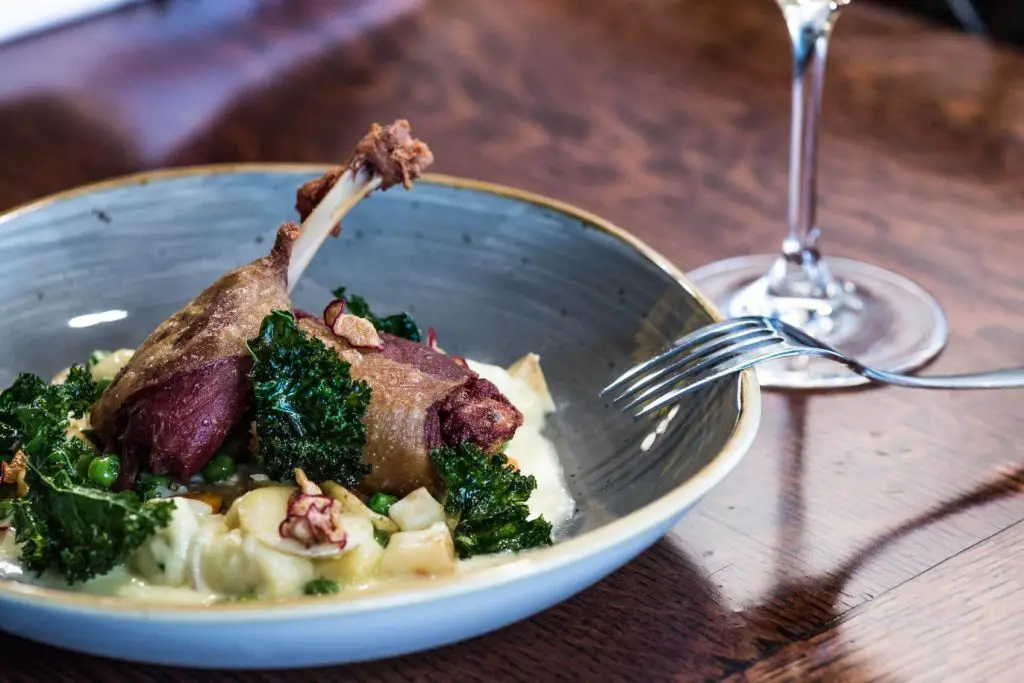 Commonly found on bistro menus in Paris, duck confit is one of the most sumptuous dishes in French cuisine. In this meal salt-cured duck legs are cooked in their own fat and then crisped in a pan or oven, resulting in a delicious combination of fall-off-the-bone meat and crackling skin.

Couscous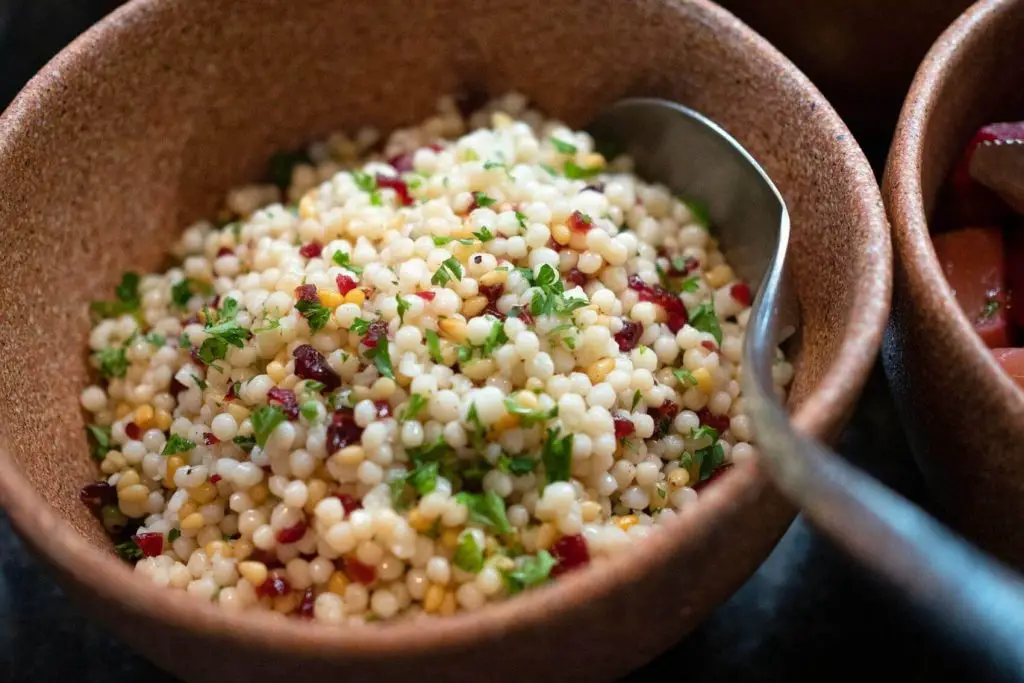 Voted Parisians favourite dish back in 2006, couscous is a pasta with a rice-like appearance. Traditionally from North Africa, couscous has a simple flavour and is usually served with stews or broths. It can also be used in fresh salads or served alongside meat and vegetables. A favourite amongst vegetarians and vegans, couscous is low in fat and high in protein when prepared with whole wheat semolina flour. 

Crepes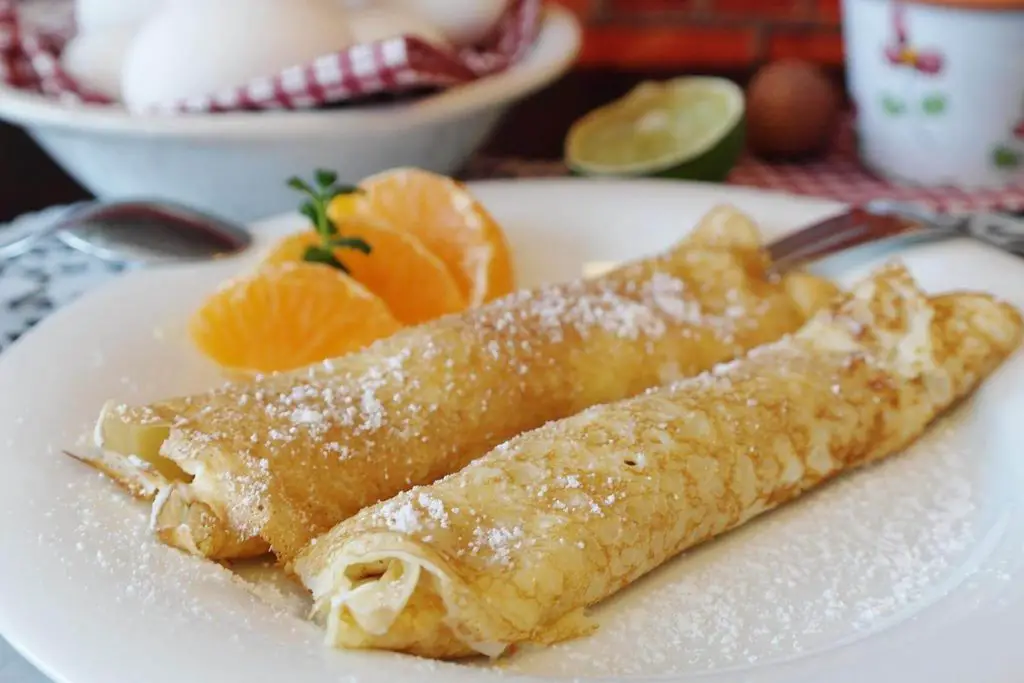 Originating from Brittany in northwestern France, crepes are a large, thin type of pancake which is extremely versatile. Whether sweet or savoury, basic crepes are made by combining flour, water, and salt into a batter cooked on a griddle or frying pan. Then, they are rolled or folded after being stuffed with various toppings. My favourite crepes to eat in Paris have always been the traditional yet straightforward lemon juice and sugar variety. However, I occasionally enjoy a savoury breakfast crepe with egg, ham and cheese. 

What is your favourite Famous French food to eat in Paris? Let me know in the comments section below.

PIN IT FOR LATER