If you are looking for free things to do in Paris, you've come to the right place. The metropolitan city of Paris has many free public parks, gardens and outdoor attractions to enjoy year round.
Eiffel Tower Light Show

Champ de Mars, 2 Allée Adrienne Lecouvreur, 7th Arrondissement
After dusk, watch the Eiffel Tower sparkle before your eyes in an impressive show. For 5 minutes each hour on the hour, the Eiffel Tower lights up the Paris skyline. Some of the best views are from one of the nearby bridges or from Place du Trocadéro just across the river.
Hours: Daily beginning at dusk
How to get there: Metro Line 8 – École Militaire
RER C – Champ de Mars – Tour Eiffel
Parc du Champ de Mars
2 Allée Adrienne Lecouvreur, 7th Arrondissement
The Parc du Champ de Mars is a large green space at the foot of the Eiffel Tower. This former army marching ground opened in 1780 and is now home to the École Militaire buildings and Clara Halter's etched glass 'Wall for Peace Memorial'.
The sprawling lawns and manicured flower beds make this a great place to plan a picnic and enjoy spectacular views of the Eiffel Tower. Visit at dusk to see the lights twinkle.
Hours: Always open
How to get there: Metro Line 8 – École Militaire
RER C – Champ de Mars – Tour Eiffel
Jardin des Tuileries

113 Rue de Rivoli, 1st Arrondissement
The Jardin des Tuileries is an expansive historic park situated between the Louvre and the Place de la Concorde. A public attraction since the 18th century, this park featuring several fountains, and many modern sculptures is a great place to spend an afternoon. Formerly the site of the Palais de Tuileries, its two remaining buildings house the Galerie Nationale du Jeu de Paume and the Musée de l'Orangerie, which displays Claude Monet's large water lily paintings.
Hours: Daily 7 am – 9 pm
How to get there: Metro Line 1 – Tuileries or Concorde, or Line 8 or 12 – Concorde
Château de Versailles Park and Gardens

Place d'Armes, Versailles
The Park covers approximately 800 hectares, crisscrossed by straight paths marking out wooded areas and agricultural fields, and is surrounded by a wall pierced by gates. Although some sections of land were lost during the Revolution and the 19th century, the Park's perimeter nevertheless retained its original outline, and it continues to surround the estate of Versailles with the wealth of greenery it has always known.
The Park and Gardens are open every day of the year except during exceptional weather (snow, violent winds, etc). The access is free except during Musical Fountains Shows and Musical Gardens.
Hours: Daily 8 am – 8:30 pm
How to get there: RER C – Versailles Château Rive Gauche
Buttes-Chaumont Park
1 Rue Botzaris, 19th Arrondissement
The Buttes-Chaumont Park, in the northeast of Paris, is one of the biggest and original green spaces in Paris, measuring 25 hectares. The layout gives it a particular charm: caves and waterfalls, a suspended bridge, and a high viewpoint. It is brightened up with exotic, indigenous trees and numerous birds (seagulls, moorhens, and mallard ducks) sharing the area and enjoying the artificial lake. Entertainment for children also takes place in the park and there are break areas where you can get something to eat.
Hours: Daily 7 am – 9 pm
How to get there: Metro Line 7B – Buttes Chaumont
Île aux Cygnes

15th arrondissement
L'Île aux Cygnes – Swan Isle – is Paris's third largest island after the Île de la Cité and the Île St. Louis. It is a small artificial island on the river Seine, in the 15th arrondissement. Known for its Statue of Liberty, this promenade attracts natives and tourists alike who appreciate the shade, the fragrances of the many kinds of trees, and the sports equipment (bicycles, climbing walls, etc.) freely available under the Pont de Grenelle. The island is crossed by three bridges: the previously mentioned Pont de Grenelle, the Pont Rouelle and the Pont de Bir-Hakeim. It is served by the Passy and Bir-Hakeim Métro stations.
Hours: Always open
How to get there: Metro Line 6 – Bir-Hakeim or Passy
RER C – Gare D'Avenue du Pdt Kennedy
La Petite Ceinture
36 Boulevard de Beauséjour, 16th Arrondissement
The Petite Ceinture is a former railway line, which once encircled Paris. Now abandoned, its tracks are a haven for a rare biodiversity of wildflowers and fauna. In 2007, a first section was opened to walkers in the 16th arrondissement, between the Porte d'Auteuil and the Gare de la Muette. This 1,500m² strip of land is accessible to everyone, including physically disabled people, who can borrow available wheelchairs adapted for such terrain. This green countrified pathway through the capital, often little-known even to Parisians, is a great discovery! There are other sections open to the public in the 12th, 13th and 15th arrondissements.
Hours: Daily opening between 8 am – 9 am, closes between 7:30 pm – 9:30 pm)
How to get there:  Metro Line 7 – Maison Blanche, or Line 4 – Porte d'Orléans
RER B – Cité Universitaire
Parc de la Villette

211 Avenue Jean Jaurès, 19th Arrondissement
Boasting 35 hectares of greenery and 3,000 m² of ecological gardens promoting biodiversity, the Parc de la Villette is one of the largest and loveliest green spaces in Paris. A multi-disciplinary arts and culture venue, it attracts more than 10 million visitors each year. Visitors can stroll along the canal de l'Ourcq where there are a number of green spaces, ponds and fountains. There are also numerous cultural attractions such as the Cité des Sciences et de l'Industrie, the Géode, the Zénith de Paris, the Musée de la Musique, and the Philharmonie de Paris. Every year, exceptional events are organized here, like the open-air film festival, which is held from mid-July to mid-August.
Hours: Always open
How to get there: Metro Line 7 – Porte de la Villette or Corentin Cariou
Domaine National de Saint-Cloud
1 Avenue de la Grille d'Honneur, Saint-Cloud, France
Overlooking the Seine and Paris, the Domaine National de Saint-Cloud extends over 460 hectares. Designed by Le Nôtre and his successors, the groves, fountains and waterfalls conserve the memory of the Chateau de Saint-Cloud which burnt down in 1870. The park is a delight for any visitor, especially with its beautiful view of Paris from the Orangers terrace.
Hours: Daily 7:30 am – 9 pm (March, April, September, October)
Daily 7:30 am – 10 pm (May to August)
Daily 7:30 am – 8 pm (November to February)
How to get there: Metro Line 10 – Boulogne-Pont de St-Cloud
Parc Monceau

35 Boulevard de Courcelles, 8th Arrondissement
Situated in the 8th arrondissement, Parc Monceau is one of the most elegant public parks in Paris. After entering through the wrought iron gates embellished with gold, visitors are able to walk through spectacular trees, a wide variety of birds and a large pond. Other features include statues of French dignitaries, an Egyptian pyramid, a Chinese fort, a Dutch windmill, and Corinthian pillars. Parc Monceau also features a children's playground with swings and a small carousel.
Hours: Daily 7 am – 8 pm
How to get there: Metro Line 2 – Monceau
Île Saint Germain
Issy-les-Moulineaux, France
Île Saint-Germain is an island located in the Seine in Issy-les-Moulineaux in the département of Hauts-de-Seine near Paris, France. It once housed a military camp that was later abandoned, but the island was redeveloped in 1980. The island is divided into two parts. The developed site includes offices and a residential area. The other side includes a park complete with playgrounds, ping-pong tables, a spider web structure (pyracord), dog play areas and a bowling alley.
Hours: Daily 8 am – 5 pm (November-December-January – This schedule applies as soon as the time changes)
8 am – 6 pm (February)
7:30 am – 7 pm (March)
7 am – 8:30 pm (April-August – this schedule applies as soon as the time changes)
7 am – 9 pm (May-June-July)
7:30 am – 8 pm (September)
8 am – 7 pm (October)
How to get there: RER C – Issy-Val-de-Seine
Canal St-Martin

10th Arrondissement
Canal St-Martin Extends over 4.5 km connecting the northeastern part of Paris to the Seine. The canal is a popular destination for Parisians and tourists, with many fantastic restaurants and bars. This area is also a popular hang-out of the student population who enjoy picnicking by the water's edge. Some visitors take the opportunity to cruise along the canal in passenger boats while passing under the attractive cast-iron footbridges. Others prefer to watch the boats navigate through the series of locks. The canal is car-free on Sundays, so this is a great time to go. In 2001, Canal St-Martin was featured in the movie 'Amelie', in which the title character is shown enjoying one of her favourite activities: skipping stones at the locks of the canal.
Hours: Always open
How to get there: Metro Lines 3, 5, 8, 9 or 11 République, Line 11 – Goncourt, Line 5 – Jacques Bonsergent
Les Bouquinistes (riverside book stalls)

4th Arrondissement
Les Bouquinistes are outdoor booksellers located on the Right Bank, from Pont Marie to Quai du Louvre, and on the Left Bank, from Quai de la Tournelle to Quai Voltaire. Recognized as a Unesco World Heritage site, some 217 riverside booksellers make use of 900 "green boxes" to house roughly 300,000 old books, journals, stamps and trading cards.
Hours: Daily, from sunrise until sunset
Parc Rives de Seine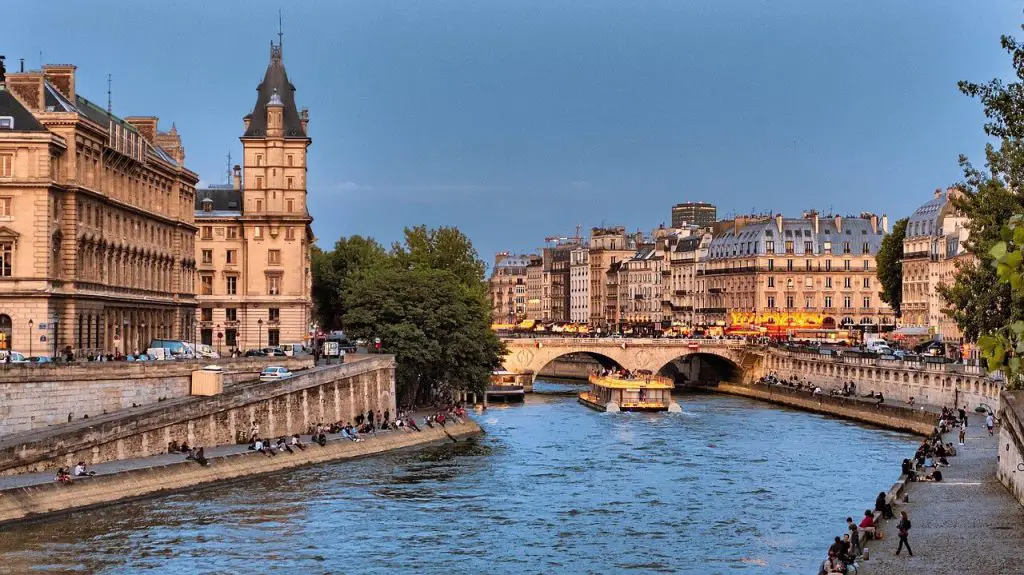 Parc Rives de Seine spans 7 kilometres along both sides of the Seine. On the left bank, the park extends from Pont d'Alma to the Pont Royal. On the right bank, it stretches from Pont Neuf to the Pont du Sully and the Arsenal basin between the Quai de la Rapée and Place de la Bastille. Parc Rives de Seine has cycle and pedestrian paths, sporting facilities, playgrounds for children, climbing walls and more. Those who prefer a slower pace will enjoy the hammocks, sun loungers, shaded picnic tables, terraces and cafes. Designated UNESCO World Heritage Site, Parc Rives de Seine is hugely popular with Parisians and tourists alike.
Hours: Always open
Jardin des Plantes

57 rue Cuvier, 5th Arrondissement
the Jardin des Plantes was created by Louis XIII in 1635 and featured plants with medicinal properties. Today it is a botanical garden which spans 24 hectares at the heart of the National Museum of Natural History. The gardens many buildings house the Grande Galerie de l'Évolution, the Galerie de Paléontologie et d'Anatomie comparée and the Galerie de Minéralogie et de Géologie. The Jardin des Plantes is also home to the Ménagerie (the Jardin des Plantes zoo) and the Grandes Serres, which host the tropics in Paris. Entry into the grounds is free but the museums charge extra for entry.
Hours: Daily  8 am – 5:30, 6:30, 7 or 7:30 depending on the season
How to get there: Metro Line 5 – Gare d'Austerlitz, Line 7 – Censier Daubenton, or Line 10 – Jussieu or Gare d'Austerlitz
RER C – Gare d'Austerlitz
La Promenade Plantée
1 Coulée verte René-Dumont, 12th Arrondissement
The Promenade Plantée was created on a former elevated railway line in 1988. This 4.5 km walkway runs through most of the 12th arrondissement linking Place de la Bastille and the Bois de Vincennes. The pathway provides exceptional views and visitors can enjoy the combination of landscaped gardens alongside areas of wild vegetation. At the Allée Vivaldi, the pathway descends to street level where visitors are able to do some shopping prior to continuing on through tunnels to reach the end.
Hours: 7 am – 10 pm
How to get there: Metro Line 6 or 8 Daumesnil
Jardin du Luxembourg

Rue de Médicis, 6th Arrondissement
The Jardin du Luxembourg is a landscaped garden bordered between Saint-Germain-des-Prés and the Latin Quarter in the 6th arrondissement. The gardens cover 25 hectares and feature the 1861 Medici Fountain, 106 statues, a fruit orchard, and a large pond. There are many activities for children and adults including puppet theatres, rides, slides, chess tables, tennis courts, and remote control boats.
Hours: Hours vary by season. Opens around 8 am and closes anywhere from 4:30 pm (during winter) to 9:30 pm (in summer).
How to get there: Metro Line 4 or 10 – Odeon
RER B – Luxembourg
Friday Night Roller Skate
Pari Roller holds a free weekly roller skating event every Friday starting at 10 pm. Departing from the Montparnasse area, skaters follow a different route every week, all roughly 18.5 miles long. Breaks are taken for wine and snacks before looping back to Montparnasse around 1 am. Police provide security for these events which are led by a staff of 150 Pari Roller marshals.
Free Cycling Tour of Paris
Paris Rando Vélo leads a free weekly cycling tour of the city on Friday nights beginning at 9:30 pm. Rides start in front of the Hotel de Ville at 10 pm. Lasting for about 2 hours and 15 minutes, the group covers between 20 and 24 km. Paris Rando Vélo also arranges a similar ride on the 3rd Sunday of every month. The group meets at 10:30 am in order to be on the road by 11 am.
Free Walking Tours of Paris
Not exactly free – you will be expected to tip your guide. There is an abundance of companies which offer free walking tours around Paris. These tours are a great way for first-time visitors to get a hang of the layout of the city.
To read about a personal experience on a free walking tour in The Latin Quarter, check out this post written by Kelly from Girl with the Passport. 
Paris Plages
Each summer visitors flock to the banks of the Seine and the La Villette Canal Basin to this 'pop-up' seaside resort. Since 2002, the Paris Plages has become increasingly popular. There are lots of activities for everyone. Swimming and water sports at La Villette canal basin, sunbathing on the sandy shores, board games and books. The parasols, deckchairs, palm trees, and ice cream sellers make this a perfect place to cool off in the heat of summer.
Hours: Daily until midnight from mid-July to the end of August
How to get there: Metro Line 1 or 11 – Hôtel de Ville, or Line 7 – Riquet
Sources: http://www.parisrandovelo.fr/, http://en.chateauversailles.fr/, en.parisinfo.com/, http://www.hauts-de-seine.fr/, en.wikipedia.org/,
www.france-voyage.com/, www.paris-walking-tours.com/,
www.parisinsidersguide.com/, www.britannica.com/, www.eupedia.com/,
www.thoughtco.com/
PIN IT FOR LATER