A great way to save money while travelling in Paris is to find free things to do. I suggest visiting some of the free historic churches and cemeteries which are open year-round.

Cathédrale Notre Dame de Paris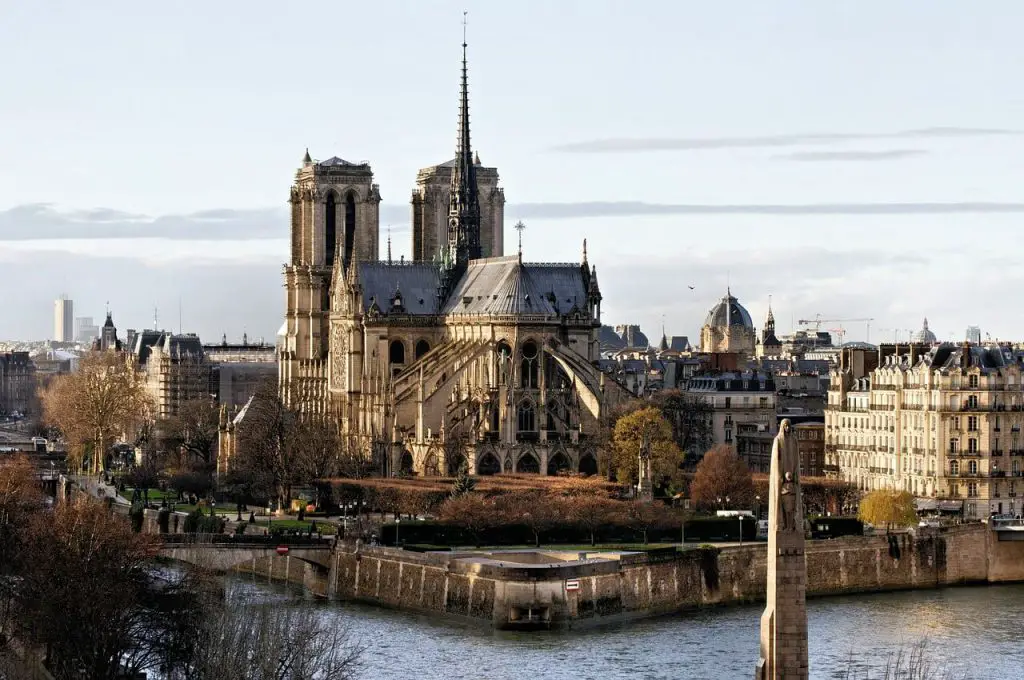 6 Parvis Notre-Dame-Pl. Jean-Paul II, 4th Arrondissement
The Cathedral of Notre Dame in Paris is more than 800 years old and one of the most impressive examples of French-Gothic architecture in the city. The gargoyles, flying buttresses, and stained glass windows (in particular the Rose Window) make this medieval Catholic cathedral one of Paris' most visited historical attractions.  It has also become quite well known since being featured in Victor Hugo's 'Hunchback of Notre Dame'. The church is open year-round and offers visitors free access to the main section of the cathedral. Guided and audio tours, as well as visiting the towers and the crypt costs a fee.
Hours: Daily 10 am – 6:30 pm (April 1 to September 30) to 11 pm on weekends in July and August
Daily 10 am – 5:30 pm (October 1 to March 31)
Closed: January 1, May 1, December 25
How to get there:  Metro – Line 4 – Cité
RER B or C – St-Michel

Sacré-Cœur Basilica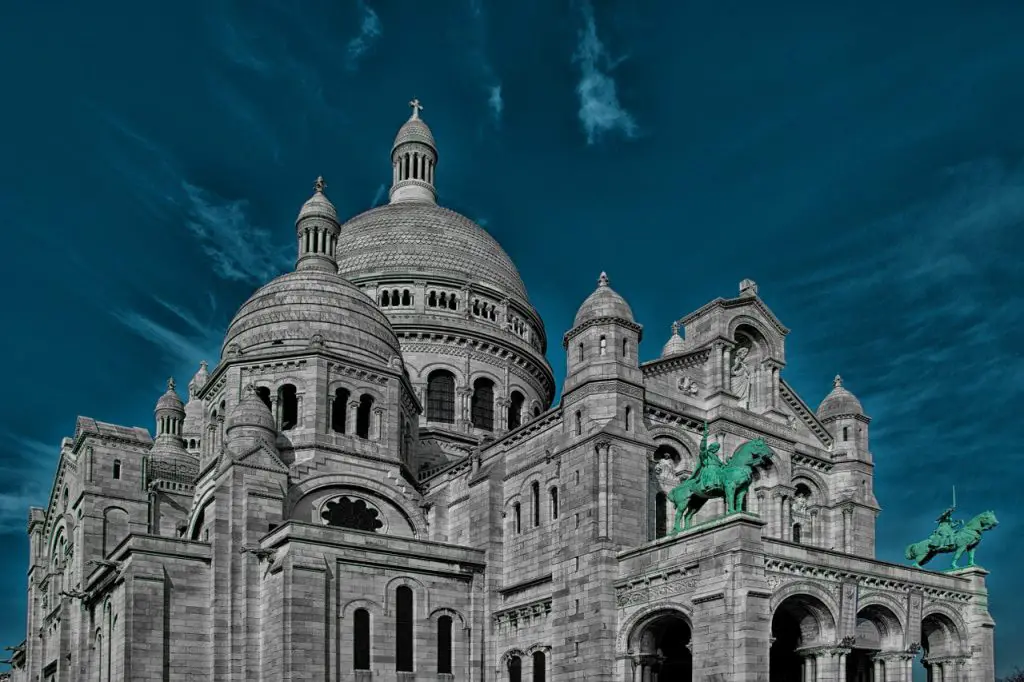 35 Rue du Chevalier de la Barre, 18th Arrondissement
Sacré-Coeur is a Roman Catholic Church built atop the highest point in Paris. Its exterior is constructed from white travertine stone, while the interior features impressive stained-glass windows and the largest mosaic in France, Merson's 'Christ in Majesty'. During evenings in the summertime, the area is packed with visitors enjoying lively street entertainment. Located in the Montmartre district in the 18th arrondissement, the basilica is free to visit, although there's a charge to visit the dome or the crypt.
Hours: Daily 8:30 am – 8 pm (May to September)
Daily 9 am – 5 pm (October to April)
How to get there: Metro Line 2 – Anvers, Line 12 – Abbesses

Saint Eustache Church

2 Impasse Saint-Eustache,1st Arrondissement
Saint Eustache Church is located in the Les Halles-Montorgueil district, on the city's Right Bank. This masterpiece of Gothic architecture is Paris' second largest church after Notre Dame. The beautiful stained glass windows and the impressively painted panels in the Chapel of the Virgin are a wonderful reason to visit. Every Sunday evening at 5.30 pm Saint Eustache Church hosts free organ concerts. There is a sculpture depicting the last food market at neighbouring Les Halles, and modern art installations in the chapels.
Hours: Monday – Friday 9:30 am – 7 pm
Saturday 10 am – 7:15 pm
Sunday 9:15 am – 7:15 pm
How to get there: Metro Lines 1, 4, 7, 11 or 14 – Les Halles

Saint-Etienne-du-Mont

Place Sainte-Geneviève, 5th Arrondissement
Steps from the Panthéon sits the elegant Roman Catholic Church, Saint-Etienne-du-Mont. The construction of the church began in the late 15th century when it was formed from the crypt of the St Geneviève Abbey. Inside, the rood screen (1545) with its double spiral staircase is the only surviving example in Paris. The tomb which held the remains of Sainte Geneviève and a number of relics tomb is equally as impressive. Saint-Etienne-du-Mont has become increasingly popular with visitors since being featured in Woody Allen's film 'Midnight in Paris'.
Hours: Tuesday-Friday: 8 am – 7:45 pm
Saturday: 8:45 am – midday and 2 pm – 7:45 pm
Sunday: 8:45 am – 12:15 pm and 2 pm – 7:45 pm  (During the school year)
Tuesday – Sunday 10 am – midday and 4 pm – 7:45 pm  (During school holidays)
How to get there: Metro Line 10 – Cardinal Lemoine

Église de la Madeleine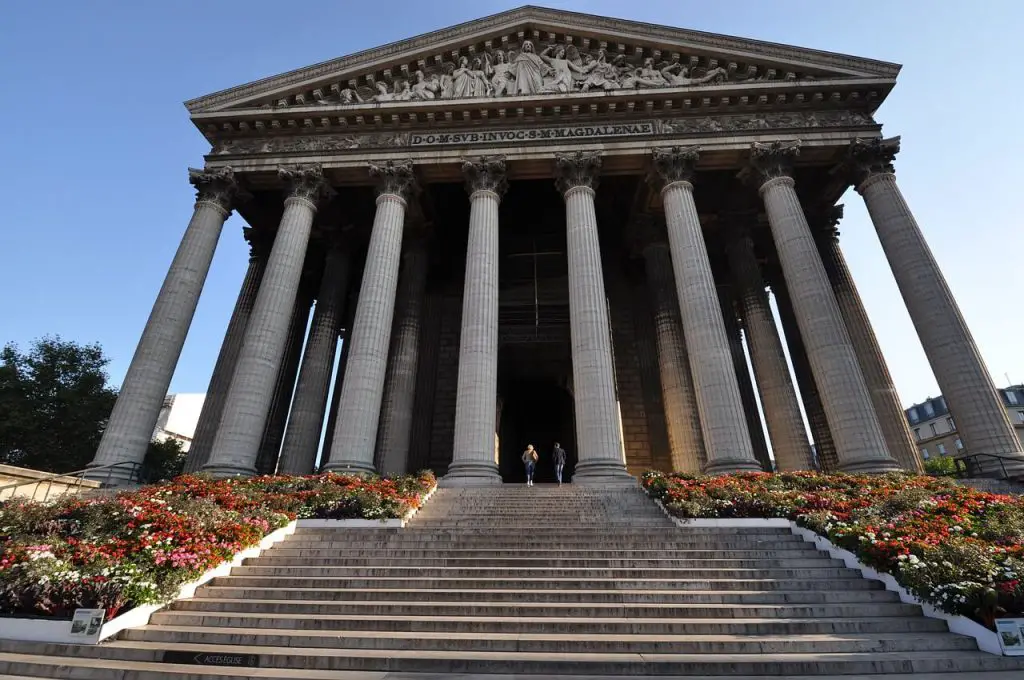 Place de la Madeleine, 8th Arrondissement
Situated just north of the Place de la Concorde, La Madeleine is a Neo-Classical Roman Catholic church built to resemble a Greek temple. Surrounding its exterior are 52 Corinthian columns, each standing 20 meters tall. Behind its monumental bronze doors are a large statue depicting the ascension of Mary Magdalene and a famous neo-Byzantine mosaic. The impressive pipe organ dates back to 1846 and is still used throughout the year for classical music concerts
Hours: Daily 9:30 am – 7 pm
How to get there: Metro Lines 8, 12 or 15 – Madeleine
Cimetière du Montparnasse
3 Boulevard Edgar Quinet, 14th Arrondissement
Montparnasse Cemetery is the final resting place for a long list of French celebrities such as Jean-Paul Sartre, Simone de Beauvoir, Guy de Maupassant, and Charles Garnier. Visitors can take a serene stroll through the trees and admire the graves and sculptures, some of which date back to the opening of the cemetery in 1824.
Hours: Monday – Friday 8 am – 6 pm
Saturday 8:30 am – 6 pm
Sunday 9 am – 6 pm
How to get there: Metro Line 6 – Edgar Quinet or Raspail
Père Lachaise Cemetery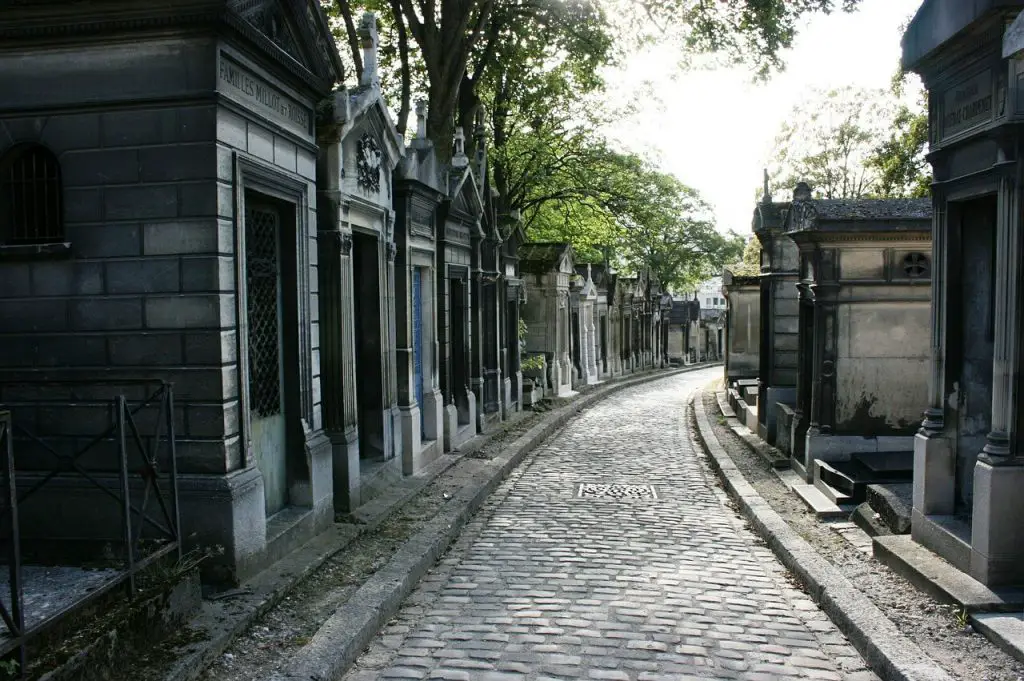 16 Rue du Repos, 20th Arrondissement
Spend an afternoon visiting the remains of Oscar Wilde, Jim Morrison, Molière, Edith Piaf, Frederic Chopin, and roughly 77,000 other Parisians while strolling through the Père Lachaise Cemetery. This beautiful cemetery features stunning burial chambers, mausoleums, and Gothic graves. While it's not the liveliest place in Paris, the tree-lined avenues make Père Lachaise an enjoyable place to walk in Paris. Admission is free all year, and maps are available for visitors.
Hours: Monday – Friday 8 am – 6 pm
Saturday 8:30 am – 6 pm
Sunday 9 am – 6 pm
How to get there: Metro Line 2 – Père Lachaise, or Line 3 – Gambetta

Sources: aviewoncities.com/, en.parisinfo.com/, oyster.ca, lonelyplanet.com/,www.tripsavvy.com/, www.eurocheapo.com/, telegraph.co.uk/, budgettraveller.org/

Pin it for later