There are plenty of things to do in Paris without breaking the bank. Browsing through the markets and shopping attractions is a wonderful way to start your day of sightseeing.


Looking for more free things to do in Paris?
Check out Part 1: Parks, Gardens & Outdoors, Part 2: Churches & Cemeteries, Part 3: Culture & History and Part 4: Museums


Shakespeare and Company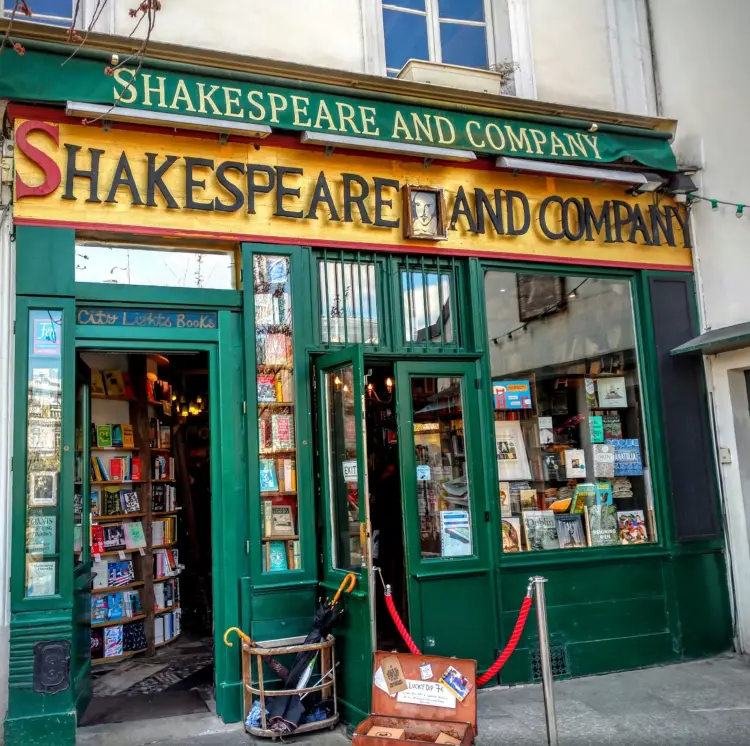 37 Rue de la Bûcherie, 5th Arrondissement
Shakespeare and Company is an English-language bookshop in the heart of Paris, on the banks of the Seine, opposite Notre-Dame. Since opening in 1951, it's been a meeting place for anglophone writers and readers, becoming a Left Bank literary institution. First called Le Mistral, founder George Whitman changed it to the present name in April 1964—on the four-hundredth anniversary of William Shakespeare's birth—in honour of a bookseller he admired, Sylvia Beach, who'd founded the original Shakespeare and Company in 1919. Her store at 12 rue de l'Odéon was a gathering place for the great expat writers of the time—Joyce, Hemingway, Stein, Fitzgerald, Eliot, Pound—as well as for leading French writers.
From the first day Shakespeare and Company opened, writers, artists, and intellectuals were invited to sleep among the shop's shelves and piles of books, on small beds that doubled as benches during the day. Since then, an estimated 30,000 young and young-at-heart writers and artists have stayed in the bookshop. These guests are called Tumbleweeds after the rolling thistles that "drift in and out with the winds of chance."
Source: shakespeareandcompany.com/ 
Hours: Daily 10 am – 10 pm
Wheelchair Accessible: Yes
How to get there: Metro Line 10 – Cluny-la-Sorbonne, or Line 4 – Saint-Michel


Marché d'Aligre
Place d'Aligre, 12th Arrondissement 
In the 12th arrondissement Between the place de la Bastille and the place de la Nation, the Beauvau market – also called the Aligre market (in name of where it is located) – is held 6 days a week.  Marché d'Aligre is a lively, partially covered market featuring fabulous food stalls and many antique shops
Hours: Covered market – Tuesday – Friday, 9 am – 1 pm and 4 pm – 7:30 pm
Saturday 9 am – 1 pm and 3:30 pm – 7:30 pm
Sunday 9 am – 1:30 pm
Outdoor market: Tuesday – Friday 7:30 am – 1:30 pm
Saturday – Sunday 7:30 am – 2:30 pm
Closed on Monday
Wheelchair Accessible: Yes
How to get there: Metro Line 8 – Ledru-Rollin


Street Market on Rue Mouffetard 
Rue Mouffetard, 5th Arrondissement
Rue Mouffetard is without a doubt the premier market street of the city. The street is full of shops and market stalls selling the freshest produce available. It is most interesting to visit on Saturday and Sunday morning when the local population come to shop. On the weekends the whole street throbs with activity as people shop, drink, converse and enjoy themselves. In his novel "A Movable Feast" the American author Ernest Hemmingway called the street a "that wonderful narrow crowded market street which led into the Place Contrescarpe". Source: http://www.rue-mouffetard.com/
Hours: Saturday and Sunday mornings between 10 am and lunchtime is the best time to visit.
Completely closed on Sunday afternoon and all day Monday.
Wheelchair Accessible: Yes
How to get there: Metro Line 7 – Censier-Daubenton


Deyrolle
Stopping in at Deyrolle feels like you are visiting a museum. This cabinet of curiosities in the 7th arrondissement has been in operation since 1831 and specializes in taxidermy and entomology. Their eclectic collection of stuffed animals, insects, shells, botanical prints, and other curiosities will impress any visitor.
Hours: Monday 10 am – 1 pm and 2 pm – 7 pm, Tuesday to Saturday 10 am – 7 pm
Wheelchair Accessible: No
How to get there: Metro Line 12 – Rue du Bac


Marché aux Oiseaux
Place Louis Lepine, Rue Aubé, 4th Arrondissement
Every Sunday, a bird market (Marché aux Oiseaux) takes over on Place Louis Lépine on Île de la Cité. One of Europe's last remaining pet markets, the Sunday bird market sells all sorts of game birds, exotic birds and pet birds of all sizes. You can also find fish an array of fish, domesticated rodents, and other small animals.
Sources: www.mnn.com/ ,www.atlasobscura.com/
Hours: Sunday: 8 am – 7 pm
Wheelchair Accessible: Yes
How to get there: Metro Line 4 – Cité


Galeries Lafayette's observation deck
40 Boulevard Haussmann, 9th Arrondissement
Enjoy a spectacular view from La Terrasse at Galeries Lafayette Haussmann. This 7th-floor rooftop terrace provides a stunning view over all of Paris and its monuments. The terrace opens at 9.30am.
Source: haussmann.galerieslafayette.com/en/
Hours: Friday – Wednesday 9:30 am – 8 pm
Thursday  9:30 am – 9 pm
Wheelchair Accessible: Yes
How to get there: Metro Line 9 – Havre Caumartin or Chaussée d'Antin La Fayette


Covered shopping arcades
Built for the most part in the 19th century, these historic shopping arcades are covered with glass ceilings. Most of them now house shops, tearooms and restaurants. There are around 20 of them in Paris in the vicinity of the Grands Boulevards. Galerie Vivienne is one of the prettiest, with well-preserved statues, ochre paintwork and delicate mosaics. One of the oldest, Passage des Panoramas, became the first public area in Paris to be lit by gas in 1817. The Passage du Grand Cerf is the highest and one of the most spectacular covered passages in Paris.
Sources:www.timeout.com/, en.parisinfo.com/


Marché aux Puces de St-Ouen
Rue des Rosiers, 93400 Saint Ouen, France
The Saint-Ouen Flea Market is recognized as one of the largest antique and flea markets in the world. Welcoming more than 5 million visitors a year, this is the 4th most visited tourist site in France. Located just north of the 18th arrondissement, Marché aux Puces de St-Ouen is held every Saturday, Sunday and Monday. There are 14 individual markets with 1700 merchants, spanning over 7 hectares. Some are covered, others are open-air, with parts of the market more like a museum or an art gallery than a flea market. At the flea market, you can pick up classic antiques or high-end merchandise such as restored furniture, paintings, bronzes, objets d'art or tapestries, mirrors, lamps, dishes … There are also old records, prints, children's toys, posters, books, photographs and other unusual objects. Finally, you can buy clothes, shoes and one of a kind fashion accessories.
Source: http://www.marcheauxpuces-saintouen.com/
Hours: Saturday 9 am – 6 pm
Sunday 10 am – 6 pm
Monday 11 am – 5 pm
Reduced activity August 1st – 15th
Wheelchair Accessible: Yes
How to get there: Metro Line 4 – Porte de Clignancourt, or Line 13 – Garibaldi


Christmas markets
Get in the festive spirit and enjoy the atmosphere at one of the delightful Christmas markets on the streets of Paris. Here the market stalls are made up of cozy wooden chalets adorned with lights and decoration. Each one is filled with vendors selling everything from Christmas decorations and festive objects to regional produce and arts & crafts.
Source: en.parisinfo.com/


Pin it for later
Follow me on social media!